Brockloch Treehouse, Dumfries and Galloway: Branch out to an amazing space
A couple whose bothy featured on a Channel 4 series have now turned their attention to the trees, says Robin McKelvie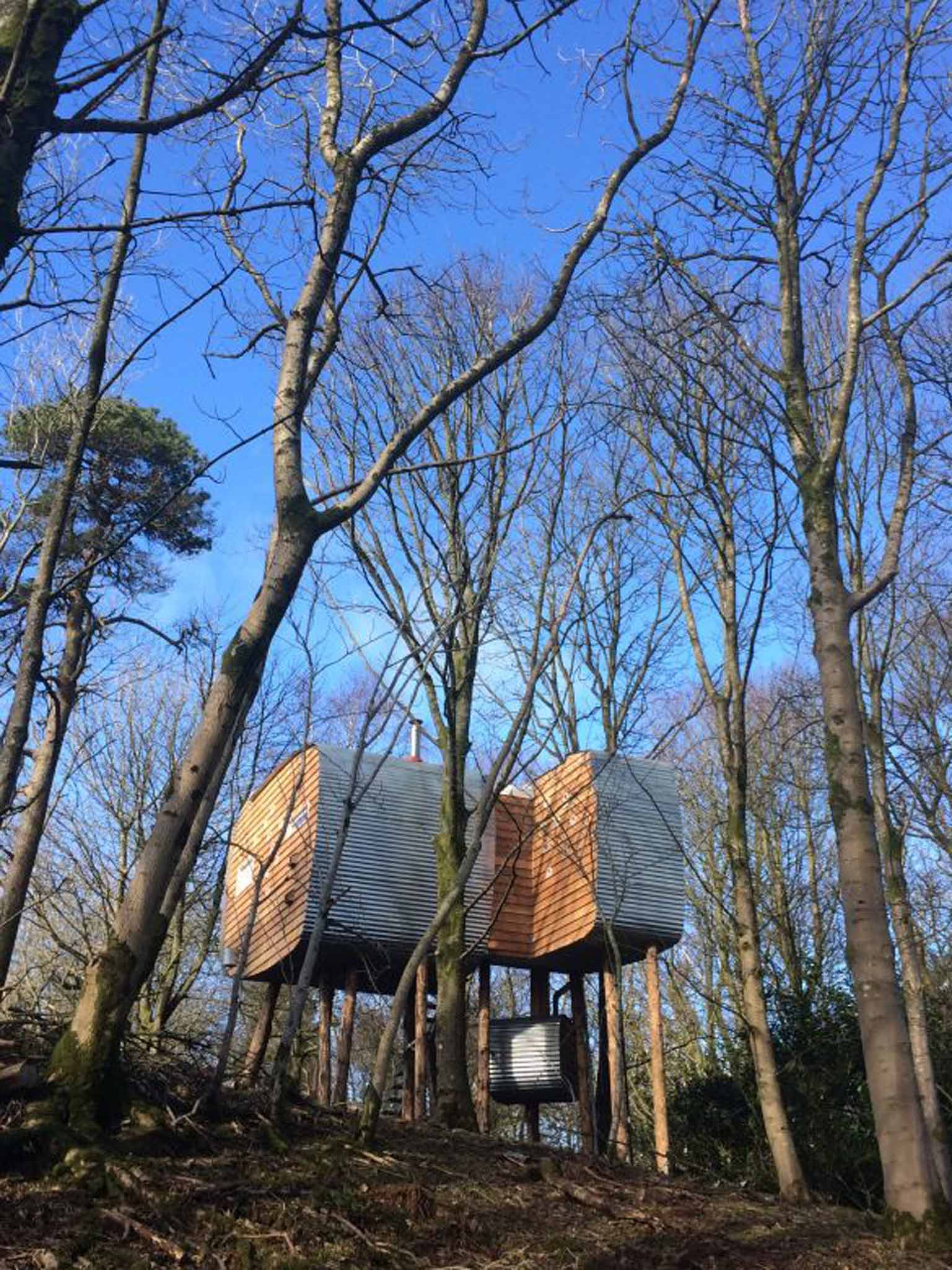 What happens when you let a dynamic architect loose on a private woodland amid the rolling hills of Scotland's balmiest region? An eye-catching, off-grid treetop escape is what. Sam Booth designed Brockloch Treehouse for George and Julie Nicolson, who previously commissioned him to create the other guest abode on their Dumfries and Galloway property – a bothy that has appeared on the Channel 4 programme, George Clarke's Amazing Spaces.
The new hideaway, in a forested corner of the Nicolsons' very-much -working farm, welcomed its first guests in January. But spring is the season it will come into its own, when the woods – home to red squirrels, kites, and deer – will be carpeted with bluebells.
The Room
The treehouse is moulded from local larch wood, but Booth has not been afraid to use less organic materials too, the cube's corrugated metal reflecting the farm buildings nearby. There is no TV or wi-fi, and the twin solar panels provide just enough power for lighting and to charge phones, although most visitors can't get a signal. Not that anyone seems to mind.
Groups and families need not apply: this treetop retreat is definitely designed for two, but it is cosy rather than cramped. The interior is surprisingly roomy with a proper double bed, topped with a goose-feather duvet. The sweeping skylight overhead offers stargazing from bed. During the day, light comes through a cluster of tiny windows, designed to create a dappled effect to mirror the leaves outside. It works, as do the compact gas hob and the similarly efficient wood-burning stove. This Tardis even manages to squeeze in a stylish table and chairs, as well as a retro sofa with sheepskin throw.
Wool insulation in the walls helps keep the treehouse cosy, while, in another clever piece of design, a switch diverts hot air from the wood burner into the bathroom. Here a bath awaits, underneath another skylight. The composting toilet, meanwhile, certainly feels rustic.
Out and About
You really need a car to make the most of a stay here, though you might want to try pedal power too, as this is prime mountain-bike country. A quartet of excellent 7 Stanes mountain-biking trail centres tempt within pedalling distance (01387 702 228; 7stanesmountainbiking.com).
On site you can ramble through the property's private forest or even muck in at the farm. Previous guests have helped out with the lambing.
Further afield, Scotland's national bard, Robert Burns, spent his last years scribbling poetry in the trim market town of Dumfries. You can visit his house (01387 255297; bit.ly/BurnsDumfries), enjoy a pint of ale in "his" seat in the Globe Inn (01387 252 335; globeinndumfries.co.uk), established in 1610, and admire a sprinkling of statues dedicated to this greatest of romantic poets.
Historic castles and abbeys dot the landscape (historic-scotland.gov.uk). Caerlaverock Castle tempts with its unusual triangular design and still existent moat, while Threave Castle is a delight as you have to catch a wee boat over. Sweetheart Abbey meanwhile is almost unbearably romantic. Lady Devorgilla built it as a testament to her late husband and spent the last two decades of her life with a casket around her neck containing his embalmed heart. She was buried here still clasping it. More information: visitscotland.com.
The Food and Drink
Julie likes to leave seriously fresh free-range eggs from the farm for new arrivals, as well as a few home-baked goods and a couple of ales from the local Sulwath Brewers. For supermarket supplies stop off in Dumfries en route. For something more interesting, try one of the many farm shops and small producers. The creamery and farm shop at Loch Arthur Camphill Community (01387 259669; locharthur.org.uk) not only offers a swathe of local produce (including the superb eponymous cheese), but there is now a café too. Alternatively, try Marrbury Smokehouse's café (01671 820476; visitmarrbury.co.uk) before retreating to your treehouse with some of their award-winning smoked salmon.
For your very own Burns Supper head for Hullabaloo (01387 259679; hullabaloorestaurant.co.uk), housed in the same building as the Robert Burns Film Theatre (the smallest in Scotland). Or if you prefer seafood the artists' town of Kirkcudbright is home to an active fishing fleet. Posh nosh is available at the Selkirk Arms (01557 330402; selkirkarmshotel.co.uk), while Polarbites (01557 339050; polarbites.co.uk) is an award-winning chippie and runs a fishmonger next door.
The Essentials
Brockloch Eco Retreat, Brockloch Farm, Kirkpatrick Durham, Dumfries and Galloway DG7 3HU (07812 357 824; brockloch.co.uk). Treehouse from £150 per night.
Join our commenting forum
Join thought-provoking conversations, follow other Independent readers and see their replies