The Independent's journalism is supported by our readers. When you purchase through links on our site, we may earn commission.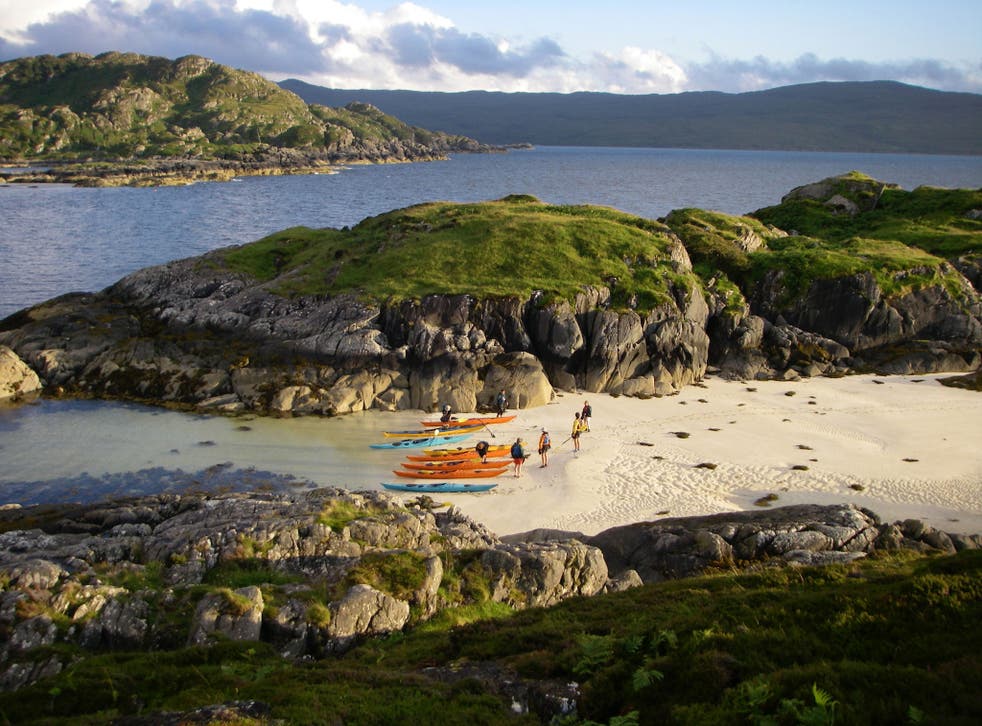 Sea kayaking in Scotland: Wave hello to a scenic shoreline
Andrew Eames discovers why the Scottish coast is the natural choice for sea kayakers
Andrew Eames
Saturday 20 July 2013 18:32 Comments
After half an hour out on the Sound of Arisaig, I began to appreciate what it would feel like to be an item of laundry trapped in a scenic launderette. Slosh, view, slosh; wash, view, wash; spray, spin, then a hose down of rain, and then spin again, and another glimpse of an island or two. But then, instead of someone opening the door and hauling me out into the dry, the cycle began again.
It was blowing a hooley out there, and somewhere just up the coast they'd cancelled the Isle of Skye ferry, but we were toughing it out in our puny shards of brightly coloured plastic, getting sloshed in the best way possible, and looking forward to getting sloshed again. It was just another day out on Scotland's west coast.
There can be fewer places better for mankind to remind himself how refreshingly, threateningly, magnificent nature can be. But while most of the obvious Scottish activities in these parts involve land in its more vertical manifestations, there's a fast-growing sport at which Scotland particularly excels, and which is (mostly) along the flat. Furthermore, it's a sport which gives a seal's eye view of some of the most spectacular coastlines in the world: sea kayaking.
There are now an estimated six million paddlesporters in the UK. By choosing to try it on Scotland's west coast, I'd come to its best bit.
The sport's connoisseurs all make the pilgrimage north, to do some (or all) of the so-called Scottish Sea-Kayak Trail, which basically runs all the way up the west coast from the Mull of Kintyre to Ullapool. It's the best kayaking in Britain, if not the world, and I was sampling it with Wilderness Scotland, a specialist tour operator whose sea kayaking offering has increased dramatically over the past few years.
With the help of a map and a few carefully selected sorties, guide Myles showed me how the coastline is a perfect place for an exhilarating seaborne adventure; there's wild camping, rich sea life, deserted islands, water-girt castles, Caribbean-style beaches, waterside inns and legends aplenty. And when it cuts up rough there's always somewhere to run to, because the coast faces in all directions (although not, of course, all at the same time).
Accordingly, after my initial baptism in the swell of the Sound of Arisaig, Myles brought me south to Moidart, a sea loch gummed up with forested islands, which meant plenty of shelter from the prevailing wind, where we belayed the kayaks down a rocky shore on to the misty water.
Around us, the hills were streaked with spuming, spating rivers, and the outgoing tides, combined with these incoming rivers and the island narrows, created a morass of surging currents that treated my kayak like a bath toy in search of a plughole.
Sidestepping the worst of the current, we moved cautiously around the base of Loch Moidart's Castle Tioram. Its name is pronounced "chirrum", which makes it sound frivolously un-Scottish, but there was nothing frivolous about the forbidding-looking seat of the Macdonalds of Clanranald, whose legends are all about clan feuds, black frogs and maidens tied to rocks and drowned by the rising tide.
We didn't see any drowning maidens, but we did stumble across a satellite engineer who seemed to be taking his life in his hands. From Tioram, we'd rounded the corner to head along the north passage of Shona, a large island that belongs to Sir Richard Branson's sister, Vanessa, and there was a van man trying to drive across the water. It turned out he'd come to install broadband for the benefit of the island's guests. There was, he said, a ford across the strait, but the tide needed to go out a little further, and he would then have three hours to get the job done. With the water running out fast, we kayakers had to keep moving, so his success – or failure – may yet have become part of Moidart legend.
After Moidart, with the weather improving all the time, we headed north, leaving the mainland's westernmost point, Ardnamurchan, behind. Ardnamurchan is one of the destinations of choice for experienced kayakers, said Myles; the currents are challenging; the seas are often rough and it is difficult to find anywhere to come ashore if anything goes wrong.
In short, not the sort of challenge I felt ready for, so we headed for Arisaig instead, passing the point on the coastline where Bonnie Prince Charlie came ashore for the Jacobite adventure that led to cruel defeat at Culloden, and ended in speedy retreat in Flora MacDonald's bonnie boat over the sea to Skye.
A couple of hours later and we were in the setting for more recent myth-making, coasting along the beaches that featured in the film Local Hero, in conditions that could have been Caribbean. The mist had risen like a maiden coyly lifting her skirts, revealing a pattern of islands in the distance – Rhum, Eigg and Muck – and in the foreground the Arisaig skerries, a series of low-lying islands surrounded by a sort of coral sand covered in shells, busy with seals and rafts of eider ducks. It was a mazy playground for paddlers, the beaches gleamingly crisp and the shallows luminous under the boat, with crabs scuttling away from our shadows. There was even an otter who surfaced several times within yards of our bows, seemingly unconcerned by our presence.
In the shelter of flat water I began to feel a lot more confident, confident enough to agree to make a return trip via the Sound of Sleat, in the remains of the previous day's swell. The sea was still running high, sufficiently high that another pair of paddlers, coming towards us, kept disappearing from view. I was back in the world of the launderette again, but this time I was dry, and determined to remain so.
Travel essentials
Kayaking there
Wilderness Scotland (01479 420020; wildernessscotland.com) offers the six-day guided Scottish Sea Kayak Trail Central – the Jacobite Coast trip. The price of £895 per person includes equipment, B&B accommodation, experienced sea kayaking guide, packed lunches and all transfers. Participants are expected to have at least five days' experience of sea kayaking; if not, the company also offers a five-day introduction to sea kayaking from £575 per person. The maximum group size is eight guests and two guides. The next departure is 7 September 2013, with further departures in 2014 on 24 May, 28 June, 2 August and 6 September.
Getting there
The trip starts at Inverness station, served by ScotRail (08457 550033; scotrail.co.uk) from Edinburgh, Glasgow and Aberdeen, plus the sleeper from Euston. East Coast (08457 225 111; eastcoast.co.uk) has a daytime Highland Chieftain service. By air, Inverness is served by Flybe (0871 700 2000; flybe.com) from Belfast. Birmingham, Gatwick, Jersey and Manchester, and by easyJet (0843 104 5000; easyJet.com) from Bristol and Gatwick.
Register for free to continue reading
Registration is a free and easy way to support our truly independent journalism
By registering, you will also enjoy limited access to Premium articles, exclusive newsletters, commenting, and virtual events with our leading journalists
Already have an account? sign in
Join our new commenting forum
Join thought-provoking conversations, follow other Independent readers and see their replies