Staffordshire Potteries: Throwing pots and tasting tea in resurgent Stoke-on-Trent
Once in decline, with new attractions the potteries are having a renaissance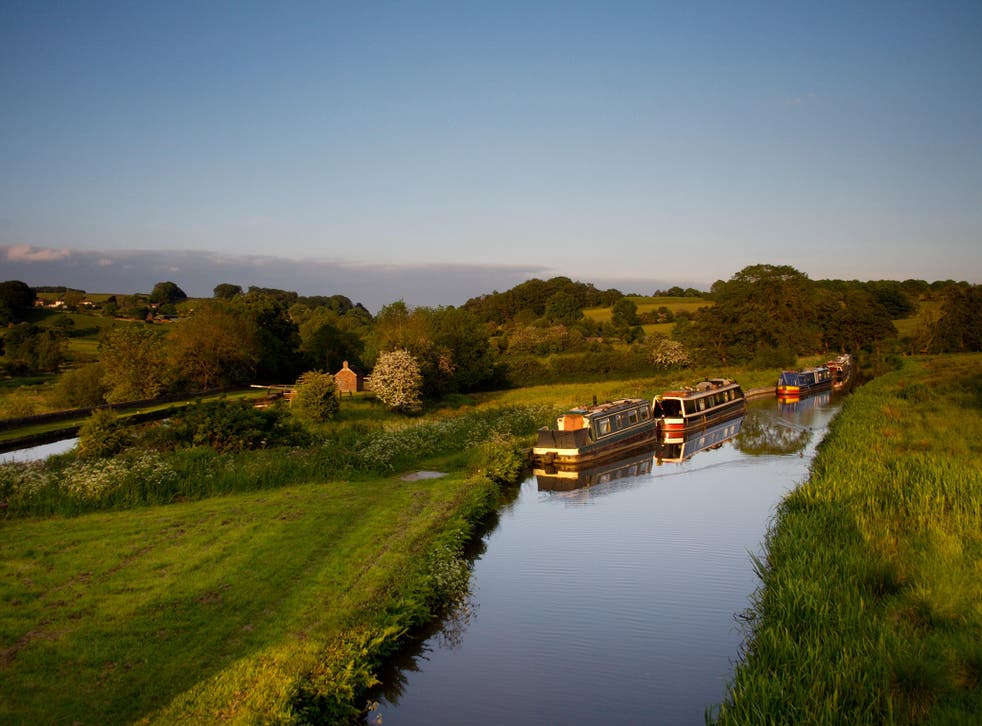 The last time I visited Wedgwood in Stoke-on-Trent I painted a plate – with a caricature of an elephant, the only thing I can draw. This time, at the newly transformed World of Wedgwood, I threw a pot, under the watchful eye and guiding hands of Jon French, employed by Wedgwood for 30 years and now passing on his skills in the Master Craft Studio: "I've had visitors who've said that throwing a pot here changed their lives."
That continuity and tradition of long service, blended with innovation, is evident everywhere from the dining hall – modelled on the canteen and incorporating a children's playroom inspired by the Fairyland Lustre ware popular after the First World War – to design and decorating studios.
Past the showcases of china, a tea-tasting bar (52 blends) leads into the elegant tea room. A self-guided tour takes visitors along viewing galleries, past panels of information and photos of Wedgwood workers.
The sense of renaissance is reinforced by the survival of the Wedgwood museum, the incomparable collection of ceramics under threat of being sold to appease the Pension Protection Fund after the insolvency of Waterford Wedgwood (rescued by an American private equity firm, the company is now owned by Finnish company Fiskars).
Saved by the Art Fund, which gave it to the V&A, the collection remains where it belongs, in Stoke. Curator Gaye Blake-Roberts showed me highlights, from an orphan plate of the famous Frog Service – a 50-settings set painted with English scenes commissioned in 1773 by Catherine the Great and only once seen in England, in 1994 – to the work of contemporary designers Eric Ravilious and Jasper Conran.
Over afternoon tea, served on Parkland bone china inspired by the Frog Service, Gaye and I bonded further over canals, fundamental to the region's former success. Ten years ago, after a trip along the Caldon Canal, I'd come to Burslem, the heart of The Potteries, the "Bursley" of Arnold Bennett's Anna of the Five Towns and birthplace of Josiah Wedgwood. I marvelled at the fine buildings, especially the crumbling Wedgwood Institute, built in 1865 by public subscription in honour of Josiah (grandfather of Charles Darwin), its elaborate brickwork facade ornamented by terracotta reliefs of pottery-making.
Despite its heritage, Burslem was in sad decline – most potteries and bottle ovens had been demolished, but the oldest working pottery was still open, representing a triumph of individual effort. Burgess & Leigh, founded in 1851, was saved from closure in 1999 when William and Rosemary Dorling, china retailers from Hampshire and particularly partial to the blue-and-white Burleigh Ware, gave up shop and home to buy the business – the only one still to use the underglaze transfer printing method developed by Josiah Spode in the 18th century. My visit felt like time travel, as I picked my way over the cobbles past bottle oven, boiler and blungers (where clay is mixed), and watched workers creating the china. The factory shop had a blazing fire and a kettle for tea-making.
This sterling effort didn't last; in 2011 the business was sold to Denby but, by great good fortune, Prince Charles was a fan. The Prince's Regeneration Trust bought the site, on condition that work should continue here, rather than transferring to Derby as intended. So, now called Middleport, it is still in business, has been nominated for an architecture award from Riba, and will star on screen in the autumn in The Great British Pottery Throw Down.
This summer, on a weekday tour, ex-teacher Albert Bennion (the first in five generations to work outside the industry) took me on that familiar route, through dusty white areas to the slip room where teapots were unpacked from moulds and taken next door for fettling and spongeing before being fired in the kiln. Downstairs, flatware – plates and bowls – was shaped by jiggers and jollies, whose operators were happy to exchange pleasantries and tips with curious onlookers. Past the copper engraving machine, festooned with transfers of Burleigh designs, rows of women were meticulously transferring and painting. There's still a fire in the shop on chilly days, but now a canal-side café.
Best new family attractions

Show all 6
My sense of cheer was increased by the discovery that The Prince's Regeneration Trust has also taken under its wing the Wedgwood Institute, preparing it for use as a nursery for start-up businesses. The other good news is the Spode Works Visitor Centre. The Spode Museum Trust struggled to find premises for its collection and archives after the factory abruptly ceased trading in 2008 (the Spode brand was bought by Portmeirion) but has found a home on part of the original 10-acre site in the heart of Stoke, where the Council plans a "creative village".
As I arrived, Tony Challiner, china painter for 56 years, was setting up his Friday demonstration. Paul Wood, ex-managing director of Spode and chair of the Trust, showed me the atmospheric buildings to be restored when funding allows and the Georgian China Terrace (where Wood started as an apprentice engraver) overlooking the courtyard, Christmas decorations still on its walls after the sudden exit. It's an exciting time for the Trust – and for the pottery industry as a whole. A sign of improving times will be on display later this month when the fourth British Ceramics Biennial launches in Spode's magnificent China Hall, where new businesses will join long-established potteries alongside those who put their faith in Stoke, like Emma Bridgewater. It's a good place to start catching up on the resurgence of The Potteries.
Getting there
Stoke-on-Trent is served by Virgin Trains on the London Euston-Manchester Piccadilly line and also by East Midlands Trains (08457 484950; nationalrail.co.uk).
Visiting there
World of Wedgwood, Barlaston, Stoke-on-Trent (01782 282986; worldofwedgwood.com). Full admission £15.
Middleport Pottery, Burslem, Stoke-on-Trent (01782 499766; middleportpottery.co.uk). Tours on weekdays only, £7.50.
Spode Works, Stoke-on-Trent (01782 411421; spodeworks.org). Open Friday to Sunday and bank holidays, admission free.
The British Ceramics Biennial takes place in Stoke-on-Trent from 26 September to 8 November (britishceramicsbiennial.com).
More information
Register for free to continue reading
Registration is a free and easy way to support our truly independent journalism
By registering, you will also enjoy limited access to Premium articles, exclusive newsletters, commenting, and virtual events with our leading journalists
Already have an account? sign in
Register for free to continue reading
Registration is a free and easy way to support our truly independent journalism
By registering, you will also enjoy limited access to Premium articles, exclusive newsletters, commenting, and virtual events with our leading journalists
Already have an account? sign in
Join our new commenting forum
Join thought-provoking conversations, follow other Independent readers and see their replies