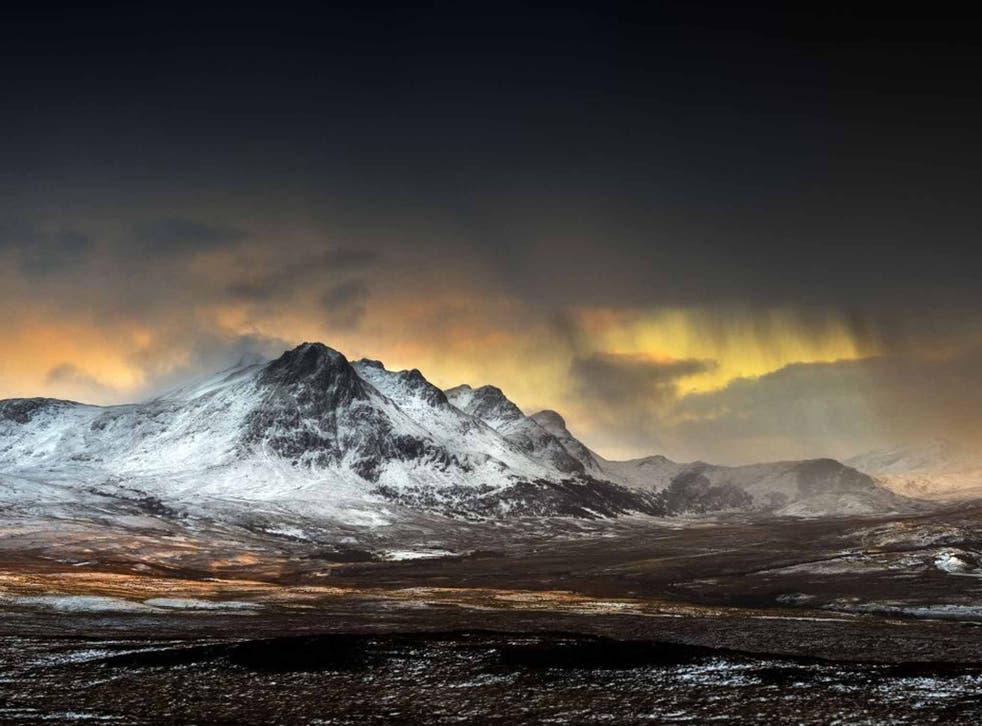 Sutherland, Scotland: Relentlessly north, where Britain is blissfully wild
In an extract from his new book exploring the UK's mountains, Simon Ingram travels to Sutherland, where the land meets the sea and the stag remains king
Simon Ingram
Friday 06 March 2015 10:43 Comments
To the north, then. Relentlessly north – as far north as you can go without getting wet feet. Here, the place where Scotland frays and dramatically terminates is a sequestered region of singular atmosphere where the sky seems to inflate around you, the population thins out and, one by one, the things you rely on back home – phone signal, radio, other people – waver and sputter, then vanish altogether.
I was heading for the remote region of Sutherland. Sutherland is huge and very empty. With an area of more than 5,000 square kilometres it could swallow Snowdonia and the Lake District together and still have room for a decent meal, yet its population is only around 30,000 souls.
I pulled over. Stepping on to the scrubby grass, I looked north-west. Ahead, a cloud of dust from an unknown source eddied somewhere close to the horizon. And beyond it the shadows of distant mountains bled through the cloud like faces through a veil. Most dramatic of all is Ben Loyal: a trap of sharp summits between the boundless flats of Sutherland and the sea.
Parking the car at the roadhead near Ribigill, I walked the good track past a fine house now abandoned, then the landscape opened and very slowly I began to climb. There wasn't much of a path and what there was I easily lost.
If the cloud persisted, not only would a view be off the cards but navigation would shift into an altogether different realm. This preoccupied me a little as I began the ascent towards the bealach (mountain pass), before something happened that changed everything. The sun found an opening in the cloud and set the flanks of Ben Loyal ablaze with spilled afternoon light.
I stood and watched awhile, enjoying the way the sun lit the nodding heads of cotton grass around me. I looked west towards Ben Hope, a lozenge of grey on the horizon beneath a massive and lively sky of cloud.
The Bealach Clais nan Ceap was at about 320 metres – just under halfway up the mountain. It was blissfully dry, and when I saw the slope that lay ahead up the eastern flank of Ben Loyal, it was immediately clear that here was the sensible choice for tonight's camp. I could pitch up, ditch the heavier items of kit in the tent, then climb to the top unencumbered.
Tent up, I began to walk towards the short, steep ascent on to Ben Loyal's higher reaches. There was no sound whatsoever. Just a close, crushing silence. I was at about 600 metres when something made me stop. A noise, from somewhere unseen ahead; part choke, part growl, and definitely mammal – an "oof". It sounded hollow, guttural, with a resonance that suggested a large pair of lungs. As I walked, a shape emerged from the fog and stood looking at me quite coolly, about 20 metres ahead: a stag.
He looked magnificent – stocky, ears alert, resplendent with short but sturdy antlers. For a moment I was completely still, simply enjoying looking at him, this graphic Highland silhouette, just staring straight back at me. After a minute or so he turned away and trotted into the mist.
I took a bearing due south across the grassy plateau that grouted Ben Loyal's summit tors. No, this wasn't what I expected at all. From sea level the summit looked like it was going to be all angry rock and drama, not a bowling lawn. As nice as it was to be surprised, it would also have been nice if it was a little bit more, well, mountainous up here. And then I saw it: Ben Loyal's final little surprise. A little step of rocks of quite rectangular form. Atop that slab was the summit. It looked and felt like white granite – to all appearances a single piece fissured in many places and spidered with lichen. This looked difficult. So difficult, in fact, I couldn't see a way up.
By the time I'd selected a crack that looked wide enough to take a foot and begun to shimmy my way up I was too focused on the task in hand to consider it. It was like crawling up the side of a wet football – awkward, sweaty and undignified. But it certainly felt like mountain climbing. The crack was about six metres long, and I reached the top to find, with great relief, that the ground levelled off and that in the middle of it all was the trig point marking the summit.
I walked the final few steps just after 9pm. Taking out my compass, I laid it flat on top of the cold trig point and watched the needle rotate lazily towards north, then settle.
The descent was a lot quicker. I must have veered pretty sharply off course on the way up, as within 30 minutes I was making good progress down the final slope to my tent. I was close enough for something else to snag my eye. At a glance it looked like a piece of rock; but as I looked harder, I realised it definitely wasn't.
I wandered through the pale wreckage of HP Hampden P2118, metres from my tent, in the gathering dusk of late evening. I didn't know that four people had died here, on this spot, in a stormy night of unimaginable horror almost exactly 70 years ago.
Air-crash sites are a startlingly common feature in the British hills. Often the wreckage is left as a mark of respect, although it's difficult not to view these universally ugly, bleached remains as unpleasant reminders rather than dignified memorials.
The mountain had been particularly dry. I was down to my last few fingers of water, but here a small stream was moving significantly enough to trickle. To my dismay the stream was choked with wreckage from the aircraft; the passage of 70 years had probably leached out anything harmful, but it didn't feel right to drink it.
As I arrived back at my tent I looked west just in time to see the sun emerging from behind a wafer of horizon cloud, reddened and diffused, its last peep before sinking over the headland. As it lit the door of my tent just fleetingly, I stood and watched the day end, glad to have made it for this last kiss of light on the mountain.
This is an edited extract from 'Between the Sunset and the Sea: A View of 16 British Mountains' by Simon Ingram. Published by William Collins on 12 March (£18.99).
Register for free to continue reading
Registration is a free and easy way to support our truly independent journalism
By registering, you will also enjoy limited access to Premium articles, exclusive newsletters, commenting, and virtual events with our leading journalists
Already have an account? sign in
Join our new commenting forum
Join thought-provoking conversations, follow other Independent readers and see their replies