The magnificent wilderness of the Cairngorms

Show all 6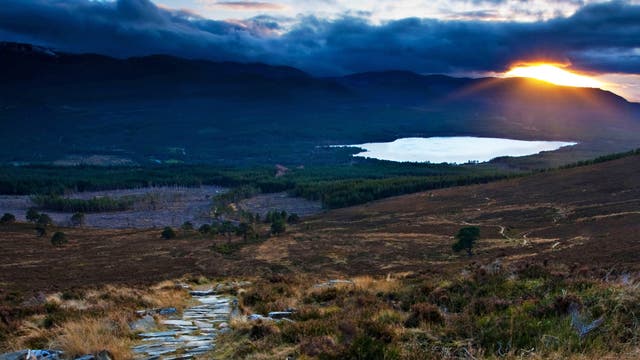 The magnificent wilderness of the Cairngorms
Britain's biggest national park is 10 years old and offers a wealth of activities on land and water
As it marks its 10th birthday, the people behind the UK's largest, most northerly national park – which also takes in Britain's highest mountain range – can afford to celebrate. When the Scottish government established the Cairngorms National Park in 2003 there was widespread scepticism, and a year later only one person in four said they were visiting the area because it was a national park. That percentage has now risen to half and in 2010 the park's boundaries were extended.
Now the Cairngorms National Park is almost three times the size of London and more than twice the size of Scotland's original national park, Loch Lomond and the Trossachs. It stretches from Blair Atholl in the south-west up to Carrbridge in the north, and covers much of the Central and Eastern Highlands, including Badenoch and Strathspey, parts of Moray, the Angus glens, Highland Perthshire, Glenshee and most of Royal Deeside around Balmoral.
To mark its birthday, the Cairngorms National Park Authority has published some impressive statistics. For example: £4m has been invested in paths and conservation projects; it has attracted 14 million visitors; and contributed £115m to the local economy.
During this year's National Parks Week (29 July to 4 August; nationalparks.gov.uk), the park will showcase the enjoyment its habitats and natural heritage provides, highlighting both its birthday and the Year of Natural Scotland (bit.ly/YearNatScot). A free bike festival is being organised, based at Glenmore Lodge near Aviemore (01479 861256; glenmorelodge.org.uk) with activities for beginners to experienced mountain, road or trials cyclists.
But the Cairngorms' real attractions predate the establishment of the park by decades (in the case of most of the activity providers) or by centuries (when it comes to whisky distilleries and castles). Indeed, the magnificent wilderness of the high mountains – lochs, rivers and glens of ancient Caledonian forest, the protection of which is the core reason why the park was established – has, of course, been here for millennia.
Nevertheless, these once-disparate interests now have a common purpose to protect wildlife and promote tourism. New for this summer is an electric bike rental scheme (bit.ly/electriccairngorms), with 13 rental stations in and around the park, as well as charging points and scenic, mapped routes.
However, it's hikers and climbers who have the biggest draws: four of Britain's five highest peaks are within the park and there are more than 600 miles of core paths. In the peaks, make sure you know what you're doing and, ideally, use a guide. Sadly, every year the volunteer mountain rescue teams help those who overestimate their abilities, underestimate the weather (the strongest wind gust recorded on mainland Britain was here at 194mph), or just get lost.
The Cairngorms isn't only for serious outdoor types, though. Anyone seeking the Center Parcs experience, but on an epic scale, can find a zoo, theme park, mountain railway (01479 861261; cairngormmountain.org; £10.30) or steam railway (01479 810725; strathspeyrailway.co.uk; £13), golf courses (visitcairngorms.com/onthe tee.html), horse riding (01540 670000; newtonmoreridingcentre.com, from £20), a reindeer farm (01479 861228; cairngormreindeer.co.uk; £3.50), distillery visits and more.
For further information on what to see and where to stay, see cairngorms.co.uk, visitcairngorms.com and visitscotland.com.
Liquid assets
Water is life for the park. You can sail on it, cruise along it, fish it or just splash about in it. Full On Adventure (01479 420123; fullonadventure.co.uk) offers white-water rafting on the Findhorn (£55pp) river tubing (£45pp) and canyoning (£65pp).
Long-established Loch Insh Watersports (01540 651272; lochinsh.com) offers windsurfing (from £20 per hour), sailing (£11) and kayaking (£16).
The Spey and Dee are famous for salmon fishing; for pike, try Loch Insh and Loch Avon for brown trout (permits required). Loch Insh Watersports offers bank-fishing from £10 per half day, or £20 with boat hire, and ghillie from £39 per hour.
Whisky distilleries offer tours and tastings: Dalwhinnie (01540 672219; discovering-distilleries.com), Glenlivet (01340 821720; uk.theglenlivet.com) and Royal Lochnagar (01339 742700; discovering-distilleries.com).
A regal region
Royal connections with the Cairngorms stretch back more than 160 years. The Royal Deeside valley was a favourite of Queen Victoria, who purchased its Balmoral Castle, above (01339 742534; balmoralcastle.com) in 1852. The castle is open to the public for four months a year (until 31 July, 10am to 5pm daily; £10). Cottages can be rented in the grounds year round from £480 per week for Colt Cottage (sleeps five) .
The Queen is patron of, and often present at, the Braemar Gathering (01339 755377; braemargathering.org; £10), the world's premier highland games, staged since 1815. It will be held on 7 September.
Adrenalin boost
There are plenty of opportunities for a full-on adrenalin rush. At Carrbridge, the Landmark (0800 731 3446; landmarkpark.co.uk; £14.25) theme park is focused on forest adventure, with family-friendly water coasters and forest towers.
The Rothiemurchus Estate (01479 812345; rothiemurchus.net) in Aviemore has activities from archery (£23) and clay pigeon shooting (£45) to off-road Land-Rover Defender driving (£100 for two). You can also try summer dog sledding, on wheels, also based in Aviemore (07767 270526; sled-dogs.co.uk; from £60).
Cyclists have 300 miles of routes, both quiet road and off-road. CairnGorm Mountain (01479 861261; cairngormmountain.org), one of three ski areas in the park, has guided descents from the top of its funicular railway from £22.50 with bike hire, guide and train ticket. If you're happy to cycle up, Laggan Wolftrax (laggan.com/wolftrax.htm) has 11 miles of downhill trails.
Where the wild things are
The Cairngorms National Park covers 2 per cent of the British landmass but is home to a quarter of our endangered species. Glimpse golden eagles, capercaillie, water voles and red squirrels among the 1,200 species in the park that have been identified as important for conservation.
Fewer than 400 pairs of Scottish wildcats remain, meaning they are under greater threat than tigers, but the park's Highland Tiger project (highlandtiger.com) has been working to raise awareness and turn the tide. The easiest way to see this species is to visit the Highland Wildlife Park in Kincraig (01540 651270; www.highlandwildlifepark.org; £14). It has other rare animals including tigers and the UK's only captive polar bears (one of which was infamously portrayed as a wild bear giving birth in David Attenborough's Frozen Planet series), It is run by the same organisation as Edinburgh Zoo. Try your hand as a "keeper for the day" for £250.
Alternatively, Speyside Wildlife (01479 812498; speysidewildlife.co.uk) offers full-day wildlife tours from £140 for groups up to seven.
Where to stay
Accommodation ranges from traditional B&Bs to local and chain hotels, the latter concentrated in Aviemore. For something more intimate, try the tiny, timber self-catering Woodman's Hut at the Lazy Duck Hostel in Nethybridge (01479 821642; lazyduck.co.uk; from £70 per night). There's also a small hostel, a cottage and camping options.
Rent a historic lodge on the Atholl Estates around Blair Castle, above (01796 481355; atholl-estates.co.uk). The Marble Lodge, a shepherd's cottage that sleeps four, costs from £346 for three nights.
Then there's the three-star Grant Arms in Grantown (0800 043 8585; grantarmshotel.com), where Victoria and Albert stayed in 1860, which specialises in bird and wildlife watching. Its packages include a four-night Red Deer Rut Break (from £349pp half board, between 27 Sep and 4 Oct), with such events as a red-deer safari.
Travel essentials
The park's western boundary follows both the modern A9, north from Perth, and the East Coast main line to Inverness – served by the Highland Chieftain from London King's Cross at noon, via York, Newcastle and Edinburgh (08457 225111; eastcoast.co.uk). Or take the overnight sleeper from Euston (08457 550033; bit.ly/CalSleep).
Stations on the west of the park include Blair Atholl, Dalwhinnie, Newtonmore, Kingussie, Aviemore and Carrbridge.
By air, Inverness airport is closest; it is served by Flybe and easyJet; Aberdeen airport has these two airlines plus British Airways, Virgin Atlantic and BMI Regional. Glasgow and Edinburgh airports are about 60 miles south of the park.
Traveline Scotland (0871 200 2233; travelinescotland.com) can advise on public transport to and within the park; car hire and taxis are widely available.
There are many bike-rental options inside the park, including Cairngorm Bike Hire (01479 831745; cairngormbikeandhike.co.uk; £12/half day, £16/full day). To cycle there, route 7 of the national cycle network (sustrans.org.uk) is a spectacular option.
Click here to view UK Tours and Holidays, with Independent Holidays.
Register for free to continue reading
Registration is a free and easy way to support our truly independent journalism
By registering, you will also enjoy limited access to Premium articles, exclusive newsletters, commenting, and virtual events with our leading journalists
Already have an account? sign in
Register for free to continue reading
Registration is a free and easy way to support our truly independent journalism
By registering, you will also enjoy limited access to Premium articles, exclusive newsletters, commenting, and virtual events with our leading journalists
Already have an account? sign in
Join our new commenting forum
Join thought-provoking conversations, follow other Independent readers and see their replies