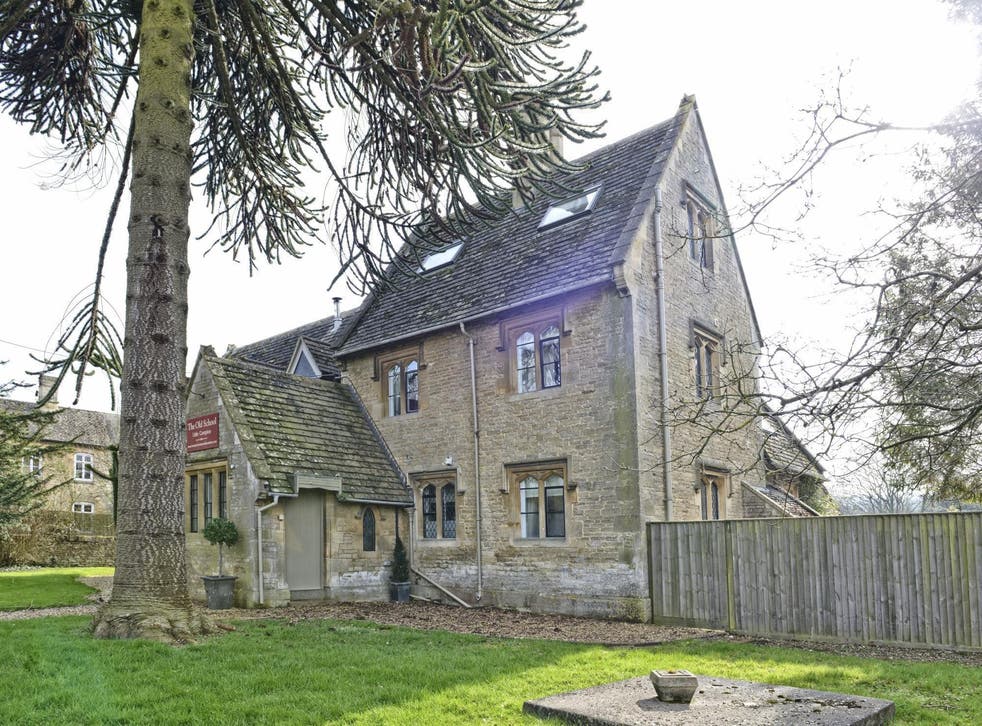 Tripadvisor Travellers' Choice Awards 2018: What's it like to stay in Europe's best B&B?
A Cotswolds B&B has been rated best in Europe. Helen Coffey checks in to see what the fuss is about
Helen Coffey
Tuesday 23 January 2018 13:03 Comments
If you ever find yourself stranded at a tiny, backwater station somewhere outside Oxford in the middle of a snowstorm, it turns out there is no one better to have on speed dial than Wendy Veale, proprietor of the Old School Bed and Breakfast.
She will cluck sympathetically about the state of the railways before jumping in the car and making the hour-long round trip from Little Compton to come and pick you up, no questions asked.
She will usher you into her vehicle, all concern and kindness, before gathering up any other waifs and strays in need of a lift – in this case a young woman called Danielle trying to get to her aunt's wedding in the amusingly named village of Lower Slaughter – and whisking you away in a fug of heated seats and comforting chatter.
And back at the Old School, she will furnish you with a plush dressing gown, a cafetiere of scorching coffee and a plate of homemade shortbread before installing you in front of a crackling fire to warm up in the most pleasant fashion possible.
I know all this because, thanks to a broken-down freight train, my anticipated two-hour journey to Wendy's Cotswolds retreat took closer to four and a half hours. And despite the rather lovely Blitz spirit that developed between my fellow travellers and I once the train had turned around and dropped us off at the aforementioned backwater station, I was feeling pretty fed up by the time my chariot pulled in. It is testament to Wendy and her husband, John, that within five minutes of arriving at their four-bedroom bolthole I had quite forgotten my bad mood.
The Old School was today named the best B&B in the UK and Europe in the 2018 TripAdvisor Travellers' Choice Awards and, before my visit, I had wondered what could make it so special. After all, the clue's in the name, isn't it? Make sure the beds are comfortable and the breakfasts generous and you should be laughing, or so I blithely assumed.
It turns out the real difference is the people. Unlike a sprawling hotel chain, where the owners will have little bearing on your stay, in the B&B business personality is everything. You are essentially staying in someone's home, and this added intimacy means the dynamic is completely dependent upon your host. In this regard, I could see straight away why the Veales were best in show.
Before I'd even reached the Old School, so named because the building has been beautifully converted from a former school that first opened in 1854, I'd fallen a little bit in love with Wendy. "I love looking after people," she tells me, and it shows.
Of course, the B&B itself is no slouch either. Some 97 per cent of the 724 reviews left on TripAdvisor since it opened in 2007 are five-star, paying homage to the decor and location, as well the hosts. Although I don't get to experience much of the local area, this is prime Cotswolds walking country, with drawers upon drawers at the Old School filled with maps and routes to try. Chipping Norton is a 10-minute drive away, and there are plenty of pubs and restaurants catering for well-heeled diners and hungry hikers alike; I enjoy a hearty fish stew with Gruyere at The Chequers at Churchill, despite having done no walking to deserve such decadence.
Back at the ranch, the look reminds me of the spreads in Country Living magazine that my mother used to swoon over. Laura Ashley-style fabrics, copious antiques and sumptuous colours on the walls all work together harmoniously to create an aesthetic that is traditional yet fresh, comfortable yet stylish and snug without being frumpy. The main attraction is the living space upstairs, with dramatic, dark wood beams, deep red walls and a gorgeous stained-glass window as the focal point. Squashy sofas abound, while a stand-alone wood-burner and flume keep it cosy. But although exquisitely done, nothing detracts from the feeling that you are absolutely at home. I'm free to pad about in my slippers and dressing gown without judgement.
My bedroom is reflective of Wendy's quintessentially English country style, with striped blinds, thick cream carpet and a burnt cherry wall behind a kingsize bed. A huge shower in the ensuite completes the picture of comfort; fresh flowers bring the outside in.
The final piece of the puzzle fits into place the next morning, when I arise, sleepy-eyed, and shuffle downstairs to eat. This is no ordinary breakfast – or rather, it is, but all the elements have been refined to kick it up a notch. Locally produced artisanal jams are displayed on the table, while Wendy's homemade fruits steeped in tea and spices sit alongside yoghurts, mueslis and fresh juice. The bacon and sausages are sourced from a pig farmer down the road, and alongside all the usual English breakfast fare there's also smoked salmon and grilled halloumi on offer. I stay for far longer than I mean to, savouring the food and conversation with the other guests.
When I ask Wendy what she likes most about running a B&B, she is touchingly honest. "I get a huge amount of joy in people enjoying it," she says, tearing up for a moment. "I put a lot of love into it."
And so it is that I conclude there is a difference between the best B&B in Europe and all the rest – and it turns out to be Wendy and John.
The Old School House has doubles from £130, B&B.
Best bargain: Lauriston Court Hotel, Llandudno
Best service: The Elm Tree Hotel, Llandudno
Best for families: Premier Inn London Bank (Tower) Hotel, London
Best B&B: The Old School Bed and Breakfast, the Cotswolds
Best luxury: Egerton House Hotel, London
Best for romance: Tavistock House Hotel, Devon
Best small hotel: Tavistock House Hotel, Devon
Best value for money: Lauriston Court Hotel, Llandudno
Best overall: Hotel 41, London
Best bargain: Hotel Villa Sirena, Casamicciola Terme, Italy
Best service: Achtis Hotel, Afytos, Greece
Best for families: Cavallino Bianco Family Spa Grand Hotel, Ortisei, Italy
Best B&B: The Old School Bed and Breakfast, the Cotswolds, UK
Best luxury: Egerton House Hotel, London, UK
Best for romance: Maison Souquet, Paris, France
Best small hotel: Tavistock House Hotel, Devon, UK
Best value for money: Lauriston Court Hotel, Llandudno, UK
Best overall: Hotel Belvedere, Riccione, Italy
Best bargain: Hotel Villa Sirena, Casamicciola Terme, Italy
Best service: Riad Kheirredine, Marrakech, Morocco
Best for families: Cavallino Bianco Family Spa Grand Hotel, Ortisei, Italy
Best B&B: Pousada Casa Campestre, Goncalves, Brazil
Best luxury: Baros Maldives, Baros Island, the Maldives
Best for romance: Maison Souquet, Paris, France
Best small hotel: Hotel Mume, Kyoto, Japan
Best value for money: Hanoi Emerald Waters Hotel & Spa, Hanoi, Vietnam
Best overall: Viroth's Hotel, Siem Reap, Cambodia
Register for free to continue reading
Registration is a free and easy way to support our truly independent journalism
By registering, you will also enjoy limited access to Premium articles, exclusive newsletters, commenting, and virtual events with our leading journalists
Already have an account? sign in
Join our new commenting forum
Join thought-provoking conversations, follow other Independent readers and see their replies