Walk of the month: East Lothian coast - Great strides towards conservation
John Muir, who helped create the USA's national parks, was born in Scotland. Mark Rowe follows a new trail in his honour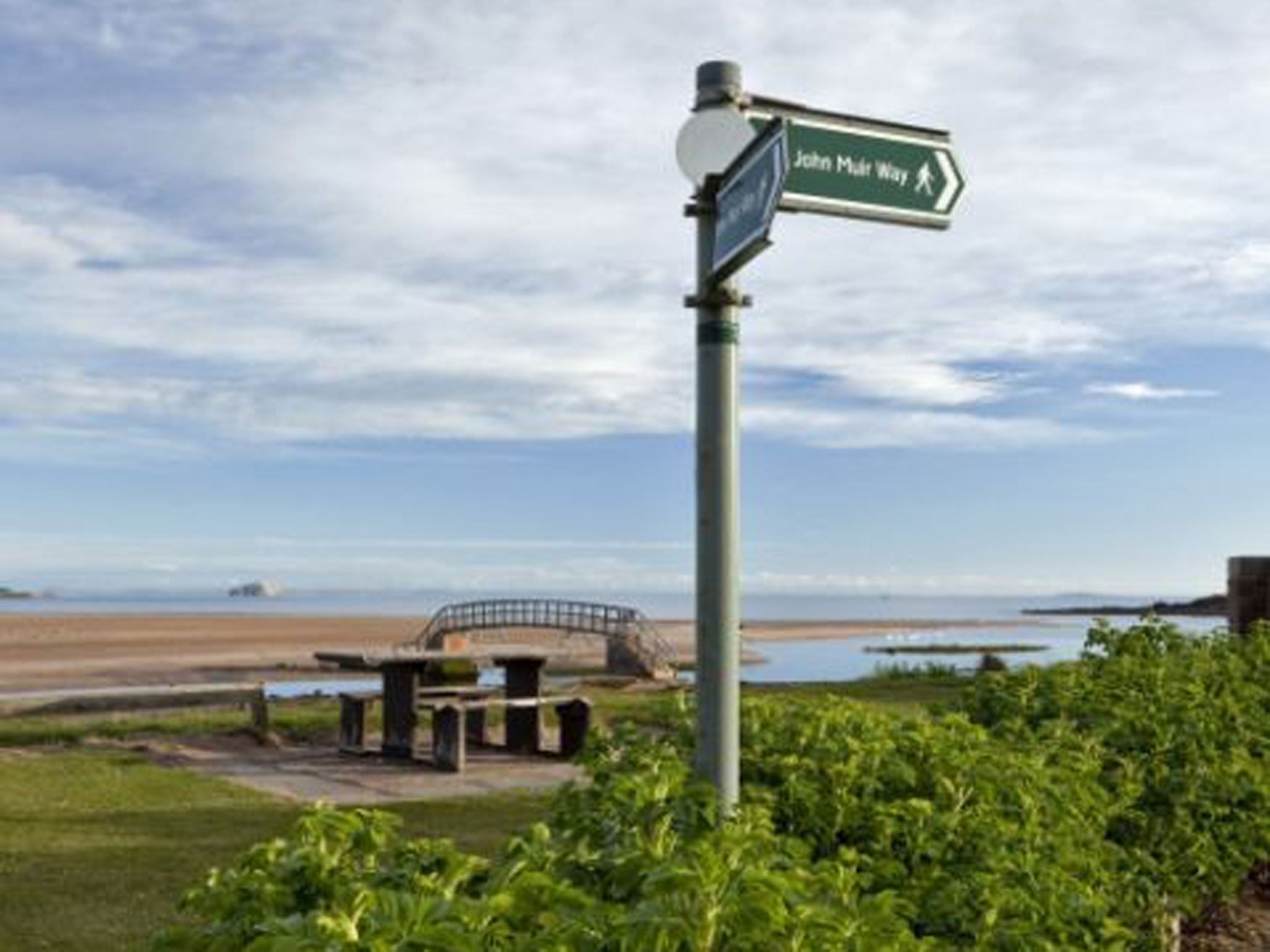 This is a long hike, but almost entirely flat and well worth making to discover this distant corner of the UK. Most people, if they know of North Berwick and Dunbar at all, do so either for the curiously volcano-shaped hill known as North Berwick Law, or the Torness nuclear power station near Dunbar, both of which are conspicuous landmarks seen from the window of trains running between London and Edinburgh.
Dunbar also holds a special place in the hearts of environmentalists, as the birthplace of John Muir. He's revered in the United States, where he inspired the US conservation movement and sparked the creation of its national parks in the late 19th century. He is less well-known in his home country, yet his formative encounters with the natural world around Dunbar were pivotal in shaping his later Herculean achievements.
This walk follows part of the John Muir Way – a new trail that will be opened officially in April – from the seaside resort of North Berwick through some eye-popping rural landscapes to Muir's childhood home, which is now converted into a gem of a discovery centre about both the man and our place in the scheme of things.
It's a walk of wild beauty from the start. I leave North Berwick with views across to Bass Rock, home to an enormous gannet colony. The birds flutter like confetti above the rock, breaking off to plunge dagger-like into the waters of the Firth of Forth in pursuit of fish.
Just behind the town, North Berwick Law rises abruptly from the surrounding flatlands. Covered with gorse, it is a remnant of volcanic activity and can be climbed easily enough – but perhaps on another day. If you do so, with good weather you can pick out Ben Lomond, 120km away. Throughout this walk, the path sneaks into fields and coppices and I reach Craigmoor Wood. The walking has a lovely symmetry: straight field edges lined with hedgerows; long sightlines and huge skies. To the south is another volcanic pimple on the landscape, Traprain Law. The route lifts me up Drylaw Hill, all 60m of it, where there are superb views back to North Berwick Law, Bass Rock and, some way to the east, and on the route of this walk, John Muir Country Park.
Leaving the picturesque village of East Linton, the path picks up the River Tyne (not the Newcastle one) for a delectable stretch that passes a mill and criss-crosses a succession of footbridges, a weir and a ford.
I reach Hedderwick Sands, where there are some magical, Narnia-like pools and the incoming tide muscles up against a man-made embankment. The footpath teeters above the North Sea, while petrified driftwood has washed up on the shoreline. The path continues through the Hedderwick Hill plantation to reach a vast expanse of saltmarsh. The tide is in, so I follow the sea wall towards the red cliff tops; if it's out, you can walk across the sands, using a lonely bridge that's mournfully marooned in the heart of the sands.
A flurry of steps takes me up and around the edge of a golf course with distant, eye-stretching views across the Firth of Forth to Fife and the Isle of May. The cliff formations here, high above Belhaven Bay, are bewitching, with the red sandstone whittled into wafer-thin ledges and pyramids that front thin air.
The cliff-top path enters Dunbar and I find myself sticking to it pedantically, as it climbs and swoops past lovely, sheltered and hidden bays, full of rocks, skerries and a miniature volcanic plug known as Doo Rock. The infant John Muir spent much of his time here and later wrote "I loved to wander ... along the seashore to gaze and wonder at the shells and seaweeds, eels and crabs in the pools among the rocks."
Close by, you'll find his birthplace, a three-storey townhouse that recounts his life and work. He sometimes gave his address as "John Muir, Earth-planet, Universe", which can sound a bit pretentious, but I decide to cut him some slack on account of the gorgeous walk I've now completed. Muir's love of wildlife was sparked by walks with his grandfather. He wrote of once discovering a nest of field mice in a haystack: "No hunter could have been more excited in discovering a bear and her cub in a wilderness den."
Directions
Distance: 24km/15 miles.
Start: Sea front, North Berwick.
End: John Muir's Birthplace, 126 High Street, Dunbar (jmbt.org.uk).
Time: Five to six hours.
OS map: Explorer 351 Dunbar & North Berwick.
Directions: The route can be downloaded at www.visiteast lothian.org/activities-walking.asp and is waymarked by green John Muir Way (JMW) fingerpost signs.
Travel essentials
Getting there
East Coast Trains (eastcoast.co.uk) and Cross Country Trains (crosscountrytrains.co.uk) serve Dunbar, Berwick and Edinburgh (08457 484950; nationalrail.co.uk).
Bus No 120 links North Berwick and Dunbar (travelinescotland.com).
Staying there
Mark Rowe stayed at No 10 North Berwick, 10 Dirleton Avenue, North Berwick (01620 895 388; number10northberwick.co.uk), which has doubles from £75, including breakfast.
More information
Visit Scotland: visitscotland.com/homecoming
Scottish Seabird Centre: 01620 890202; seabird.org
Join our commenting forum
Join thought-provoking conversations, follow other Independent readers and see their replies