Work, rest and play on a holiday with a difference
A National Trust volunteering break in Pembrokeshire offers the chance for adventure while giving something back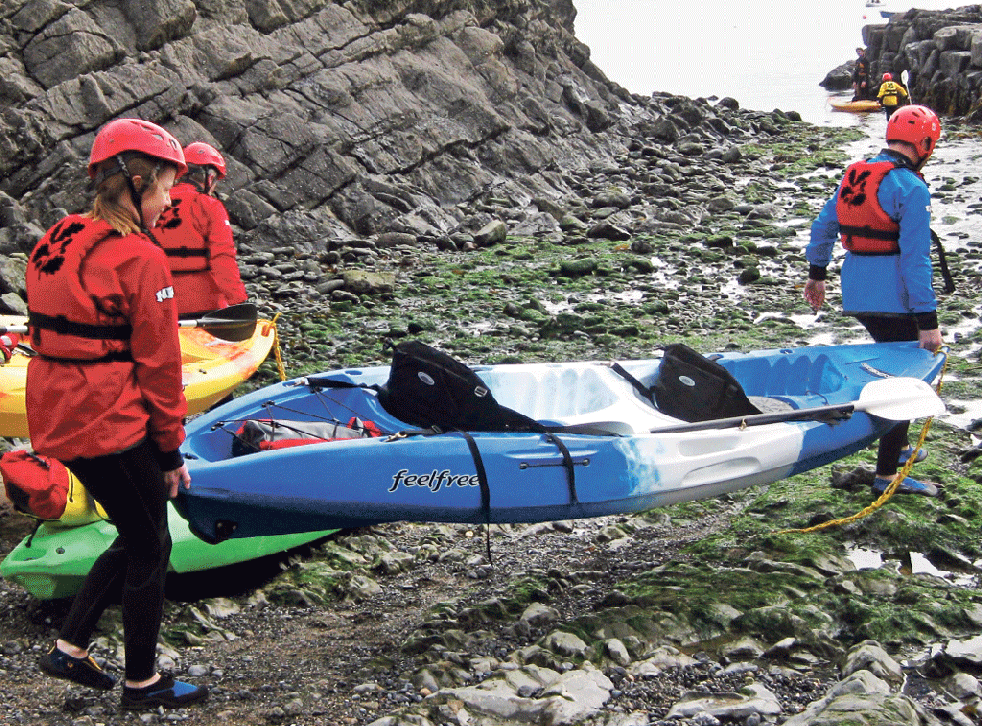 I stood on the wet sand and chewed a piece of seaweed. It was a rare sunny, breezy day and I was wearing a wetsuit, helmet and life vest, paying close attention to the ever-cheerful Rhian Sula, National Trust Education Officer. I had kayaked to this rocky cove on the south-west coast of Wales with Rhian, plus an instructor and our group of 12 children and adults. Rhian was giving us a crash course in marine biology, from barnacle reproduction to sea squirts to edible seaweed, and I was enthralled.
This bracing outoor venue is part of the National Trust's Stackpole estate in the Pembrokeshire Coast National Park. I was taking part in one of the charity's family working holidays. Jane Sheppard, the Trust's joint Head of Holidays, later told me that 45 people took part in its first working holidays, 45 years ago (it seems the Big Society isn't a particularly new idea). Now numbers have increased to more than 3,000 in 2011, with bookings up another 10 per cent this year.
The Trust offers working holidays for adults across the UK, and for families in Yorkshire, Pembrokeshire and, from earlier this summer, Norfolk. But as I prepared for a weekend of activities and volunteering with my family, piling up items from the brochure's "What you will need to pack" list, my nine-year-old son looked worried. Eyeing the mountain of boots, old clothes, torches and waterproofs, he asked: "Will the TV there have Sky?" The answer was no. Instead, these holidays are a perfect way to introduce children of six-16 to volunteering, by trying conservation work such as beach cleaning, plant surveys and drystone walling. And in case it feels too much like hard work, the volunteering is combined with activities such as den building, catching crabs, sand sculpting and kayaking.
This is not a break where you can loll around reading, but I enjoyed the busy schedule. As a first-timer I was anxious about kayaking, but it took so much effort to put on my wetsuit that I eventually forgot my nerves. We paddled from Stackpole Quay, past limestone and sandstone cliffs to Barafundle Bay for some beach cleaning, stopping at the rocky cove. I thought the beach looked pristine, but we filled four large sacks with litter. Once Rhian explained that creatures can ingest plastic and then starve to death because they feel full, a sort of litter-collecting frenzy started up.
I was more daunted when I saw the banks of pheasant berry shrubs we were to clear in the woods the next day, but we managed it by working as a team. I was surprised by the children's enthusiasm, but the boys all told me later that the best thing about the weekend was using the handsaws.
I enjoyed the campfire that evening, once I'd stopped my son from extracting burning branches from the flames: "But Mum, I'm making charcoal."
Each working holiday is run by one or two volunteer leaders together with National Trust staff to organise the work and activities. Volunteer Sue Neal, a retired civil servant, has been leading these holidays for 12 years and arrived with supplies, including wine, beer and home-grown rhubarb. Rhian and her colleague Ben Macare reminded me of Blue Peter presenters as they pitched in with our activities while gently educating us about everything from how to use a bat detector to the history and geology of Stackpole.
It turned out that the Campbells of Cawdor owned the estate from 1698 until 1976, when it was broken up, the Georgian mansion Stackpole Court having been demolished in 1963. The designed landscape, including Bosherston Lakes, remains, although nature is reclaiming it and the site of the mansion is grassed over. Our group of three families – and our two leaders – stayed in the newly renovated Shearwater wing, part of Stackpole Outdoor Learning Centre, in the estate's original limestone farm buildings. I shared a comfortable triple room with my son and husband. The decor was plain, light, clean and functional. Sue organised our meals in the airy, beamed kitchen, but everyone helped and we all ate together.
Lawrence Buckley from Doncaster, who was on the holiday with his family, said: "This offers us the opportunity to do something a little bit different. I was deskbound in my previous job, and came to realise that doing practical stuff is good for you." Londoner Sarah Devonport said she booked the holiday to show her children that "life's not all about TV and Nintendo games; that it feels good to do something good, to get outdoors and have an adventure."
For me the best part was seeing my son's enthusiasm, all thoughts of Sky TV forgotten. I'm proud of him and grateful, too, that he's just enjoyed his first taste of volunteering.
Travel essentials
The next family working holiday offered by the National Trust (0844 800 3099; nationaltrust.org.uk) is at Brancaster Millennium Activity Centre in Norfolk and runs from 29 October to 1 November. It costs £470 for a family of four, with the opportunity to assist the wardens with woodland management at a wet wood site and litter removal at Brancaster beach.
Other activities include shelter building and survival skills, plus orienteering, making bird boxes and a Halloween-themed dinner. For children aged from six to 16.
Give and take on the long haul
If you prefer to mix an indulgent family holiday in the developing world with some volunteering, there are plenty of commercially run opportunities for what has become known as "voluntourism". These are just a taste:
The Adventure Company
The Adventure Company's Hands On holidays (0845 450 5319; bit.ly/HandsOnCo) combine adventure with two or three days of voluntary conservation tasks or work with local communities. The 12-day Elephants & Spice trip to Tanzania costs from £2,599 per adult and £2,499 per child.
On the trip, each family has responsibility for an elephant during their stay at Saadani National Park. The tour includes wildlife spotting as well as time to relax on the beach in Zanzibar. For children aged eight and above.
2by2 African Holidays
2by2 (01582 766122; 2by2holi days.co.uk) offers a tailor-made volunteering holiday in the largely uninhabited Tuli region of Botswana, finishing with five nights in Cape Town. Families can help with wildlife surveys, patrolling for snares and tracking elephants on farmland which is being restored to a wildlife habitat.
Prices start at £895 for adults and £447 for children, plus flights, for 10 nights. The organisers say that it is suitable for children of all ages, since the trip is tailor-made.
Taj Safaris
Taj Safaris (00 800 4588 1825; tajsafaris.com) offers volunteering options in Panna National Park in the north-central highlands of India, where children can get involved with local activities such as collecting firewood and milking cows, alongside their parents, as well as join safari drives.
Prices start from £250 per person per night. For children aged six and above.
Hands Up Holidays
Hands Up Holidays (020-7193 1062; handsupholidays.com) promises "Luxury Voluntourism," and invites customers to "Experience an inspiring ethical luxury vacation" in ~some fairly developed parts of the world, such as New Zealand – where, in return for an impressive £18,850 (excluding flights) you can combine helping to preserve the kiwi with a "heli-hike" on the Franz Josef Glacier.
Responsible Travel
Responsible Travel (01273 600030; responsibletravel.com) provides a "shop window" for a wide range of family volunteering holidays in Africa, Asia and South and Central America.
Register for free to continue reading
Registration is a free and easy way to support our truly independent journalism
By registering, you will also enjoy limited access to Premium articles, exclusive newsletters, commenting, and virtual events with our leading journalists
Already have an account? sign in
Register for free to continue reading
Registration is a free and easy way to support our truly independent journalism
By registering, you will also enjoy limited access to Premium articles, exclusive newsletters, commenting, and virtual events with our leading journalists
Already have an account? sign in
Join our new commenting forum
Join thought-provoking conversations, follow other Independent readers and see their replies