You're never too old to party. Ask Durham

Show all 4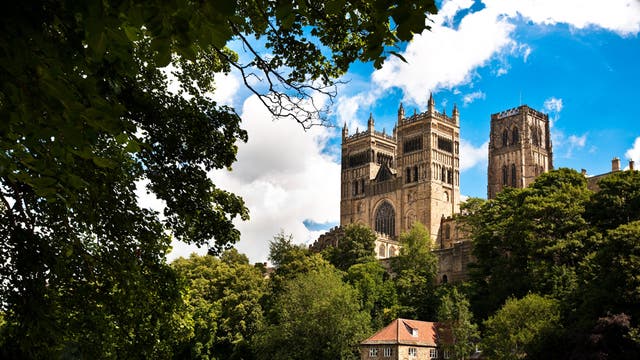 You're never too old to party. Ask Durham
City Slicker: Durham - The city is celebrating 25 years on the Unesco World Heritage list. Sarah Barrell offers ideas for new and returning visitors
Sarah Barrell
Sunday 13 November 2011 01:00 Comments
Why visit?
Enclosed by a tight loop in the River Wear, medieval Durham, crowned by its colossal hilltop cathedral, is one of the UK's most magical, picture-perfect cities.
A place of Christian pilgrimage since the 11th century, Durham has more lately seen the worshipful attentions of a burgeoning number of city-breakers plus Harry Potter fans seeking some of the early films' locations. This year, the city celebrates 25 years since its walled old town became one of the first places in the UK to be inscribed on the Unesco World Heritage list.
The raft of related autumn festivals comes to a climax next weekend with Lumiere, the UK's largest arts and lights show (17-20 November). Tracey Emin has headed up the show; 35 installations will illuminate city landmarks each evening, the cutting-edge creations of international and local artists. Highlights include a man-made rainbow and a 17m waterfall over the Wear, plus I Love Durham, a giant snow globe containing the statue of the Third Marquess of Londonderry.
Other big news this month is the inauguration of Durham's new Bishop, which will take place on 26 November with pomp and ceremony only usually seen at the state opening Parliament. It will be attended by religious leaders from across Europe.
Don't miss...
Durham's Norman cathedral (durhamcathedral.co.uk)
The vast castle-like presence is reason alone to visit. Its soaring, Romanesque interior is defined by ribbed vaulted ceilings that were an early blueprint for Gothic architecture. Housing the relics of St Cuthbert and the Venerable Bede, the cathedral has been a centre of prayer and pilgrimage for a thousand years and still packs a truly powerful punch.
The Castle (dur.ac.uk)
Take a tour of the 11th-century seat of the region's influential Prince Bishops. Since 1832, this Norman fortress, overlooking the medieval city, has been home to University College, or "castle", the oldest of Durham University's colleges.
The River Wear
Its wooded banks offer the most dramatic cathedral views and provide a great city stroll. Stop at the Old Fulling Mill, a one-time hub for the city's cloth-makers, now home to Durham University's Museum of Archaeology (dur.ac.uk/fulling.mill/).
The Oriental Museum (dur.ac.uk/oriental.museum)
Northern Britain's only museum dedicated to the Orient, with eclectic collections from Asia, the Near and Middle East and North Africa.
Beamish, The Living Museum of the North (beamish.org.uk)
A fleet of 19th-century trams takes visitors around this 300-acre site with historic buildings transplanted from across the region – from a row of 19th-century pit cottages to a colliery complete with engine room.
The Heritage Coast
An 11-mile stretch of shoreline just 20 minutes away. This former post-industrial wasteland was reclaimed thanks to Turning The Tide, a programme that spent 10 years and £10m reversing environmental damage caused by a century of collieries dumping waste on the beach from Sunderland to Hartlepool. Less than an hour by road is High Force Walk, a range of routes through the North Pennines Area of Outstanding Natural Beauty, calling in at High Force, England's largest waterfall.
What's new?
The Unesco visitors' centre
Set in former university almshouses, the new £1.2m centre focuses on the city's Unesco-listed hub and is a base for the university's Institute of Medieval and Renaissance Studies. The short introductory film is a great way to start a tour of the old city; guided walks run through the day. There are rotating art exhibitions, interactive exhibits, and a shop with local history books, maps and postcards.
Details: durhamworldheritagesite.com
Flat White
This lovely little café has newly opened within the walls of the old city, complete with exposed ancient bricks and stone floors. Mismatched chairs, tables and church pews, comfy cushions, and little birdcages to display a tantalising range of home-baked goods, give the place a cosy-modern vibe. The eponymous coffee is served alongside cooked breakfasts, brunch and lunch, with staples such as chunky sandwiches and warming soups.
Details: 21a Elvet Bridge, through Elvet Arch, behind Van Mildert.
Treasures of Durham University
Artefacts from the university's huge vaults have been given a deserved airing at this new exhibition space in Wolfson Hall. The exhibition includes illuminated medieval manuscripts, a celestial globe from 18th-century India, imperial Chinese dragon robes and precious first folios by Shakespeare and Oscar Wilde. In 2013, the gallery will host the Lindisfarne Gospels, when they return, temporarily, from the British Library.
Details: thisisdurham.com
Whisky River
A prime riverside spot for a leisurely tipple. It has an outdoor terrace overlooking a boathouse and a plush lounge-bar decorated with faux-medieval framed parchments, artsy bookshelves, black-and-white checkerboard floors and a huge polished wood-top bar. Whisky River serves cocktails, beers, coffees and food and has already garnered a good reputation among the town, if not gown since it opened this autumn. Packed on a Saturday night.
Details: whiskyriver.co.uk
Lumiere
The arts and light festival returns to Durham, after its hugely successful 2009 debut, to illuminate the city's cobbled streets, riverbanks, gardens and landmark buildings with site-specific installations. The four-night festival will open with a lantern parade through medieval South Bailey, overlooked by sculptures from the French artist, Le Bourgne, eerily-lit human-forms placed on top of surrounding buildings. Other highlights include a "fire garden" set in and around the cathedral and, back by popular demand, 2009's Crown of Light, a son et lumiere projection by British artists Ross Ashton, Robert Ziegler and John Del' Nero, that focuses on images of early Christianity in the North-east, including richly decorated pages from the Lindisfarne Gospels.
Details: lumieredurham.co.uk
Durham Castle
Tours once again return to Durham Castle now that the summer's renovations are over. Improvements have been made to the living quarters, which benefit both students and visitors who book them for B&B outside term time. The Great Hall's timber floor and wall panels have been refurbished and lighting has been added to display the recently returned collection of 17th-century portraits, which had been in the Bowes Museum in rural Co Durham for decades. Access by organised tour only.
Details: thisisdurham.com
Insider Secret:
Despite the arrival of the big chains, Durham has still got some excellent, old fashioned pubs. The Coal Pitts, for example, hasn't changed in decades, with good local beer and open fires. Other traditional pubs include the Shakespeare, and the Victoria Inn. If you're doing a Lumiere pub crawl, these are the places to pit-stop. And don't miss Saddlers – an old café with a welcoming atmosphere and great food.
Mick Stephenson, Creator of Fusion, one of four installations commissioned for the Lumiere festival's Brilliant programme for artists based in, or hailing from, the North-east.
Compact Facts
How To Get There
East Coast (08457 225 225; eastcoast .co.uk) runs fast services on the East Coast Line between London and Edinburgh with London-Durham fares starting at £15 each way; journey time is less than three hours. The riverside Radisson Blue (0191-372 7200; radissonblu.co.uk/hotel-durham) offers standard rooms from £85 a night. Twenty minutes outside the city, stately Beamish Hall (01207 233 733; beamish-hall.co.uk) has classic doubles and twins from £65.
Further Information
Visit County Durham (03000 26262; thisisdurham.com).
Register for free to continue reading
Registration is a free and easy way to support our truly independent journalism
By registering, you will also enjoy limited access to Premium articles, exclusive newsletters, commenting, and virtual events with our leading journalists
Already have an account? sign in
Join our new commenting forum
Join thought-provoking conversations, follow other Independent readers and see their replies