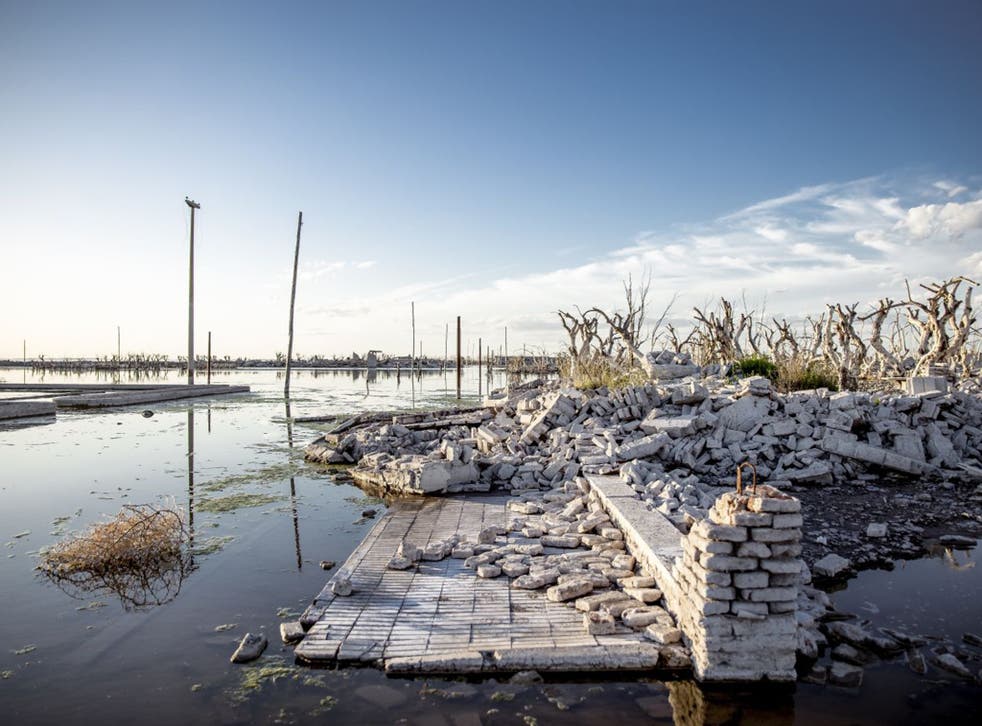 Villa Epecuén, Argentina's ghost town
The spa town was flooded by a neighbouring lake 30 years ago
Thirty years ago this month, one of Argentina's most popular spa towns vanished without a trace. Over a few short days, Villa Epecuén was wiped off the map, engulfed by flood water from Lake Epecuén. The town remained submerged for 25 years before waters finally started to recede, revealing the scars of a ghost town in late 2009.
Epecuén is 570km south-west of the capital, though still within the province of Buenos Aires. Legend has it that Lake Epecuén (which means "almost burnt" in the Levuche language) was formed by the tears of an Indian chief whose profound sadness at the loss of his true love created the salty lake.
At the turn of the 20th century, it was mined for its valuable minerals, used both in the production of glass and for medicinal purposes. Sulphates were bagged for sale in the capital so that people could experience the benefits of a thermal bath in their own homes. A formal assessment of the water's components in 1909, and endorsement by Argentine health professionals, led to the foundation of the first resort on its shores in 1921. In its formative years many Jewish tourists visited from Buenos Aires, drawn by the lake's uncanny similarities to the Dead Sea: in the 1930s it was the second-most salinated body of water in the world.
Throughout the Sixties and Seventies, growing numbers of visitors flocked to bathe in the lake's mineral-rich waters. Its restorative properties were used to treat a range of ailments such as rheumatism, skin conditions and even diabetes. Tourism was further buoyed by the Ferrocarril Sarmiento train service from Buenos Aires, with Epecuén's station inaugurated in 1972. At its peak, the town was visited by up to 20,000 tourists each summer; hotels, museums, a bus terminal and even a hippodrome sprang up to service this tourism boom.
Then, in early November 1985, it started to rain, heavily. Years of downpours were compounded, say some, by the passive management of the situation by the provincial governor at the time, Aires Alejandro Armendáriz. Water levels rose dangerously. A purpose-built embankment, constructed in 1978 to protect the town, was finally breached on 10 November 1985. The tide of water proved unstoppable, rising a centimetre each hour. Two weeks later it was three metres deep.
Norma Berg, who grew up in Epecuén and was 19 at the time of the flood, now works as a guide. I joined her as she took a small group of visitors around the ruins of the city, now protected by the government.
"We woke up with water up to our ankles. We packed up what we could and left. Everyone just assumed it would be temporary," explained Norma. "People had been preparing for months for the upcoming summer season. Many had invested time and money in new fixtures and remodelling work. Those who could took absolutely everything with them, from their personal belongings to the kitchen sink," she added.
By 1993 the water was 10 metres deep. The town remained completely submerged for 25 years before the harsh, saline waters finally receded, revealing a onceprosperous town reduced to a chaotic mass of crumbling rubble - an apocalyptic landscape caked in a thick white layer of salt.
The ruins of the town are accessible by a pot-holed track, flanked by petrified trees, their lifeless branches clearly branded by the tidemark. The imposing and monumental slaughterhouse created by revered Argentine architect Francisco Salamone stands at the entrance of the town. It is one of the few buildings still standing. A museum covering Villa Epecuén's history is housed in what was once the train station, and displays rescued items such as record players, ponchos and llama-wool jumpers. Walking down the main arteries of the town is a surreal experience - bustling avenues now eerily quiet. Swing frames stand in a desolate playground in rusted rigor mortis against a diluted blue sky, and redundant concrete slides bow in solemn reverence to the still waters of the once-crowded swimming-pool complex.
Although 30 years have passed, many of Epecuén's 1,500 permanent residents never fully recovered from the trauma of losing everything overnight. Although nobody died as a direct result of the flooding, the psychological impact took its toll, especially among older inhabitants who struggled to adapt to the reality of their circumstances.
Ultimately many left the area never to return. In the immediate aftermath, however, many residents were forced to seek refuge in nearby Carhué, a difficult move since relations were frosty between the two communities. A rift had formed as Villa Epecuén's growth and closer proximity to the lake had effectively strangled Carhué economically.
In pictures: Epecuen, Argentina

Show all 8
Norma still lives in Carhué, a town which has slowly rebuilt its reputation as a spa break destination, with therapeutic thermal water from Epecuén delivered regularly by lorry to hotels in the area. Having recovered its mineral concentration, the lake is currently 10 times saltier than the sea. A local government initiative has built an ecological beach resort on its shores which opened this year, all amenities charged by solar panels.
"It's been a while since I visited my old house," says Norma, pointing to the spot where her childhood home once stood. "I was lucky, I had my whole life ahead of me when the flood took place. My children are Carhuénses, they are of the younger generation here who did not live the tragedy and are not tarnished by what happened. Life goes on."
Travel Essentials
Getting there: The only non-stop flights from the UK to Buenos Aires are from Heathrow with British Airways (0344 493 0787; ba.com). A wide range of other options are available on airlines such as Iberia via Madrid, Air France via Paris and KLM via Amsterdam.
Coaches operate daily from the Retiro coach terminal in Buenos Aires to Carhué and are operated by General Belgrano Pullman (gralbelgrano.com.ar) and Chevallier (nuevachevallier.com). The nine-hour trip costs 660 pesos, around £45 at the official rate; prices are much lower at the "dólar blue" rate.
Staying & visiting there: Epecuén Hotel Spa Termal, Carhué (00 54 2936 43 0440; epecuenhotel.com.ar). Doubles start at A$890 (£62), including breakfast. Guided tours of Epecuén, free bike loan and spa treatments available.
More information: argentina.travel/en
Join our new commenting forum
Join thought-provoking conversations, follow other Independent readers and see their replies