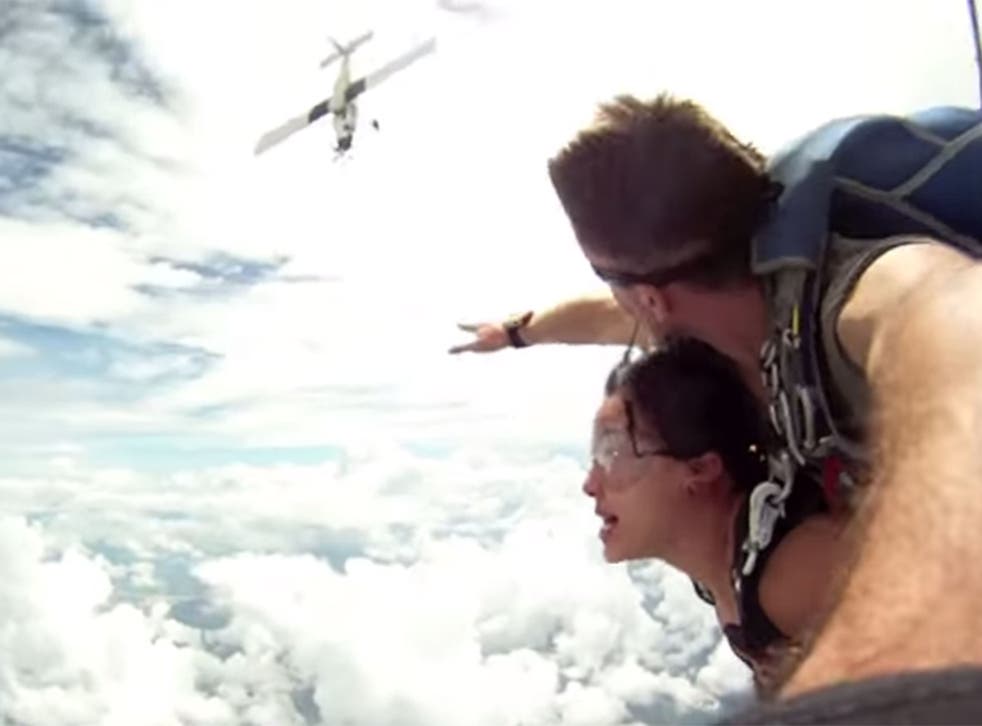 Watch the heart-stopping moment skydivers' parachute gets caught by plane's propeller
Skydive instructor Forest Pullman was eventually able to stop the parachute from spiralling towards the ground
Jack Simpson
Monday 09 February 2015 12:10 Comments
This is the moment two sky divers in Thailand narrowly avoided a fatal fall after their parachute was caught by the propeller of an out of control aeroplane.
The footage captured on skydive instructor Forest Pullman's GoPro, begins as a skydive like any other, with Pullman jumping out of the plane strapped to a thrill-seeking tourist.
Having to act quickly, Pullman tussles with the chord until he is eventually able to bring the parachute back under control and stop the pair from spinning.
Pullman then guides the parachute safely to the ground, with the tourist completely unaware of how close she came to losing her life.
The heart-stopping video happened last October but was only up-loaded onto the internet on Friday.
Since being uploaded, the video has gone viral with over 400,000 YouTube users viewing it.
Commenting underneath the video, Pullman wrote: "The pilot dove the airplane 180 degrees right at me and my tandem passenger. how we got so lucky?!?! Not sure."
Register for free to continue reading
Registration is a free and easy way to support our truly independent journalism
By registering, you will also enjoy limited access to Premium articles, exclusive newsletters, commenting, and virtual events with our leading journalists
Already have an account? sign in
Register for free to continue reading
Registration is a free and easy way to support our truly independent journalism
By registering, you will also enjoy limited access to Premium articles, exclusive newsletters, commenting, and virtual events with our leading journalists
Already have an account? sign in
Join our new commenting forum
Join thought-provoking conversations, follow other Independent readers and see their replies