As it happened
ended
1573576619
US weather: Arctic blast set to shatter temperature records across country as plane skids off runway amid heavy snow
Historic 'Siberian express' brings below-freezing temperatures to eastern United States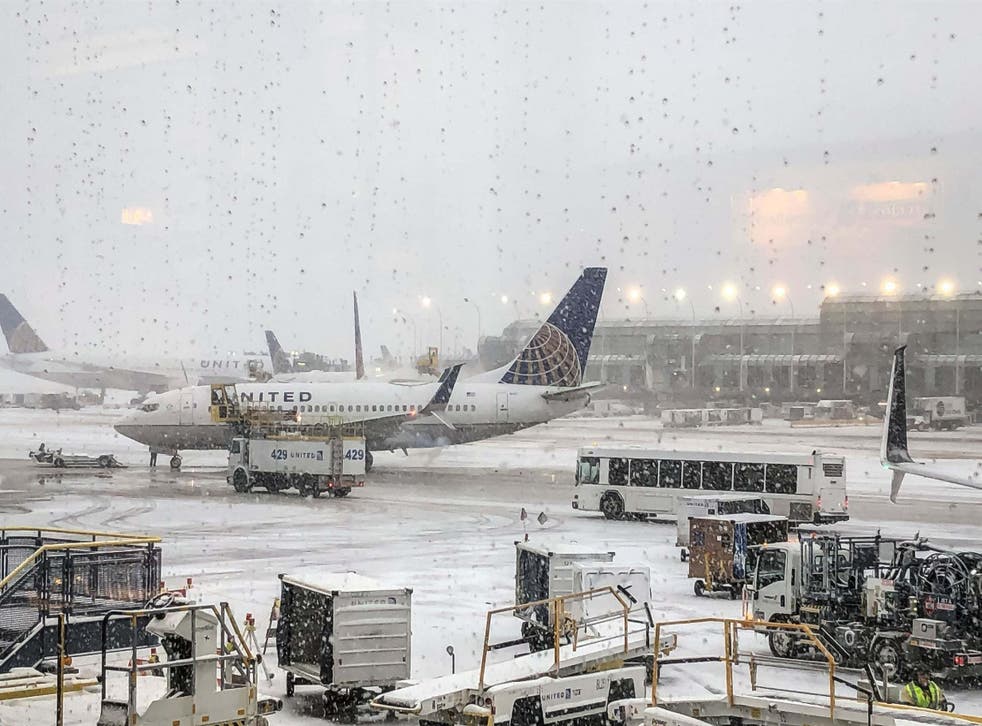 An Arctic blast sweeping across the eastern United States could break nearly 400 records as it brings below-freezing temperatures, according to America's National Weather Service.
The treacherous conditions have already caused a plane to slide across the runway at Chicago's O'Hare International Airport, where more than 1,000 flights have been cancelled after as much as six inches of snow fell.
The unusually cold air mass came from Siberia — a phenomenon known as a "Siberian Express". It is predicted to bring temperatures 15 to 25 degrees below average for this time of year until Wednesday night.
Please wait a moment for the liveblog to load
1573559691
Good afternoon, and welcome to The Independent's rolling coverage of the freezing weather sweeping across the US.
emma.snaith
12 November 2019 11:54
1573560508
American Airlines flight slides off icy runway
An American Airlines flight had a bumpy finish when it slid off the runway amid heavy snow at Chicago's O'Hare International Airport in the US.
Video taken by passenger Joseph Lian shows the plane slip off the runway and into a snowy field where it bumps to a halt.
emma.snaith
12 November 2019 12:08
1573560784
Temperatures set to drop to -6C in Chicago
In Chicago, temperatures are set to drop to 16C today,  which is seven degrees lower than the previous record set for 12 November. 
Weather service meteorologist Kevin Birk said: "This is an air mass that's more typical for the middle of January than mid-November." 
"It is pretty much about the coldest we can be this time of year (and) it could break records all over the region."
emma.snaith
12 November 2019 12:13
1573561157
Up to a foot of snow expected in some eastern states
A foot or more of snow could fall in the Great Lakes across eastern US states, the National Weather Service said. 
emma.snaith
12 November 2019 12:19
1573562802
Four killed in car crash following heavy snowfall
As the weather made driving difficult in much of the Midwest, authorities said Monday's snowfall was to blame for four deaths.
The Eaton County Sheriff's Office in Michigan said two women, ages 81 and 64, and a 57-year-old man were killed in a two-car crash caused by poor road conditions. 
In Kansas, the Highway Patrol said an 8-year-old girl died in a three-car wreck. Officials in central Wyoming were searching for a 16-year-old autistic boy who went missing Sunday wearing only his pajamas.
emma.snaith
12 November 2019 12:46
1573563195
Nearly 400 temperature records set to be broken
The National Weather Service predicts up to 385 daily temperature records will be broken as the cold blast sweeps across the US. 
emma.snaith
12 November 2019 12:53
1573564500
Coldest temperature in three decades recorded in Minnesota 
In Minnesota, Monday was the coldest high temperature in three decades in the Twin Cities at -8C. Some Minnesota lakes were freezing earlier than normal.
emma.snaith
12 November 2019 13:15
1573565400
Commuters battle snow in Chicago 
Commuters are pictured navigating snow-covered streets in Chicago. Forecasters predict that up to six inches of snow will fall in the Chicago area by tomorrow.
emma.snaith
12 November 2019 13:30
1573566300
Snowiest ever November day recorded in Detroit
Monday was the snowiest day on record in Detroit with more than 8 inches of snow, according to meteorologist Jonathan Erdman.
emma.snaith
12 November 2019 13:45
1573568670
Temperatures dip to -6C in Texas
People in Brownsville, Texas, woke up to snowfall and temperatures of around -6C this morning. 
emma.snaith
12 November 2019 14:24
Register for free to continue reading
Registration is a free and easy way to support our truly independent journalism
By registering, you will also enjoy limited access to Premium articles, exclusive newsletters, commenting, and virtual events with our leading journalists
Already have an account? sign in
Register for free to continue reading
Registration is a free and easy way to support our truly independent journalism
By registering, you will also enjoy limited access to Premium articles, exclusive newsletters, commenting, and virtual events with our leading journalists
Already have an account? sign in
Join our new commenting forum
Join thought-provoking conversations, follow other Independent readers and see their replies