American women should take a lesson from Poland if Roe v Wade is overturned
The chipping away of our reproductive rights tells us women don't matter. And if we don't matter, why not walk away from our jobs and our caring responsibilities?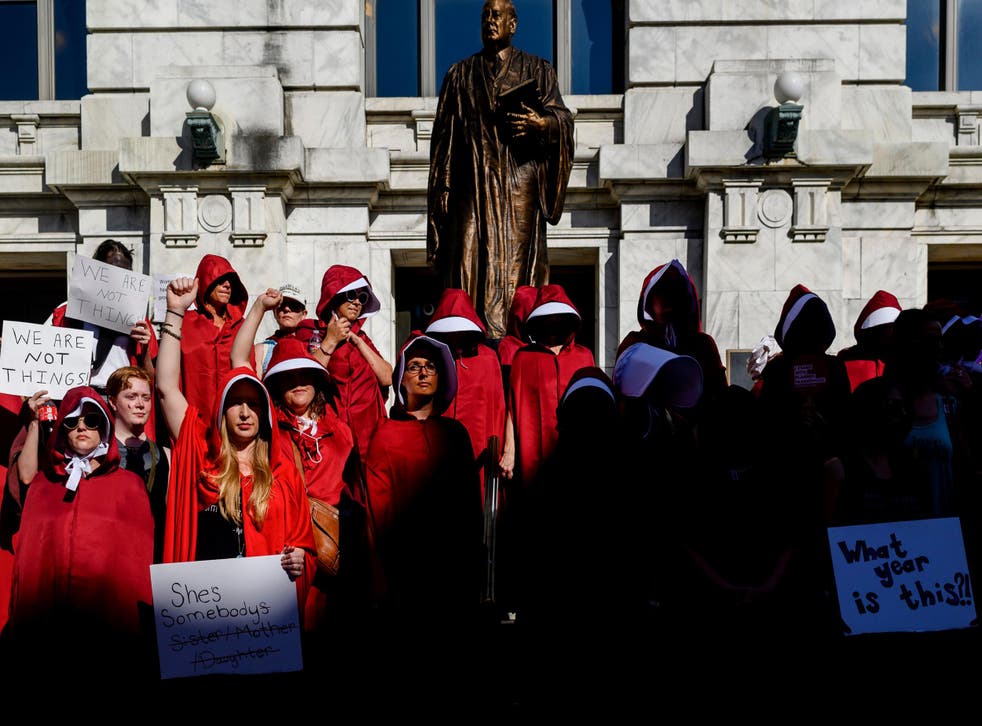 Draconian is probably too weak a word to describe the recent attacks on reproductive rights in the United States. In April, Ohio governor Mike DeWine signed into law the "Human Rights Protection Act," banning all abortions after roughly six weeks gestation, when a fetal heartbeat can be detected. Less than a month later, Georgia's newly elected governor, Brian Kemp, signed into law the "Living Infants Fairness and Equality Act," which limits abortion to instances in which a woman is the victim of rape or incest, or, alternately, faces fatal medical complications.
Not to be outdone by her southern neighbor, Alabama governor Kay Ivey signed into law a bill introduced by Decatur representative Terri Collins, a bill also known as the "Human Rights Protection Act." Georgia's bill criminalizes all abortions except when the life of the mother is in danger, and subjects abortion providers to felony charges that could result in up to 99 years in prison. And right before the Memorial Day holiday, Missouri governor Mike Parson enacted House Bill 126, "Missouri States for the Unborn," a ban of abortions after eight weeks' gestation, with a criminal provision for providers violating the statute.
Missouri is one of six states with only one abortion clinic, and that clinic, the St Louis Planned Parenthood, recently announced that restrictions may force it to shutter, too.
These bills may seem unlikely to pass judicial muster, and, in fact, it is nearly a foregone conclusion that lower courts will rule them unconstitutional. In Mississippi, this has already happened. The point of these bills, though, is to force the hand of the courts, so that appeals eventually land at least one case in the hands of the Supreme Court of the United States.
Will the Supreme Court uphold the precedent of abortion, which has been a legal right of American women since 1973? With two newly appointed conservative justices on the Court, that future seems murky, at best. If Roe v. Wade really is overturned—a reality that some legal experts and pundits, like The New Yorker's Jeffrey Toobin, regard as an inevitability—women will once again face the reality of back alley abortions.
The act of turning back reproductive time is not unique to the United States. In 2016, when devastating abortion restrictions were proposed by the Polish government, a member of the country's left-wing Razem Party began a call-to-arms on Facebook, urging Polish women to begin a so-called "Black Protest." Participants dressed entirely in black and posted photographs of themselves, using the hashtag #BlackProtest. This protest eventually led to a country-wide "woman's strike," in which six million women participated. The strike shifted public opinion in a predominantly Catholic country; more people now support reproductive freedom in Poland than do not.
The question of when and if the United States will live out its own Polish history lesson remains to be seen. Still, it's worth noting that women can be potent advocates in the face of repression. Millions of American women rose up following President Trump's inauguration, marching in protest to one man's categorically terrible treatment of the gender. If Roe v. Wade is overturned, American women should remember that moment of solidarity, and look to Poland as an exemplar of the power of persuasion.
Northern Ireland abortion protest in Westminster

Show all 7
Every American woman who believes in reproductive choice should agree to go on strike the moment that decision is handed down. We should stop showing up to work. We should stop handling the details of life that require us—and us alone—to be present.
The systematic chipping away of abortion rights sends a stark message: women do not matter. But we do matter, as robust participants in the workforce, as mothers, as caretakers. We matter, and the world cannot operate without us or our hard work. But if our autonomy, held at ransom by the men who decide our fates, does not matter, then our hard work should not matter, either.
Perhaps you laughed when the actress Alyssa Milano suggested a sex strike in the wake of these recent abortion bills; perhaps the idea of withholding something in exchange for power seemed futile, or ridiculous, or both. But I maintain that Milano was on the right track. Women accept what men will not. We accept that our work will be compensated at a lower rate than our male peers. We accept that we cannot walk or run in certain areas alone at night. We accept that, when bad things happen to us, no one will believe us, anyway.
We do not have to accept these things. We do not have to accept that rights granted to us 40 years ago—only 40 years ago—can be taken away if the men in power will it so. We do not have to show up. And, like the women of Poland, we shouldn't.
Join our new commenting forum
Join thought-provoking conversations, follow other Independent readers and see their replies