Comment
What wrestling's record-breaking Wembley show means for fans like me
As All Elite Wrestling prepares to host 80,000 screaming fans at Wembley stadium this afternoon, masked WrestleTalk presenter Tempest reflects on how far the company has come, and what its success means for the future of the industry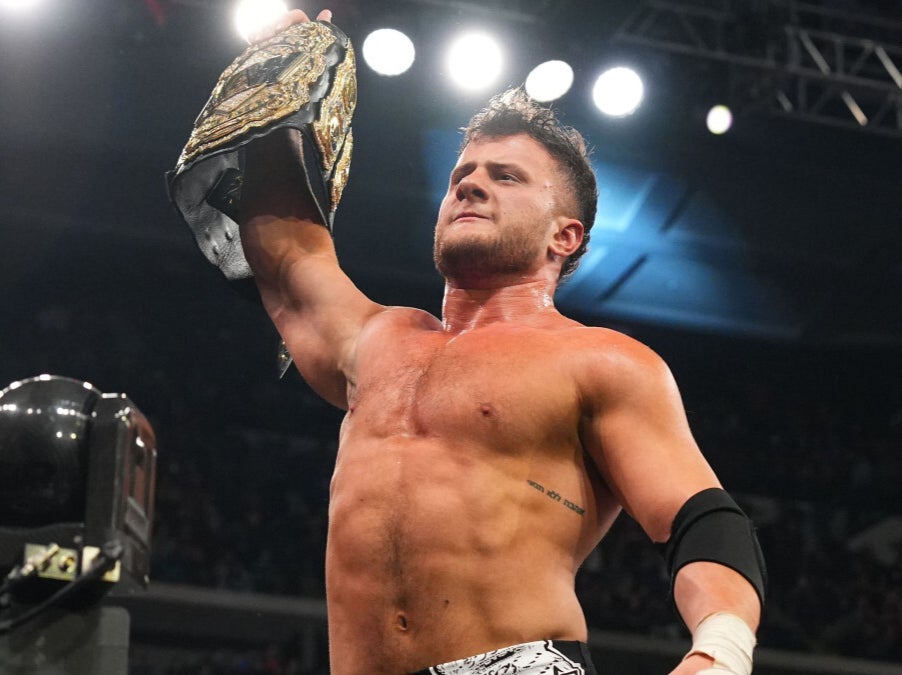 As All Elite Wrestling (AEW) prepares to run one of the biggest wrestling events of all time at Wembley stadium later today, I wanted to reflect on how we got here, and how AEW willed into reality something that just a few short years ago seemed impossible. More than that, I want to reflect on what this event means for somebody like me, who has not only followed this business for years, but has made it such a key part of their life and career.
I began watching wrestling 15 years ago. At that time, there was really only one wrestling game in town: WWE.
I fell in love with the business immediately – the characters, the hype, the showmanship, the pageantry of it all. Those are, I assume, the first things that virtually every wrestling fan connects with when they see the squared circle for the first time.
But as I grew older, the more disenchanted I became with the ubiquity of that one wrestling company, and the overall lack of non-WWE options readily available to fans like me. In order to find new content I, ironically, had to look to the past. I researched the old wrestling territories that existed before WWE was the monolith it would eventually become – a time where dozens of wrestling promotions shared the American landscape in a cooperative effort, each with their own styles, stars, and major shows to promote.
It all seemed more like a dream than history to someone who had only ever experienced the furthest thing from that reality. That history continued through the famous Monday Night Wars of the mid-to-late 1990s, when two wrestling titans – World Championship Wrestling (WCW) and WWE (then WWF) – battled every week at the height of their popularity. Even that period, so well documented and dredged up for nostalgia in the modern product, felt more like folklore than history.
Fast forward to 2019, and the launch of AEW. Founded by billionaire Tony Khan and a collection of wrestlers who had either been rejected from the WWE system or otherwise found success outside of it, AEW almost immediately became the largest pro wrestling alternative to WWE since the fall of WCW in 2001. It didn't take long for the company's positive impact on the business to be felt by both fans and wrestlers alike.
Whether it was the bargaining power it gave free agent wrestlers by providing them with another place to perform, the opportunities it provided to non-wrestling personnel who were still involved in the industry like writers and commenters, or simply the way it gave fans like me another easily accessible way to watch pro wrestling on television, the appearance of AEW on the scene represented a seismic (and undoubtedly positive) shift in the world of professional wrestling.
To say the company has been a success would be an understatement. In less than five short years since company EVPs the Young Bucks and Cody Rhodes stood outside TIAA Bank Stadium in Jacksonville, Florida, AEW has reached milestones that had remained untouched by any company not named WWE in the United States for over two decades.
Milestones in television ratings, pay per view buy rates, live attendance – you name it. AEW has hit it, choke slammed it and pinned it for the three.
It hasn't all been positivity by any means, as any fan who has watched over the past year could tell you. There have been backstage quarrels, allegations, and more than one tragic passing since the company was established. But AEW has somehow managed to push through, against the odds, to provide a viable alternative to the WWE machine.
Today AEW prepares for not just the biggest event in its short history; not just the biggest wrestling event outside of WWE of the last two decades; but possibly the biggest wrestling event of all time. Five years after The Elite packed over 10,000 people into the Sears Centre Arena in Chicago with the first ever All In event in 2018, AEW will walk into Wembley Stadium in London, England to welcome in over 80,000 fans.
Whether or not a literal record is broken by the event is ultimately irrelevant. It won't change what the event means for the world of professional wrestling, nor what it represents. The success of All In represents pro wrestling itself healing.
No longer is the pro wrestling business fated to live or die according to the whims of one business, run by one man. Now you can be the second biggest promotion, and still draw a capacity crowd to one of the largest and most famous venues in the world. The success of this monumental event is not a statement made in rebuke against WWE, but a statement made in favour of professional wrestling. It represents the strongest the wrestling business has been since before my time on this Earth – much less my time as a fan.
I don't foresee any other wrestling companies putting on events of a similar scale to this one any time soon, but five years ago the idea of a startup company putting 80,000 plus fans into a stadium that hadn't seen a wrestling event since 1992 would have been equally inconceivable.
Personally, I can't wait to see it happen, and you can bet that I'll be right there cheering along with 80,000 other wrestling devotees.
Tempest is a presenter for WrestleTalk News and the WrestleTalk Podcast, and is the channel director for PartsFUNknown
Join our commenting forum
Join thought-provoking conversations, follow other Independent readers and see their replies