Isis in Afghanistan: The country's Taliban problem hasn't gone away – and it has new extremists to contend with
Afghans are grateful that the two groups are focused on shooting each other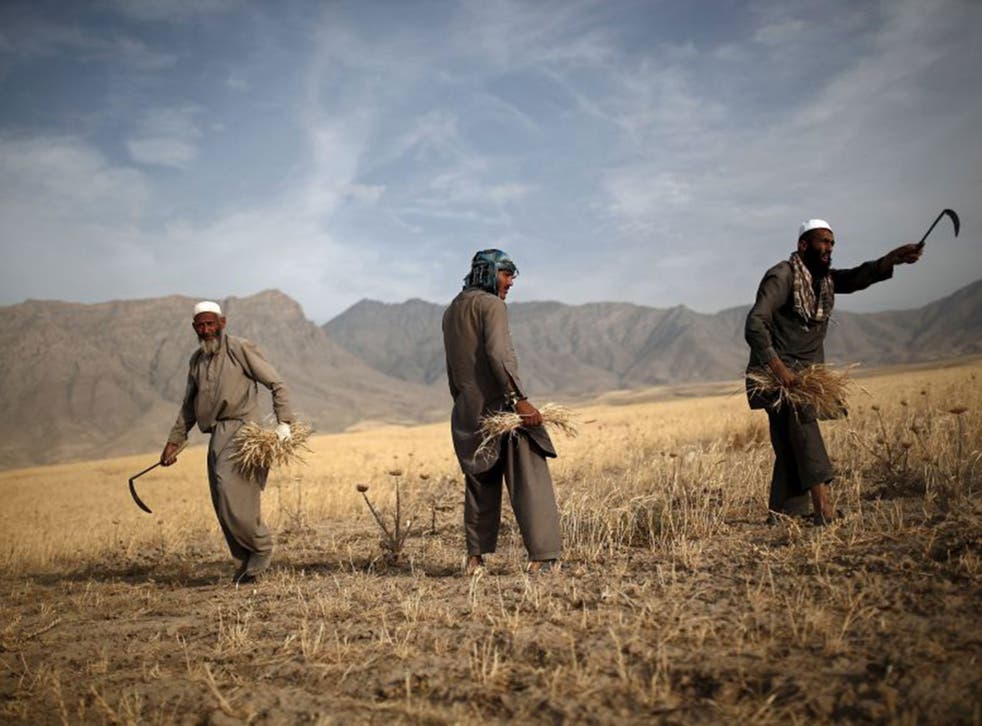 Gulbuddin Hekmatyar was the poster boy of the West when he was fighting the Russians in Afghanistan. There were lavish gifts from the CIA, MI6 and the Saudis; tonnes of arms and tens of millions of dollars. Ronald Reagan praised him as a great hero; he was invited to tea with Margaret Thatcher in Downing Street.
Hekmatyar later fell out with his sponsors with his fighters, Hezb e-Islami, carrying out lethal attacks against US and British forces in Afghanistan. The Pakistani secret police, the ISI, who had funnelled American supplies to him in the past, found him increasingly difficult to handle. His standing in Islamist circles, however, remained strong.
The jihadist journey of the veteran Mujaheddin leader has continued, with him instructing Hezb i-Islami to throw its weight behind Isis. Not all his followers agree with the move, but the development will, nevertheless, add fuel to the incendiary three-cornered strife between the Afghan government, the Taliban and the new adherents of Abu Bakr al-Baghdadi.
The Americans, who were, just three months ago, dismissing the arrival of Isis in Afghanistan as nothing more than an internal squabble within Taliban, now belatedly acknowledge they are facing a growing threat with very limited means of response after the withdrawal of the bulk of international forces at the end of last year.
The head of the US military has held an urgent meeting with Afghan president Ashraf Ghani to discuss how to "oppose the threat posed by the Islamic State of Iraq and Levant". General Martin Dempsey spoke afterwards about the need to address "the transregional nature of what is clearly a persistent threat that has to be addressed at a sustainable level over a period of time".
The Americans, in other words, are casting around for a strategy. Barack Obama, who declared the Afghan war over, has already been forced to add another thousand troops to the 9,800 left behind in the country. That number is due to be reviewed again after Gen Dempsey's report back in Washington; but the remit of the force is training the Afghan army and police rather than take part in military operations.
The Afghan president has been speaking of the "terrible threat" from Abu Bakr's men, stressing to the US Congress that "terrorists neither recognise boundaries nor require passports to spread their message of hate and discord". The advent of Isis is a major problem for Mr Ghani: after winning a fiercely disputed election against former Foreign Minister Abdullah Abdullah, he has staked all on rapprochement with the Pakistani security establishment, hoping they would be able to deliver the Taliban to the negotiating table.
On his first official visit to Pakistan after coming to office, Mr Ghani rushed to the Pakistani Army headquarters in Rawalpindi before even meeting the elected government in Islamabad – a break with protocol and one which was viewed with dismay by politicians and civic society leaders in Pakistan, a state which has experienced repeated military coups.
But although talks have been held between the Taliban and Afghan representatives in Pakistan, attacks have continued relentlessly with his critics at home charging that Mr Ghani had "sold out", without getting anything in return. Now there is another force in this equation over which the Pakistanis have no leverage. Isis has been posting videos of Pakistani soldiers being beheaded and has declared that the "Islamist State" will spread across Afghanistan and Pakistan.
As well as seizing territory from the Taliban, Isis are grabbing opium, of which Afghanistan is the biggest producer in the world, and moving it west along parts of Iraq under its control, adding to their already substantial war chest.
The Afghan security forces have fought to point of exhaustion against the Taliban since the departure of international forces, suffering horrendous casualties, and they appear to be in no position to take on Isis. Many commanders say they are grateful that, for the time being, the two insurgent groups are focusing on shooting each other.
Meanwhile, 10 months after President Ghani and Chief Executive Abdullah agreed to a power-sharing deal, key government positions remain unfilled due to rivalry between the two camps. Afghanistan, a country at war, still has no defence minister after the latest nominee, General Mohammed Afzal Ludin, was rejected by parliament.
The US, with no viable military option on the ground, has stepped up air strikes against Isis and officials hold that the group has suffered serious reverses. A commander, Hafez Saeed, and 30 of his fighters, were killed, as was Gul Zaman, another senior figure, and Shahidullah Shahid, a former Taliban media spokesman who had defected to Isis.
But one of the hard learned lessons of the long wars in Iraq and Afghanistan is that air power alone is not the answer in counter-insurgency campaigns, a lesson which is now being reinforced in the new war against Isis in Iraq and Syria.
It can even be counter-productive. Afghan officials are already complaining of mounting civilian casualties and people being driven from their homes, causing anger among local people. History is in danger of repeating itself for the West, with "collateral damage" from air raids creating recruits for an enemy far more implacable and vicious than the Taliban ever were.
Register for free to continue reading
Registration is a free and easy way to support our truly independent journalism
By registering, you will also enjoy limited access to Premium articles, exclusive newsletters, commenting, and virtual events with our leading journalists
Already have an account? sign in
Register for free to continue reading
Registration is a free and easy way to support our truly independent journalism
By registering, you will also enjoy limited access to Premium articles, exclusive newsletters, commenting, and virtual events with our leading journalists
Already have an account? sign in
Join our new commenting forum
Join thought-provoking conversations, follow other Independent readers and see their replies