40,000 people a year are dying because of air pollution – Philip Hammond needs to use the Budget to tackle the scourge of diesel cars
You're more likely to suffer the effects of pollution if you're young or old, if you live in poverty and if you're not white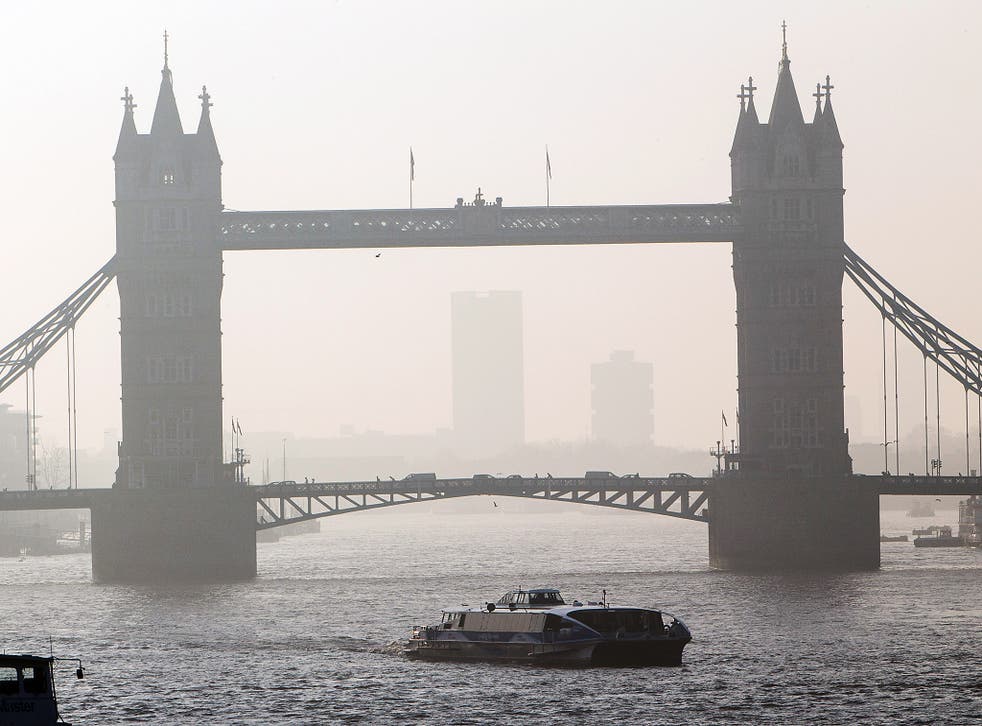 Every once in a while the politics of our environment bursts into the British mainstream. It happened in the late 1980s with Chernobyl, into the 1990s with our damaged ozone and, most recently, as water poured into people's living rooms as floods raged across the country.
Now it looks like politicians are finally waking up to another environmental crisis: air pollution.
The facts are widely known, but worth repeating. Each year in the UK, around 40,000 deaths are attributable to exposure to air pollution. The effects are not distributed evenly. You're more likely to suffer if you're young or old, if you live in poverty and if you're not white. People who are already ill suffer disproportionately and toddlers in pushchairs inhale up to 30 per cent more pollutants that their parents. But the cost of air pollution isn't just counted in the way it is making lives harder and cutting them short – there's also a colossal economic impact. Indeed according to a study by the Royal College of Physicians filthy air costs the economy £20bn per year.
UK news in pictures

Show all 50
There's no two ways about it: we're living through an air pollution emergency and it's time for the Government to act. Tomorrow the Chancellor will present his Budget and newspaper reports suggest that he is likely to announce increased investment in electric cars. That would be a welcome step forward – and show he is alive to the problem – but such a measure won't be anywhere near enough on its own.
We must get tough on diesel – which is responsible for almost 40 per cent of toxic NO2 emissions. A one off first year Vehicle Excise Duty (VED) rate of at least £800 should be added to the price of all new diesel cars – thus sending a clear market signal and limiting the amount of new diesel cars on the road. VED should also be changed so that charges account not just for CO2 emissions, but other polluting fumes too.
The fuel duty escalator freeze should be scrapped. The freeze since 2011 will have cost the Treasury £37bn by the end of next year as the cost of motoring has plummeted while public transport prices have skyrocketed. Proceeds from this tax rise could most usefully be put into promoting alternatives to polluting private travel. Expanded cycle networks, safe walking routes and genuinely affordable public transport would be good ways to start.
Sadiq Khan calls air pollution in London a killer
We need to increase our monitoring of air pollution too, as suggested by Professor Stephen Holgate – the founder and former chair of the Committee on the Medical Effects of Air Pollutants. We know that toxic air is a major problem – but we also know that the number of monitoring sites is incredibly low and that we need to give local authorities the resources they need to properly understand the threat communities face.
Protecting our environment should not be a side project for any government and it shouldn't be something that ministers only wake up to when challenged in the courts. A few weeks ago I wrote a report detailing the very serious threats we face as we leave the EU – indeed, more than one thousand laws that protect our air, water, precious species and natural habitats are now at risk. More worryingly, without the legal framework of the EU, NGOs like ClientEarth might be unable able to challenge the Government on, for example, its air pollution strategy – to the detriment of us all.
I will be listening very closely to the Chancellor as he presents his Budget. Leaving the EU is a seismic moment for environmental protection – and the Government has a chance tomorrow to show its commitment to taking the environmental action that's desperately needed. Clean air is possible – and would mean safer streets, better public transport, a healthier population and a big step forward in the fight against catastrophic climate change – it just takes genuine political will to make it happen. Anything short of wide reaching action on the air pollution emergency is utterly unacceptable and will condemn thousands of families to suffering the deadly effects of this preventable crisis.
Let's not miss this chance to leave a healthier environment to the next generation.
Caroline Lucas in the co-leader of the Green Party
Join our new commenting forum
Join thought-provoking conversations, follow other Independent readers and see their replies