Alabama's white establishment tried to stop Doug Jones jailing the KKK and beating Roy Moore. They failed both times
It was one of the most shocking crimes during a period when many were committed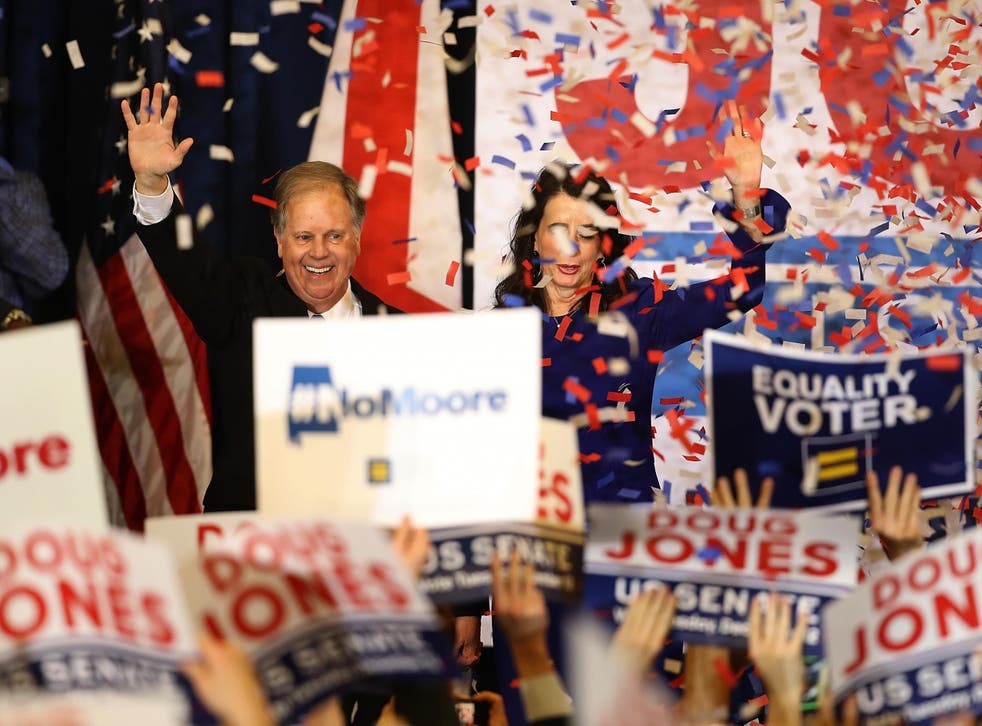 From the very start, there were very powerful people who did not want to see justice for one of the most shuddering atrocities of the civil right era.
The bomb that struck Birmingham's 16th St Baptist Church detonated at 10.22am on 15 September 1963, tearing apart walls and ceilings, and blowing in windows. More than 20 people were injured and four young girls were killed - 11-year-old Denise McNair and 14-year-olds Carole Robertson, Addie Mae Collins and Cynthia Wesley. The girls were all wearing their best Sunday school dresses.
Two years later, FBI Director J Edgar Hoover refused to prosecute four four men identified by his local agents, Robert Chambliss, Thomas Blanton, Bobby Frank Cherry and Herman Cash. In 1977, Chambliss, who was known as Dynamite Bob, was eventually convicted and died eight years later in prison. Cash died in 1994 without being charged.
Then, after a gap of two decades when the case was pushed aside, someone decided to reopen the investigation into the remaining two suspects and demand evidence the FBI had withheld for decades. Among the 9,000 documents and tapes was a recording from a listening device placed in the Blanton's kitchen which caught him telling his wife about planning and building "the bomb".
The prosecutor who dug up the evidence, and who in May 2001 secured the conviction of Blanton and the following year of Cherry, was Doug Jones, the man who just stunned the political world by beating Roy Moore to become the next US senator from Alabama.
Even almost four decades after Hoover had originally sat on the case, Jones still had to fight to prosecute the men. Many in the community, including some African Americans, believed the past, however painful, was best left undisturbed.
Doug Jones has won Alabama senate election
Jones, the senior federal prosecutor of the state, was not among them. He told the court: "It's never too late. It's never too late for the truth to be told. It's never too late for the wounds to heal. It's never too late for a man to be held accountable for his crimes. It is never too late for justice."
In a break during the trial, he told The Independent, which was covering the case: "This is important for the families of the children and it's important for the people who were in the church."
He added: "On a wider scheme, it's important to try and put into proper perspective what was happening in 1963."
The families of the little girls who had lost their lives to the KKK barbarity, when violence and discrimination was being stoked by the likes of Alabama's white supremacist and segregationist governor, George Wallace, sat in the front row during the trial.
They sat and listened to the prosecution case and to the witnesses, whose memory of the blast was still sharp.
Sarah Rudolph, formerly Collins, the only one of the group of five young friends waiting in the church basement that morning to survive, told the jury that she hurt shouting "Addie, Addie, Addie", but that their was no response from her friend."
There will never be any closure for me," said Mrs Rudolph, who lost an eye in the blast. "Every time I go into the bathroom and put my make-up on, it always comes back to me. The scars on my chest and arms and my legs and my face will always remind me."
Cherry died in prison in 2004. He was 74. Meanwhile, in the summer of 2016, an Alabama parole board refused an early release for Blanton, who was sentenced to life in prison and who is now aged 79.
This week, many people in Alabama have talked of Jones' dedication to the African American community that was underscored by his decision to bring the case. One suspects it was one of the reasons he was able to persuade so many African Americans, especially black women, to go out and vote for him.
Alabama Senate race: Roy Moore vs Doug Jones

Show all 12
His campaign had not been seamless. There was controversy over one advertisement designed to reach out to black voters but was deemed in poor taste and black taste. Yet, Shadaria Alison, an African American activist and writer, said she believed his credentials were solid. "He has been consistent," she said.
Plenty of people in the state did not want Jones to win the seat. Moore's campaign sought to smear him as a liberal and criticised his views on the legal right of women to have an abortion. Despite his record as a prosecutor, Trump somehow claimed he was weak on crime.
In the end, 70 per cent of white voters opted for Moore, while 30 voted for Jones. His victory was borne by the better than expected turnout from black women, 98 per cent of whom cast their ballots for him.
The quietly-spoken Jones displayed, as he did two decades ago, that he was not easily stopped.
Join our new commenting forum
Join thought-provoking conversations, follow other Independent readers and see their replies