Snigger if you will, but Ariana Grande's One Love Manchester concert is proof of the healing power of pop
Social media was alive with snark, but even this told me that everything was OK with the world. What is life if we cannot laugh at Little Mix's leotards?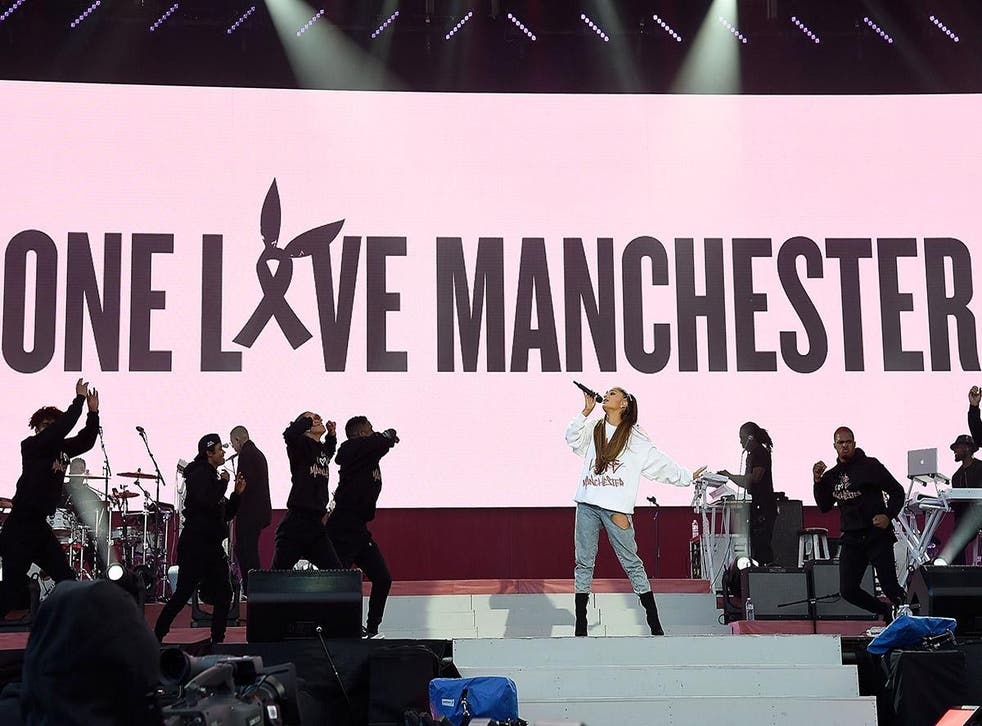 Many of us knew already of the healing power of pop. Following last night's Ariana Grande "One Love Manchester" concert, I'll wager many more cynical souls may bend to this notion.
Tiny, glorious Ariana, a magical, elfin pop pixie, in her baggy One Love jumper and platform stiletto boots, took to the stage at the end of a hellish weekend and performed first aid on the nation's hearts. As the opening bars of "Be Alright" played, she met her audience, for the second time in Manchester and for the second time in a fortnight, with an expression of serene, uptilted chin defiance.
Yes, she's a pop star, not a politician or a ruler. But, she's a pop star with young fans who were murdered two weeks ago, who probably feels rather emotionally bedraggled right now. Because how does a person deal with that? In fact, how do we deal with any of this ongoing abject cruelty in Manchester, at London Bridge, in Paris? The answer is we simply do, because we must.
Thus, Ariana plus her revolving cabaret troupe of pop's biggest and best – Chris Martin, Katy Perry, Miley Cyrus and many other people you're possibly too cool to admit liking – did the thing they do. They performed light-as-air pop tunes and made things, albeit temporarily, feel softer and clearer.
Police officers and security guards dance with members of the crowd at One Love Manchester
That is what pop does. It soothed me in the 1980s when I pirouetted to Toto Coelo's "I Eat Cannibal" on Top of The Pops. It soothed me in the 1990s via En Vogue's close harmony singing. It soothed me last night when Pharrell changed the lyrics of "Happy" to inform us Manchester would be "just fine".
There is restorative power in Liam Gallagher showing up to honk through "Rock 'n' Roll Star" in an orange Paddington Bear fishing jacket or Katy Perry performing her divorce anthem "Roar" dressed like a Snow Queen channelling Sesame Street's Big Bird. There is goodness in Niall, the Irish, affable one from One Direction, plink-plonking through innocent pop on a guitar. Or Justin Bieber's sweetly petulant break-up ballad "Love Yourself". Indeed it will be a cold day for humanity whenever Coldplay perform "Viva La Vida" and mankind simply refuses to assist with the big roaring "wooooo-aaaahh-oooo" chorus.
Pop does not solve the world's pain, it simply tunes us for a small time to a different frequency. "Only when I'm dancing can I feel this free," sang Madonna many years ago, wearing a fishnet vest and bangles. In Manchester last night, Ariana Grande's backing dancers wriggled and pranced freely, meanwhile kids did ring o' roses-style dancing with police officers.
We are still free, even if right now, for some of us, it feels hard to leave the house. Every single one of those fans last night who narrowly missed death two weeks ago, yet still signed up for a free ticket to see their pop hero once again, is nothing short of remarkable.
Reactions to the One Love concert were not all resoundingly charitable, of course. Social media was alive with snark and sniggering. But, in its own way, this told me that everything was OK with the world. What is pop, for crying out loud, if we cannot laugh at Little Mix's leotards and wonder if their stylist hates them? Or if we cannot wince at the Gallagher/Martin "Live Forever" duet that sounded a bit like two middle-aged men doing karaoke after exuberant wine tasting? Or at blown-up screen grabs of Martin's trousers that made it look like he had wet himself?
Or Robbie Williams performing in tracksuit bottoms, resembling someone in a 5am stag-do easyJet queue? Or Justin Bieber attempted to tell the audience that God loves them, burbling on about the big fella above being here, there and everywhere and in their midst. It sounded like a Radio 4 Thought For The Day written in a panic en route to Broadcasting House. What is life if Imogen Heap cannot perform a slice of her famous fairytale screaming on prime time TV and dads up and down the country cannot tut over newspapers?
Liam Gallagher makes surprise appearance at One Love Manchester
Pop is full of magical moments of daftness, high-ego, syrup-sweet sentiment and just plain wrongheadedness. No one wanted to hear Liam Gallagher's new single "Wall of Glass", aside from Liam himself and probably his record company. Gallagher came on preaching love, tolerance and other Zen-like statements, before leaving the stage to continue haranguing his brother Noel on Twitter. (Liam is completely fine, everyone, about not being included in Noel's big 50th birthday bash. That's fine, everyone. He's breezy.)
One moment that appeared to melt everyone's hearts was Ariana performing "You Are My Everything" with the choir from Parrs Wood High School. The song began in great gusto led by a little girl, who dissolved into tears at the appearance of Ariana. There was lots of hugging. Lots of high-swoopy lyrics and a determined line about the power of unconditional love. It was pure pop magic and many of us wept buckets.
We must carry on dancing, singing and loving. The other option is to make our worlds tiny, dark and untrusting. I think we all know deep down that this simply won't do.
Join our new commenting forum
Join thought-provoking conversations, follow other Independent readers and see their replies