I was happy to see Matthew Perry at the theatre - less happy about the audience
 He can say he's Jack all night long but everyone knows he's really Chandler. And when he delivered the climactic speech about being an alcoholic, the audience clapped and cheered, because everyone knows he's really Matthew Perry, recovering alcoholic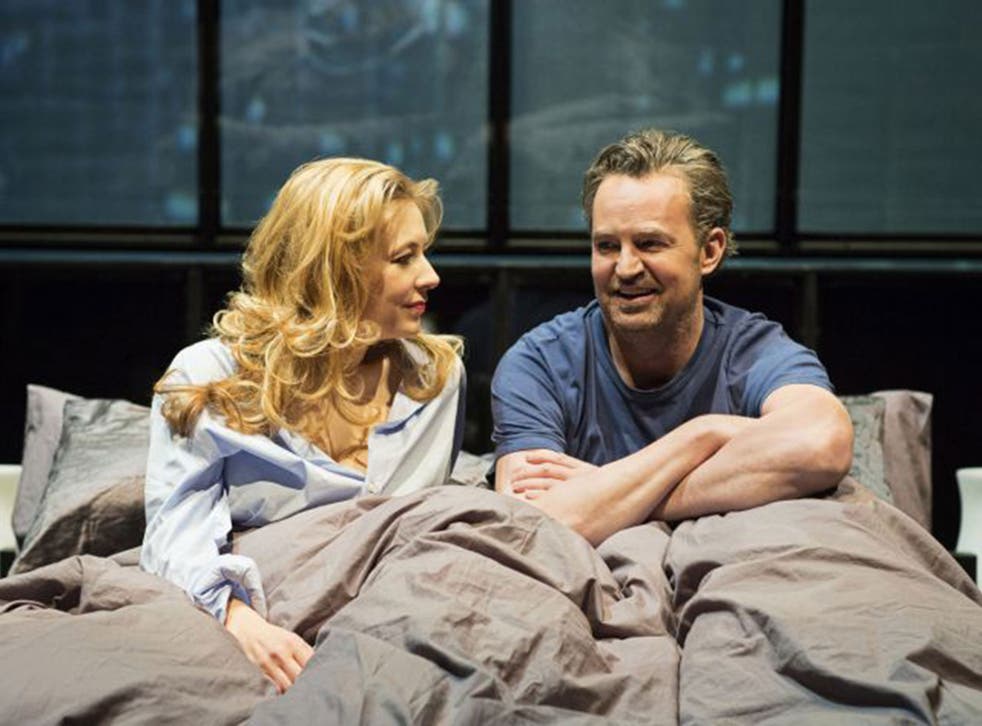 No-one told Matthew Perry that it was going to be this way. Last week, the Friends star premiered his debut play, The End of Longing, in the West End. On the first night, he stepped up to the front of the stage to deliver the first line – "Hello" – and the over-excitable audience shouted "hello" right back.
By the time I went to see it, on the official opening night, Perry had been moved to change his opening line. "Hello" had gone, replaced by the less risky, "I'm Jack." It was still greeted by whoops and cheers from the audience, because he can say he's Jack all night long but everyone knows he's really Chandler. And when he delivered the climactic speech about being an alcoholic, the audience clapped and cheered, because everyone knows he's really Matthew Perry, recovering alcoholic. All very supportive, but it spoils the magic of theatre a bit.
Perry's is a special case: an American superstar landing on the London stage. That sort of thing will always attract a frisky crowd, and so it should. Event theatre brings in new audiences, which the theatre urgently needs. I've lost count of the number of times I've sat in my seat and looked out at an ocean of grey hair. Sky-high ticket prices and booking fees mean that, unless you're lucky enough to snaffle one of the early cheap tickets, theatre is an increasingly elite hobby.
Even spending what can be £100 for a single night out – once you add in programmes, drinks and half-time snacks – does not guarantee a good experience. The week before I saw The End of Longing, I went to see The Master Builder at the Old Vic and found myself sitting in the worst audience of all time. And I have sat in some bad ones. There was the couple who popped out in the interval of Waiting for Godot to get a Chinese, then slurped it all the way through the second half. Then there was the woman who took off her shoes, put on her slippers, and slung her feet up on the safety rail at The Great Gatsby (it was 8 hours long, but still).
It didn't help that The Master Builder had two intervals, always guaranteed to give audiences the jitters and raise the risk of switched-on-again mobile phones. But the coughing was unbelievable – like being trapped on a TB ward during a nationwide Benylin shortage. In the second part, it was so loud that I missed whole speeches. On and on it rolled, a throat-clearing giving way to a brief bark to deafening, barracking volleys. A cough is hard to control but, armed with a bottle of water, some pastilles and a hanky, not too hard to stifle.
In between the splutters came the nagging buzzing of a phone that someone in my row had set to silent but hadn't quite dared turn off, in case the call was crucial enough to take mid-scene. From two rows in front came the flashing blue glow from someone's lap as a message thread scrolled down and down.
You might say that articles about etiquette risk putting even more people off going to theatre, but I disagree. The behaviour needed is what you would do in any normal situation involving other human beings: don't cough loudly to the heavens, don't look at your phone when someone is talking to you and sit still when asked.
That is, the sort of things people are taught to do from their earliest schooldays. Why is it so hard to do it in a theatre?
Is Mr Burns running Universal Credit?
A dispatch from the Department for Screwing Over Poor People. It's time to start saving up to apply for Universal Credit.
Those who need to claim benefits over the phone must call an 0345 number, which costs 45p a minute from a mobile or 12p from a landline. As anyone who has ever tried to phone a government helpline will know, these calls rarely move quickly. So in order to claim just enough cash to get by, one must be prepared to shell out. Speculate to accumulate, if you will. It's the sort of "help" scheme Mr Burns might come up with.
Ministers have previously pledged to make all calls for benefits free but when challenged on this, Iain Duncan Smith's junior welfare minister argued that they expected most people claim online. Which is fine – if you have access to a computer and know how to use one. If not, then start saving the pennies.
Back to the future as TV goes retro
BBC3 went online this week, a major step in television's digital revolution. And yet the trend when it comes to commissioning television is for content to be ever more retro. Last week, the first episode of the new X Files netted Channel 5 its biggest ever audience for a drama; more than 3.35 million viewers watched it live, and a further 2 million recorded it. Meanwhile Are You Being Served? is returning to the BBC with an "all-star cast" and begins shooting next month.
A reboot of Keeping Up Appearances, in which Hyacinth's early life as a maid is explored, is also planned. According to figures released this week, Ms Bucket is the BBC's top export, the show having been bought almost 1,000 times by overseas broadcasters – more than David Attenborough, Doctor Who and Top Gear. Welcome to the future.
Join our new commenting forum
Join thought-provoking conversations, follow other Independent readers and see their replies