Season 16 of the Bachelorette has turned into something we never expected
From substance abuse to male eating disorders and difficult discussions about race, the Covid-19 season featuring Tayshia has brought some unexpected surprises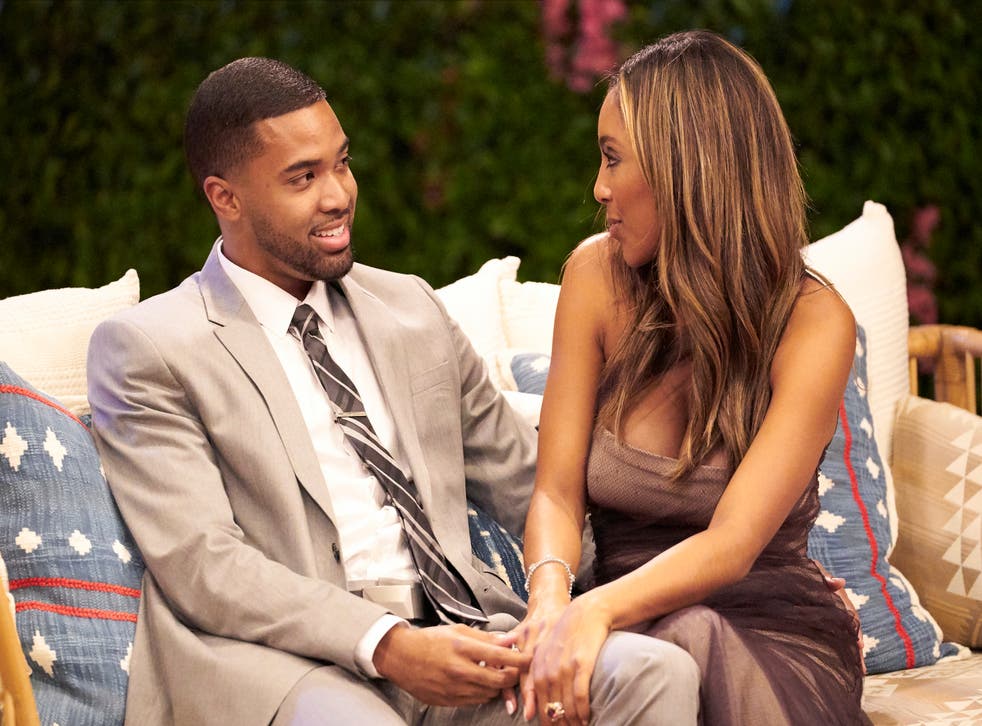 The Bachelor franchise is not typically known for acknowledging the outside world. Not that it should have to: Reality television, despite its name, tends to be about the exact opposite, building elaborate fantasy landscapes where airbrushed influencers can date each other and get into meaningless arguments on secluded beaches without the muss and fuss of any pesky headlines ruining the mood.
That is, until The Bachelorette season 16. Forgoing its typical globe-trotting format due to the coronavirus pandemic, ABC's long-running dating show hunkered down last summer to film an entire season at the sprawling La Quinta resort in Palm Springs. Everyone from the show's male contestants to the crew to host Chris Harrison carefully quarantined and submitted to Covid-19 swabs, all in the interest of giving Bachelor Nation another season of gorgeous, toned people finding love on national television.
But by sealing themselves off from the rest of the world, somehow, against all odds, the world found The Bachelor(ette). Before we dig into how this season stands apart, though, let's consider the average Bachelor franchise season.
Since its launch nearly 20 years ago, the deeply homogenous franchise has stayed relatively stagnant, following a tried-and-true formula where contestants go on carefully produced dream dates, travel to distant lands, act horrified at the exotic food options on said excursions, visit each other's hometowns, have overnight dates where "intimacy" might happen, and so on. At the end of the "journey," the lead will (hopefully) be engaged and everybody sails off into the sunset. While all of this takes place, any hints of the outside world — current events, social media discussions, conversational zeitgeist — are simply not acknowledged.
More recently, though, the extraordinary events that have caused The Bachelorette to lock itself down in a resort bubble have resulted in a series of candid on-camera discussions about race, biracial identity, male eating disorders, and the Black Lives Matter movement. Painfully aware that they are in a fortified alternate reality where kissing, hugging, and dating are allowed while the outside world burns in a conflagration of sickness, inequality, racial tension, and passionate protest, this season's contestants have had important conversations with lead Tayshia Adams (who is herself a biracial woman of color) — conversations that determine shared values and go way deeper than the show's usual vague getting-to-know-you questions ("What makes you you?")
Earlier in the season, during his one-on-one date with Tayshia, contestant Ivan Hall opened up about his younger brother, who struggled with drugs and alcohol and was incarcerated for four years. "Especially with George Floyd, and that's police brutality, that's something that really hit home for me," he told Tayshia, adding that his brother had talked about correctional officers "beating him up" in prison. "I felt so bad because my first question was, 'Well, Gabe, what did you do?' But it doesn't matter. No matter what George Floyd did either way, or what my brother did, these people have a job to do, and they need to do it right. They can't just be hurting people."
The conversation led to Tayshia reflecting on her own racial identity and the pressure she felt to conform to her surroundings while growing up in Orange County, California.
"Being in Orange County surrounded by a lot of people that don't look like me, being the only person that looks like me, I'm realizing that I've been trying so hard my whole life to blend in because I knew I was different," Adams said. "I just remember hearing people yelling 'Black Lives Matter' and I don't know why I'm even crying — it's just a lot."
Rachel Lindsey, who starred as the franchise's first-ever Black Bachelorette in 2017, has been outspoken about the show's struggles to diversify many times ever since her season wrapped. More recently, she applauded the tonal shift that only 2020 could bring about on the show, writing in The Hollywood Reporter that "people are starting to hear things and in a way they never did before."
"If you don't address race on the season, then you're ignoring the issues that are happening in the world," she wrote. "You're setting your show up for failure. How are you not talking about the Black Lives Matter movement when it's all that's being talked about in 2020?"
Even on dates with white contestants, the mood is markedly different on Tayshia's season, and the usually surface-level conversations are much more substantive. During another one-on-one, contestant Zac Clark, an addiction specialist, got candid about his own history of substance abuse and a past that includes addiction to alcohol, prescription drugs, morphine and OxyContin. He even spoke about voluntarily getting his gallbladder removed just to get more prescriptions, and being arrested for possession of crack and driving while intoxicated.
And in last night's episode, military veteran Ben Smith opened up about his own difficult past, which includes a 15-year history with bulimia, two separate suicide attempts, and breaking his back while in the US Army. "My life was very dark, and I didn't know how to say that I needed things," he admitted to Tayshia on their one-on-one date.   
Now, it's not that The Bachelor hasn't welcomed contestants to talk about their dark histories before — it's just that in the past, such issues might have been portrayed as liabilities, reasons to be hesitant about pursuing relationships with them. In Zac and Ben's case, however, their obvious growth and willingness to speak openly and honestly about their pasts are instead presented as substantive character strengths.
It's not that this season hasn't been fun. There have still been plenty of fireworks (both literal and metaphorical), asinine games and fights, and hot tub make-outs. And maybe this batch of men are also better at speaking articulately about important issues because they're, for the most part, in their 30s. But as we head into nearly a full year of quarantine, it could also be that America — and Bachelor Nation — is better positioned to address uncomfortable subjects like racial identity, police brutality, male eating disorders, military veteran hardships, and substance abuse.
The Bachelor still has a lot of work to do around diversity (not to mention vetting contestants who "like" problematic Instagram posts). For the time being, however, one upside to the franchise locking itself down in quarantine means that it has no choice but to do what a lot of its viewers are also doing: slow down, have important, value-defining conversations, and rethink what really matters.
Join our new commenting forum
Join thought-provoking conversations, follow other Independent readers and see their replies