Isis sent instructions on truck attacks a month ago
Jihadis focus on terror abroad as they lose ground in Syria and Iraq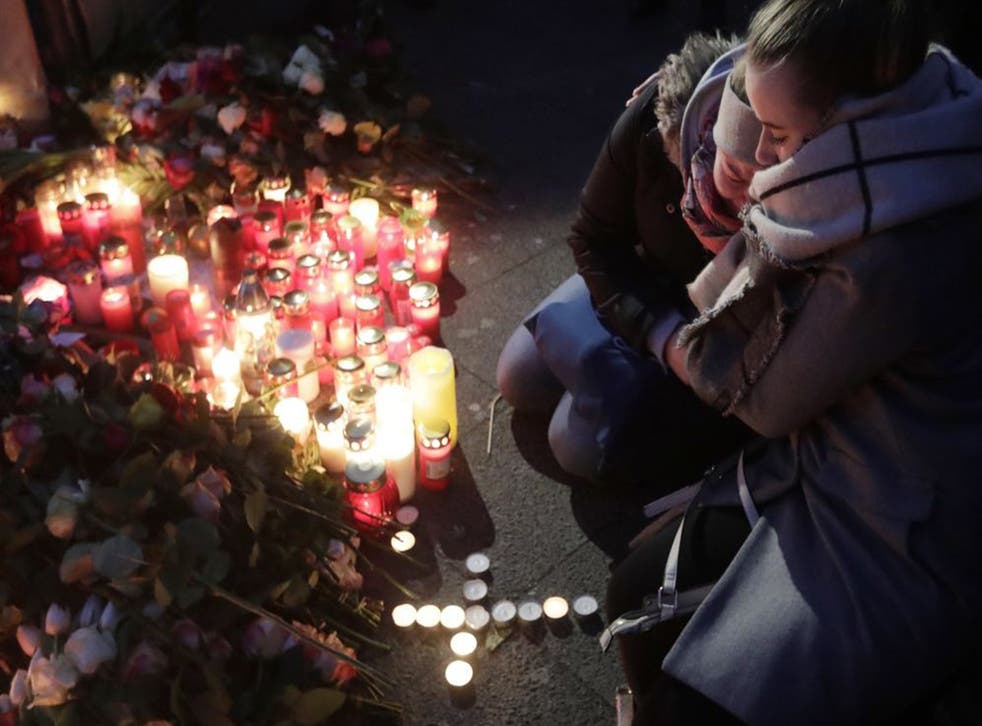 The change of name for Isis' online magazine was a declaration of a change in strategy. It had been called Dabiq after a town in Syria where Islam is meant to triumph over the infidels in a final battle. But now in retreat, losing territory, the jihadists no longer see Armageddon as imminent. They declare, instead, that the jihad will be taken abroad to the enemy, striking at the heart of Western political and spiritual power, symbolically Rome, Rumiyah, as the new publication is titled.
Isis has, of course, carried out attacks on Western targets before. But it has been repeatedly asserting the threat lately and instructing its adherents in Europe and America to strike the enemy at home using any means at hand. Its leaders have openly called for attacks to be carried out this Christmas: so the murders in Berlin, with the use of a truck, should not have come as a surprise.
Last month's issue of Rumiyah specified the Bastille Day attack in Nice, the first time a truck had been used to carry out an Islamist terrorist attack, taking 86 lives, as an ideal template to cause maximum human damage by using a simple "weapon " in an operation " behind enemy lines". With a photograph of a rental truck and the annual Thanksgiving Day parade in New York on the front cover, the magazine stated "though being an essential part of modern life, very few actually comprehend the destructive capability of the motor vehicle and its capacity of reaping large numbers of casualties if used in a premeditated manner."
Although Isis has claimed the Berlin attack through its own news agency, a direct link to the jihadis is yet to be established. On Tuesday evening German prosecutors also released the only suspect who had been held, citing insufficient evidence. He had been identified by media only as Pakistani national Naved B - he had denied any involvement in the attack. The perpetrator, or perpetrators of the violence which killed 12 people at a Christmas market is thought to be still at large. But there is little doubt that it was an act of terrorism and, and as has been shown, Isis will always be keen to claim credit.
What happened showed the difficulties in stopping such an attack even when one was half-expected. Extra security had been in place in Christmas markets and shopping areas in cities across Europe including Britain where a SAS unit is on standby along with armed police patrols. Plots have been foiled in France, Belgium, this country and Germany; but it is, unfortunately, impossible to have total security.
The Nice attack, in July, came a day before the attempted coup in Turkey which the government of Recep Tayyip Erdogan had blamed on the exiled cleric Fethullah Gulen. The Berlin attack on Monday was preceded by the assassination of the Russian ambassador to Turkey, Andrey Karlov, in Ankara by an off-duty policeman.
Turkish officials sought to quickly hold the Gulen movement responsible. The aim, it is claimed, was to sabotage relations with Russia which had only recently been mended following the fracture which came with the bringing down of a Russian warplane by the Turks last year. Mr Gulen was, retrospectively, blamed for that as well and the Turkish F-16 pilot who fired the missile stripped of his status of national hero and imprisoned.
No evidence has been produced so far to prove that the ambassador's killer, Mevlut Mert Aydintas, was involved with the Gulen movement. There is some evidence, however, that he may have had links with Jabhat al-Nusra, the al-Qaeda affiliate in Syria. Among these are his words as he stood over the fallen ambassador : "We are the ones who pledge allegiance to Mohammed, to wage jihad, to die in martyrdom" – part of an al-Nusra slogan.
There appears to have been was no ambiguity about the killer's message: "Don't forget Aleppo, don't forget Syria. Unless our towns are secure, you won't enjoy security. Everyone who is involved in this will pay a price". The murder, one can reasonably conclude, was in revenge for Russia's part in the brutal assault on Aleppo.
Berlin Christmas market lorry attack

Show all 18
Al-Nusra, which recently sought to rebrand itself by changing its name to Jabhat Fateh al-Sham, has long been engaged in terrorist acts abroad. The US, in the first days of its bombing campaign against Isis, carried out air strikes on al-Nusra in Aleppo claiming that it was plotting attacks on the West. The organisation has offered rewards for the capture of Russian soldiers and airmen in Syria. Its commander, Abu Mohammed al-Julani, had called on Muslims from former Soviet Caucasus to carry out attacks on civilian targets in Russia.
Isis is desperately trying to defend Mosul, and facing an impending assault on Raqqa, its 'capital', Al-Nusra will soon come under attack at its base of Idlib. It will, like Isis, lose territory and it will to seek to carry out more strikes abroad. The contagion of Syria's violence will continue its lethal spread to the outside world.
Register for free to continue reading
Registration is a free and easy way to support our truly independent journalism
By registering, you will also enjoy limited access to Premium articles, exclusive newsletters, commenting, and virtual events with our leading journalists
Already have an account? sign in
Join our new commenting forum
Join thought-provoking conversations, follow other Independent readers and see their replies