Babchenko and Browder's bizarre tales, whatever the truth, will not help tensions between Russia and the West
One release from arrest and one apparent escape from an alleged murder plot are symptomatic of our frayed geopolitical relationship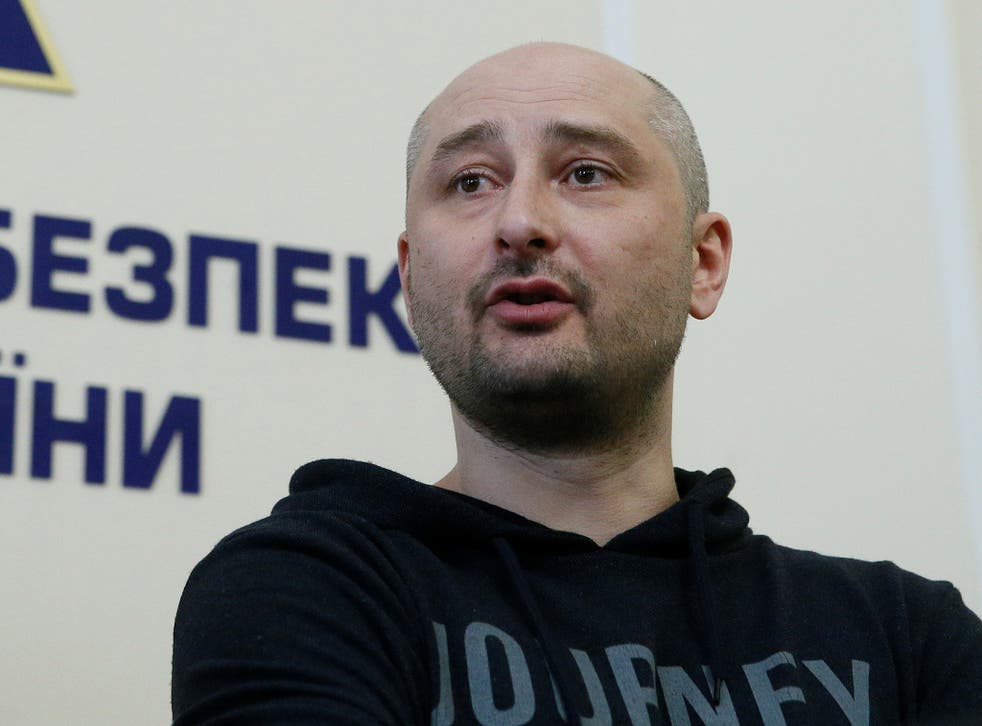 The arrest of Bill Browder in Spain on a Russian warrant was a dramatic and unexpected development of great international controversy. He was released shortly afterwards amid confusing and conflicting accounts of what actually happened with many questions left unanswered.
The detention of the financier, a prominent and persistent critic of Vladimir Putin, came within 24 hours of the reported killing of Arkady Babchenko, a dissident Russian journalist who had also been critical of the Kremlin's policies, in Kiev. The death, it later transpired however, had been staged by the Ukrainian security forces to trap those allegedly planning to assassinate him.
Despite their somewhat puzzling endings, the two incidents come at a time when relations between the West and Russia – as both sides keep saying – are in a state worse than during the Cold War. Putin's government is blamed for interference in elections in the US, France and Germany and the Brexit and Catalan referendums, as well as the attempted murders of Sergei and Yulia Skripal in Salisbury. Moscow vehemently denies the charges, claiming they are part of a deliberate campaign to isolate Russia, with Britain, Perfidious Albion, the ringleader.
In this febrile atmosphere, Russia is in the firing line over both the Browder detention and the Babchenko "murder". After the supposed death of the journalist, Ukraine's Prime Minister Volodymyr Groysman declared: "I am confident that the Russian totalitarian machine did not forgive him for his honesty and principled stand." That remains his government's position so one assumes it will produce evidence of Kremlin culpability. Browder stated that what had happened to him was part of systematic Russian intimidation. Boris Johnson, who had taken on the role of chief campaigner against Russia in Theresa May's cabinet, tweeted that he had spoken to Browder and that "Moscow should concentrate on bringing those responsible for the murder of #Magnitsky to justice".
World news in pictures

Show all 50
It was the death of his lawyer, Sergei Magnitsky, in a Russian prison which started Browder on his mission to expose, as he puts it, the criminal corruption of the Russian state. It led to the Obama administration passing the Magnitsky Act which penalises human rights abusers in Russia and has been widely used to freeze the assets of those deemed to be responsible, and ban their entry into the US. The British government, in the aftermath of the Salisbury poisoning, is in the process of passing its own version of the Magnitsky Act, something which is likely to affect some of the oligarchs with property in the UK.
Browder was put on trial in absentia by the Russian authorities, on charges concocted, according to him and his supporters, in 2013, and says that the Kremlin has since carried out a vendetta against him and the arrest in Madrid was part of this.
But there are contradictory versions of what actually took place. After being freed, Browder tweeted: "Spanish National Police just released me after Interpol General Secretary in Lyon advised them not to honour the Russian Interpol Red Notice. This is the sixth time that Russia has abused Interpol in my case." Interpol insisted that the arrest was not on an Interpol warrant issued at Russia's request. It said in a statement: "There is not, and never has been, a Red Notice for Mr Bill Browder. He is not wanted via Interpol channels." The Agency wanted to stress that it had refused a 2013 warrant for Browder, deeming it "predominantly political in nature". Browder then tweeted a photograph of the warrant which, he said, had been served on him. The Spanish police then confused matters further with a spokesman saying that "an arrest warrant has a date limit and when that expires, it must be deleted from the computer programme and in this case Interpol hadn't deleted it".
Browder declared that he was going to focus on what brought him to Madrid, giving evidence to a Spanish prosecutor about how some of the £174m allegedly from the Magnitsky case has been moved to Spain. "Now that I'm released my mission carries on." Meanwhile, a Russian court has accused Browder of being the suspect in the murders of three men involved in the Magnitsky case. Putin has accused Browder of being a "serial killer".
Browder v Russia is a tale which is likely to continue, and so will allegations of Kremlin involvement in killings in Ukraine which have been taking place before the Babchenko plot. After the "assassination", Ukrainian MP Anton Gerashchenko, an advisor to the country's hardline interior minister, Arsen Avakov, said investigators would focus on "Russian spy agencies' efforts to get rid of those trying to tell the truth about what is going on in Russia and Ukraine". In Moscow, Russian MP Yevgeny Revenko wanted to point out that "Ukraine is becoming a most dangerous country for reporters. The Ukrainian government cannot guarantee basic freedoms."
Kremlin critic Arkady Babchenko revealed to still be alive
Revenko is right. Ukraine has indeed become a dangerous place for some people, and not just reporters. There was a shooting in spring last year outside a hotel where I, and other journalists, sometimes stay in Kiev. The man shot dead was not a member of the media, however, but Denis Voronenko, a former deputy speaker of the Russian parliament, who had become a fierce critic of the Kremlin and had given evidence against Viktor Yanukovych, the former Ukrainian president now in exile in Russia.
Voronenko's was just one of a series of murders in Ukraine in recent years in which Ukrainian politicians, oligarchs, far-right groups, as well as Moscow, were accused of being responsible. Among them has been that of Pavel Sheremet, a Belarusian-born journalist, the holder of several international awards, who was blown up in Kiev in July 2016 by a car bomb. Maksym Shapoval, a colonel in the Ukrainian military, who had just returned from the frontline in the east, was also killed by a car bomb in Kiev in June 2017. The body of Iryna Nozdrovska, a lawyer, was found in a river outside Kiev in December 2017 – she had been stabbed to death. Nozdrovska had been investigating the death of her sister who had been hit by a car driven by the nephew of a public figure.
So, we may have had a day which ended with tales of a murder which had not occurred, and an arrest, under strange circumstances, which lasted less than an hour. But what happened will add to the recriminations and accusations which are now symptomatic of the toxic state of affairs between Russia and the West.
Register for free to continue reading
Registration is a free and easy way to support our truly independent journalism
By registering, you will also enjoy limited access to Premium articles, exclusive newsletters, commenting, and virtual events with our leading journalists
Already have an account? sign in
Register for free to continue reading
Registration is a free and easy way to support our truly independent journalism
By registering, you will also enjoy limited access to Premium articles, exclusive newsletters, commenting, and virtual events with our leading journalists
Already have an account? sign in
Join our new commenting forum
Join thought-provoking conversations, follow other Independent readers and see their replies