Boris Johnson's Trump-style press briefing was so pointless that it might as well have been a shrug
There were a few announcements from the PM, but there's no point in getting bogged down in the details. Clearly there weren't many on his end either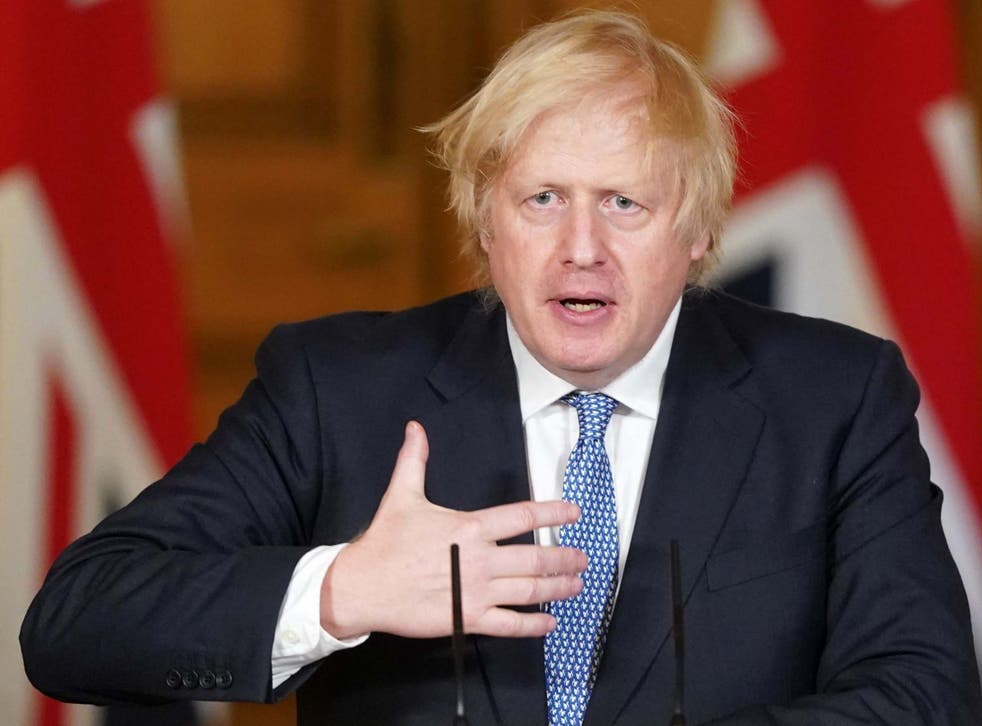 "Enjoy summer safely." That's the new, official three-word catchphrase, which Boris Johnson may or may not have borrowed from a Magners advert.
It'll do, won't it? "It'll do" being very much the mood of the moment. It was either that or "Don't ask me". Or maybe "just crack on".
"Enjoy summer safely," was Johnson's rousing conclusion at the end of a special and especially pointless Downing Street briefing.
There was Johnson, praising his own utter lack of success at having reduced daily infection rates to "under a thousand", with daily deaths still well into three figures. Various places are on the brink of returning to lockdown and there's a looming second winter wave, as confirmed by the chief medical officer, standing to the prime minister's left.
Johnson's face never managed to shake off its resting smirk. Who can blame him? The pubs are reopening. The Treasury had to delete its own marketing campaign about "getting back to the pub" when it was pointed out it bore every resemblance to the Club 18-30s sales pitch for pub crawl tickets up the Magaluf strip. And that perhaps, it wouldn't age well.
Johnson had a few things to announce. One was that there'd be a moment's silence tomorrow for all the people who've tragically lost their lives. No word yet on the length of the moment, but suffice to say it would have been a lot shorter if he'd not been allowed anywhere near it.
There was the announcement of "air bridges" to 59 countries over the summer. What this actually meant is there are 59 countries from which you won't be required to quarantine yourself on return. It doesn't mean that you're actually allowed to visit them. One named country is New Zealand, which is currently closed to UK visitors and is unlikely to reopen soon. Still, be it to France, to Ireland, or merely garden-based, it wouldn't be a Johnson bridge if it was any more than imagined.
It just means that these are the countries the UK has deemed low risk. That other countries have deemed the UK extremely bloody high risk is really not a question for now. Just go away and enjoy summer safely.
Tourist destinations could become melting pots for coronavirus, expert warns
Was he telling people they could only have one drink tomorrow, when pubs reopen? Or many? What was his advice? My advice is "enjoy summer safely", he said. To which he can only have meant to emigrate, except that the imaginary air bridges are shut.
He was asked, by a member of the public, what he might be doing about the utter devastation of the theatre industry, given the wave of venues that are now closing, permanently, for lack of shortfall funding. He was, he said, setting out a timetable soon for when it might be possible to do something about that, but don't get your hopes up.
Look, don't get bogged down in the details. Just stay alert, which Johnson doesn't seem to be able to manage for the duration of a 12-minute press conference. Just control the virus, somehow ... not really sure how, what with having one of the highest per-capita Covid-19 death tolls in the world, and the virus still being altogether out of control. Just save lives, if at all possible but, you know, it's more of a kind of aspiration, this one.
And above all, enjoy summer safely. And if you can't, well just enjoy it. It'll probably be your last.
Register for free to continue reading
Registration is a free and easy way to support our truly independent journalism
By registering, you will also enjoy limited access to Premium articles, exclusive newsletters, commenting, and virtual events with our leading journalists
Already have an account? sign in
Register for free to continue reading
Registration is a free and easy way to support our truly independent journalism
By registering, you will also enjoy limited access to Premium articles, exclusive newsletters, commenting, and virtual events with our leading journalists
Already have an account? sign in
Join our new commenting forum
Join thought-provoking conversations, follow other Independent readers and see their replies