I, for one, am glad that Boris Johnson and Michael Gove are now de facto running the country. What could possibly go wrong?
It isn't so much that Theresa May is the hostage of two politicians she knows have no place in the Cabinet. It is that Britain's future might also be their hostage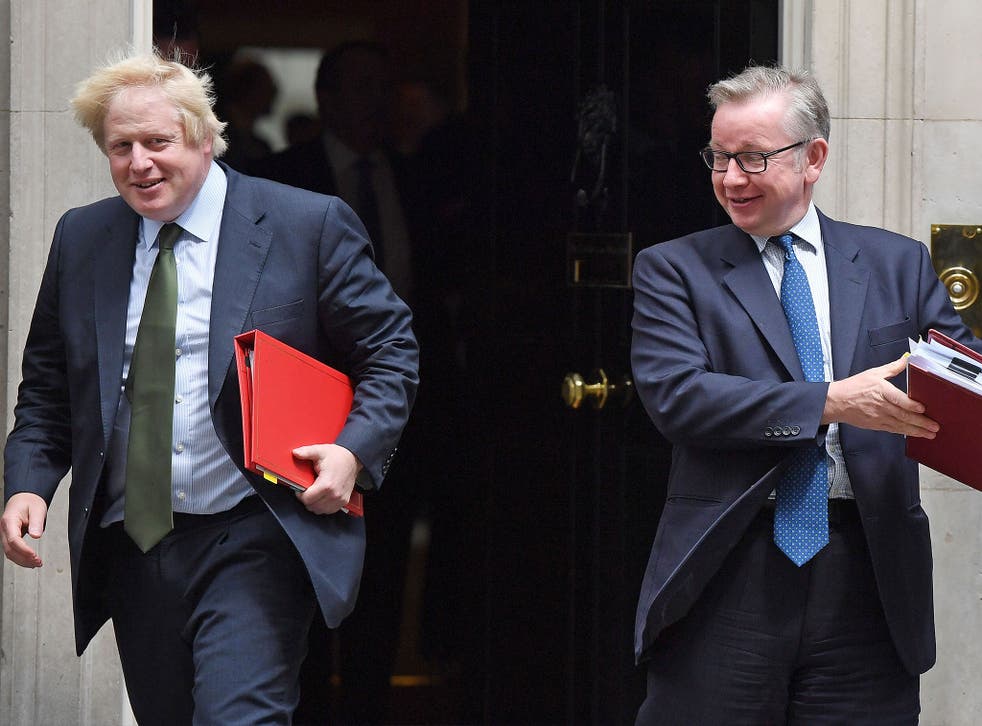 If you had come to doubt Boris Johnson's competence as Foreign Secretary, you must be feeling a proper Charlie now.
I know I am.
I am not about to make excuses. Sometimes, you have to take the shame. But somehow I got bamboozled into confusing Boris's diplomatic masterstrokes – joking about Libya's tourist potential once the streets are cleansed of the corpses; risking a British woman's freedom with false claims about the purpose of her visit to Iran; reciting a colonialist Kipling poem and mocking Buddha in a Myanmar temple; that sort of caper – with monumental unforced errors. The kind of howlers that would ordinarily disqualify someone, for life, from the lowest rung of the Toytown government.
What a relief, then, to find out that Boris is doing a bang-up job after all. We know this because Michael Gove said on Sunday on The Andrew Marr Show that "Boris is doing a great job as Foreign Secretary", and no one speaks with more authority on the matter than him.
UK news in pictures

Show all 50
The last time he shared his insights on Boris, as if anyone needs reminding, was in late June 2016, when the latter was trying to replace David Cameron as prime minister. As his loyal friend, Brexit-Pinocchio compadre and leadership campaign manager rolled into one, Gove was uniquely well placed to appraise Boris's fitness for high office. As indeed he did.
Boris simply lacked the grip and focus, he said then. Excruciating as it was – oh, the agonies to which his selfless compulsion to do the right thing exposed him – he had to save Britain from disaster. So it was, in accord with his interminably repeated insistence that under no circumstances would he ever run for PM himself, that Govey announced he would be running for PM himself.
It was a tragedy that he had no more luck there than the dear, dear friend he knifed in the back without a thought for the personal ambition he proved he never had by running for PM in his place. But less than 18 months later, rejoice, rejoice! The two halves of everyone's favourite political pantomime horse are back in harness.
With Boris at the front and Govey cast to type as his hind quarters, this adorable creature seems to have seized control of Brexit via a genteel coup d'état.
Michael Gove says he doesn't know what Nazanin Zaghari-Ratcliffe was doing in Iran
How long this alliance will last is not guessable given the personal history, let alone the context of a rapidly disintegrating government. But for now, the Boris-Govey axis appears to have Theresa May in its power, and is dictating the ultra-hard Brexit that occupies the very wettest of its dreams.
On Marr's sofa, Gove confirmed by not denying that the pair recently sent May a "secret" letter laying out her actions on this minor matter of national interest. Delivered by hand to May's chief of staff Gavin Barwell by Postman Boris, and explicitly for their eyes only, the missive constitutes something between an ultimatum, a ransom note and a power grab. After receiving it, May hardened her Brexit stance accordingly.
How her obedience could stretch to following their orders to impose a unified Brexit line on the entire Cabinet is hard to imagine when she is too weak to move Boris, let alone sack him.
Yet the significant point is not that she lacks the authority to bully Philip Hammond and others on speaking terms with Brexit realism into parroting a blatantly false line. The point is that these two clowns felt emboldened to fill the power vacuum and take charge.
And it isn't so much that Theresa May is the hostage of two politicians she knows better than anyone have no place in the Cabinet. It is that Britain's future might also be their hostage.
There is still time for the doomsday scenario of the nightmare pair engineering a formal putsch and divvying up the posts of PM and Chancellor between them. My hunch, which any regular reader will value at a fair bit less than zero, is that the next leader will be someone younger and less tainted by cabinet office, who will burst out of the pack in the closing furlings in the usual Tory style.
Yet at this moment, in this borderline anarchy, all things are possible. One of those is that the Johnson-Gove partnership – possibly to become known as Jove by those who like their celeb lovers' portmanteau shorter than Brangelina – will be leading us inexorably, cockily and abrasively towards a "F*** the filthy foreigners (aka no deal) Brexit".
Without wishing to alarm you further, these two very different personalities have one gigantic thing to bind them. They are Rupert Murdoch's placemen in the Cabinet. They're the lads Rupert dines with in Mayfair whenever he graces us with a state visit. They are the boys he could rely on to ensure that his troubled bid for a 100 per cent stake in BSkyB is permitted.
How close Murdoch is to riding to victory upon his trusty panto steed is difficult to gauge in the midst of the chaos. But however wonderful it is to see Boris doing such a splendid job at the Foreign Office, wouldn't it be even more splendid to watch us "get our country back" by facilitating the commercial wishes of an Australian-born naturalised American whose sovereign powers extend way beyond the right to hack mobile phones with long term impunity?
Register for free to continue reading
Registration is a free and easy way to support our truly independent journalism
By registering, you will also enjoy limited access to Premium articles, exclusive newsletters, commenting, and virtual events with our leading journalists
Already have an account? sign in
Register for free to continue reading
Registration is a free and easy way to support our truly independent journalism
By registering, you will also enjoy limited access to Premium articles, exclusive newsletters, commenting, and virtual events with our leading journalists
Already have an account? sign in
Join our new commenting forum
Join thought-provoking conversations, follow other Independent readers and see their replies