Boris has left the Tory leadership race – but he'll become Prime Minister anyway
The former Mayor of London is at liberty to wait in the wing, restoring his reputation while leaving the next Conservative PM to deal with the post-Brexit chaos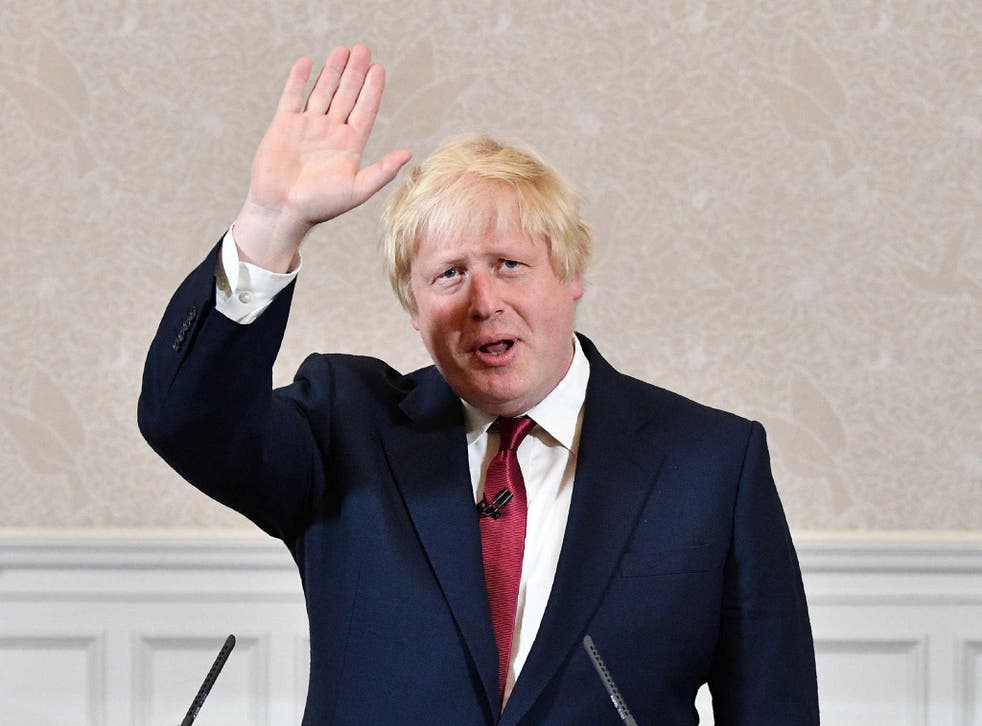 Boris was late to the party announcing his intention to vote to leave the EU. He was never one famed for organisation or promptness as his time as a columnist at The Telegraph proved.
There was no immediate rush to announce this candidacy, as everyone knew it was coming. The fact that he hadn't yet announced, however, left a nagging insecurity. Would he pull out of the running? Could he? After all he's done? Doubts started to emerge.
Then he announced he was out of the race. Cue yet another media meltdown.
In hindsight one suspects Boris never expected Leave to win the referendum, but that leading it would rally Eurosceptic support to his own later leadership bid. The party would admire his bravery, his conviction in leading the Brexiteers, and forgive him his sins in light of his noble failure. Now, though, he is the great divider. And many in the party will stop at nothing to topple him. The knives are out.
By stepping aside he has removed the danger of being caught in the vitriol that will now be directed at Michael Gove. In the wings he will attempt to repair a reputation battered by a sorry campaign.
Backing Theresa May, the likely victor, will go some way towards fixing the Tory bridges burned during the Leave campaign in return he will deliver a significant bloc of Eurosceptic voters to her.
May will, one suspects, give him a cabinet post, for he is too good not to warrant one, and if this is Boris out to reinvent himself as a hard-working and loyal MP ready to take on national issues, she will know she faces no real threat from him to usurp her. Not yet at least.
From the cabinet, Boris Johnson will receive a measure of the prestige and influence he has long craved. He will be loyalty personified. He will rise to prominence. He can apply his wits to meaningful tasks and he will be a success.
The favourites in the Tory leadership race

Show all 5
The challenging and difficult decisions to be made while hashing out a new deal between the EU and the UK will be left to May, while Boris dodges the inevitable damning reports of punitive European terms and British grovelling.
What's more, when May goes, Boris will - barring unforeseen circumstances which, I suppose, as this is Boris, are actually very probable - be in poll position to replace her: his reputation restored, the spectre of Brexit a speck on the horizon.
Is it a gamble? Absolutely, but one he absolutely must take. One he can also afford to take. He has time on his side as, with every passing day and every passing debacle, the Labour Party drives itself towards a miserable end. Who's to say if it will even be Her Majesty's loyal opposition in five or ten years' time? What will replace it? The SNP? A reanimated SDP? Whoever, or whatever it is, the public will take some time trusting it, even longer than it'll take for them to trust Boris again. He'll like those odds.
Register for free to continue reading
Registration is a free and easy way to support our truly independent journalism
By registering, you will also enjoy limited access to Premium articles, exclusive newsletters, commenting, and virtual events with our leading journalists
Already have an account? sign in
Join our new commenting forum
Join thought-provoking conversations, follow other Independent readers and see their replies