Brazil is in crisis with a second wave – but the UK's not much better off
Global statistics serve to underline what an awful job the British government – with its own right wing populist at its head – did when it came to containing the pandemic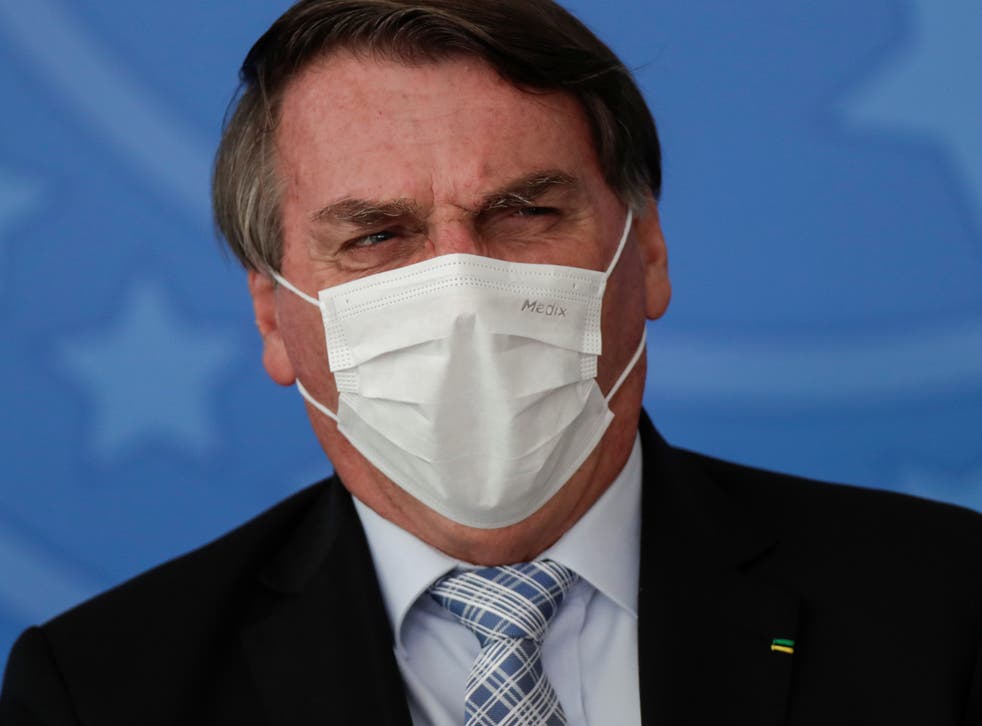 Leer en Español
If you're the sort of person who has been looking at the news beyond the latest royal rumpus, you may have noticed that something frightening is happening in Brazil. The Independent, in fact, published its leader on that very subject this morning.
Brazil is suffering the consequences of getting lumbered with a hard right wing populist harpy as President, one who has turned Covid denialism into national policy.
Jair Bolsanaro has behaved less like a national leader than he has a Covidiot Twitter troll, pooh-poohing masks, downplaying the virus, even telling people to stop moaning about the virus.
The result is that the country's health system is now close to collapse, deaths are soaring, and new variants have been given their chance to play the game of Darwinian evolution to see which one wins. The entire world is threatened by this ­– and Brazil's neighbours, in particular. 
Here's the thing that struck me when reading the reports about that country's national nightmare: Despite the soaring death toll, its per capita death rate is still substantially lower thanBritain's. Currently, it's not even close. Going by the global stats being kept by America's John Hopkins University, Britain's mortality rate stands at 188.05 per 100,000 –Brazil's at 128.12.
Now, let's be clear. The nation Bolsanaro leads is fast catching up. But while the data may be scary, it does serve to underline what an awful job the British government – with its own right wing populist at its head –did when it came to containing the pandemic.
Hang on, you're saying, Boris Johnson never indulged in the same sort of denialism as Bolsanaro has traded in – and he didn't. But if you look back, you'll see the same sort of cavalier attitude on display in the early days. 
Shortly before the first lockdown, for example, he stood up at a press conference and said this: "I was at a hospital the other night where I think a few there were actually coronavirus patients. And I shook hands with everybody, you'll be pleased to know, and I continue to shake hands."
This was on a day officials had agreed to "advise against" the traditional greeting.No 10 subsequently said he wouldn't have seen the advice. But come on.New disease, spreading fast, people hospitalised. Didn't it behove a national leader to at least choose his words, and actions, with a degree of caution?
Johnson later got the thing – and was briefly hospitalised, himself. The tone changed. And there's been none of the malevolent denialism of a President described as a "crazy guy" by Sao Paulo governor João Doria, in a heartfelt appeal for vaccines – delivered in English – to which the world should listen. That includes us.
But the mistakes that were made actually come from a depressingly similar place. Bolsanaro continually bangs on about Brazil's economy, a stance excoriated by Doria, who is, rightly, more concerned about the lives of people living in his city.
Now, ask yourself: why did Britain lock down too slowly, and open up too early, first time around? The answer is: the economy.And why did Britain fail to follow the SAGE group of scientists' call for a two-week autumn circuit breaker? The economy, again. 
The "economy first" brigade in this country, and Johnson's refusal to face it down, has repeatedly made a bad situation worse – hurting the very thing it wishes to protect in the process. This is why, in an earlier column, I described Health Secretary Matt Hancock as its best friend in government.
It's only now that Johnson appears to have got it – hence his cautious reopening plan. But while his incompetence has ultimately been far less malevolent that Bolsanaro's, the net result is the same. 
There could, and should, be a calling to account. The poll boost Johnson has received as a result of a vaccine rollout –spearheaded not by the government, but by the hard work and dedication of NHS staff –is entirely undeserved, based on his performance in the early part of the pandemic. People died.Thousands of them. Needlessly. 
But, right now, it seems that only his government's mean-minded penny pinching towards the NHS staff keeping people alive, and putting needles into arms, is likely to stem the blue tide. Unison has arranged a slow clap to protest the miserable 1 per cent NHSpay proposal timed for 8pm this evening, with another planned in three weeks, on the day staff are due for their next uplift. Pay isn't the only reason why we should all join in.
Register for free to continue reading
Registration is a free and easy way to support our truly independent journalism
By registering, you will also enjoy limited access to Premium articles, exclusive newsletters, commenting, and virtual events with our leading journalists
Already have an account? sign in
Register for free to continue reading
Registration is a free and easy way to support our truly independent journalism
By registering, you will also enjoy limited access to Premium articles, exclusive newsletters, commenting, and virtual events with our leading journalists
Already have an account? sign in
Join our new commenting forum
Join thought-provoking conversations, follow other Independent readers and see their replies