Sadly, it's become clear this week that the Government is making it up as it goes along with Brexit
David Davis has mooted creating a future customs union with the EU which also isn't a customs union. All this can be politely summed up as 'magical unrealism'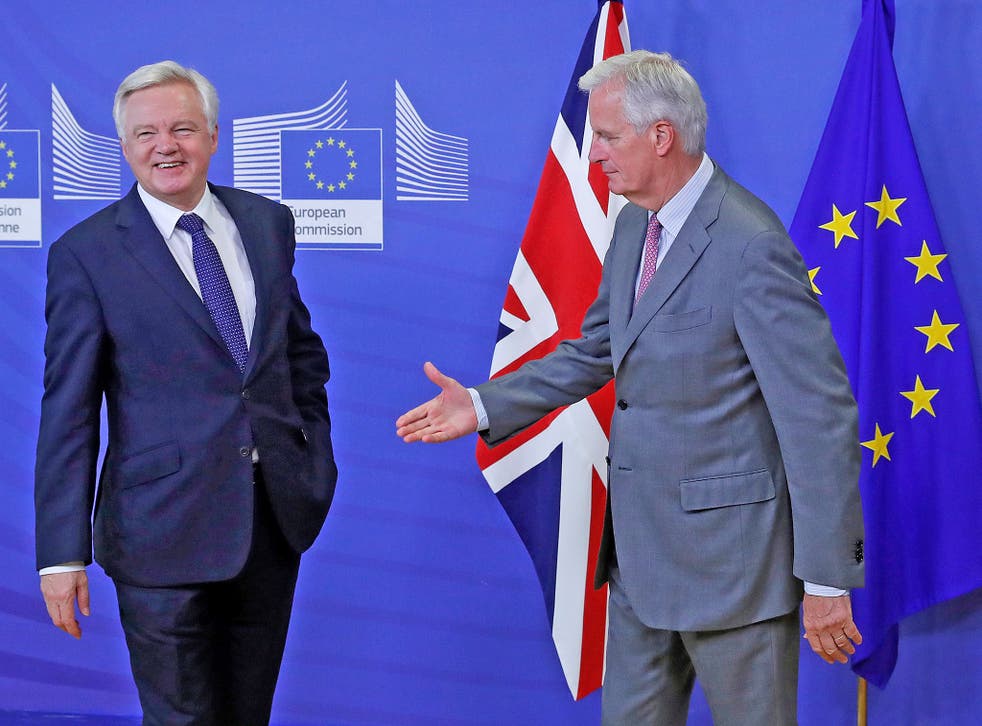 What a comedown. A year on from the Brexit referendum and we're not talking about new exciting free trade deals. We're not contemplating national rejuvenation. Happy chat of sunlit uplands has dried up.
Instead we find ourselves poring over the mind-numbing details of customs arrangements. Worse, we're not discussing making customs better. We're talking solely about mitigating damage.
But first let's recap where we are today. Being in the EU's customs union means there are zero bureaucratic barriers on UK goods exports to Europe. A business in Worthing can send a product to Warsaw as easily as it can to Wolverhampton.
Brexit Secretary: UK wants temporary EU customs deal
If we leave the customs union, that all changes. Goods crossing the UK border would have to pay tariffs and VAT would have to be paid up front. They would also have to prove compliance with local EU standards to inspectors. All shipments would have to be recorded and checked.
This will significantly increase the cost of UK trade with Europe – easily our biggest trading partner – and considerably slow down the movement of goods. That is why trading UK businesses are terrified about the prospect, particularly the likes of car manufacturers which have deeply integrated continental supply chains.
Yet Theresa May's Government still insists we must leave the customs union, following their own hardline interpretation of the Brexit referendum result. But how?
In a new position paper, the Government moots two possible long term destinations for the UK outside the EU customs union. The first is that future, unspecified, "technology-based solutions" will allow for "streamlined" trade between Britain and the UK, despite all the bureaucratic requirements listed above.
The second is that the UK and EU can essentially create a customs union that is simultaneously not a customs union (as we understand it, at least). This Schrodinger's cat scenario will allow the UK to sign new bilateral tariff-cutting trade deals with other countries while also maintaining the integrity of the borders of the EU's customs union. All of this can be politely summed up as "magical unrealism".
In pictures: European parliament Brexit discussions

Show all 12
Yet ministers have not retreated entirely into fantasy. They have, at least, grasped that their magical unrealism will not be ready by 2019. So they have bowed to an interim "close association" with the EU customs union, while the magical unrealism is cooked up.
They want to quit the EU customs union in 2019 but to then instantly enter a new one for a temporary period of time. The objective is to reassure all UK firms that there will be no customs or tariff "cliff-edge", and that everything will continue as normal the day after Brexit.
Why not simply stay in the existing customs union for an interim period rather than try to create a new one? First that would mean staying in the EU longer, since only EU members can be in the EU customs union. Second, for legal reasons, that would preclude the International Trade Secretary, Liam Fox, from being able to negotiate new trade deals with the likes of America and New Zealand – and for some reason giving Fox something to do has also been judged by the Government to be an inviolable imperative stemming from the referendum result.
It is unknown whether the EU will accept the interim customs proposals as put forward by the Government, but there are good reasons to suspect they will not simply swallow it whole. And, even if they did, the bigger problem is that a temporary new customs union in 2019 still isn't enough to avoid a cliff-edge for UK firms.
Even if the EU agrees to the transition and the UK and EU successfully recreate a new temporary union, there will still be major trade frictions. Turkey has a customs union with the EU but Turkish imports still have to be checked at the border to ensure compliance with EU standards. There are long queues of lorries at the Turkish-Bulgarian border.
Can these impediments be minimised? The UK Trade Policy Observatory at the University of Sussex says it's possible that some standards checks could be performed at factories and that VAT charges could be levied inside the border too.
Switzerland and Norway, which are both outside the EU customs union, have launched a "registered exporters" scheme and allow for a degree of self-certification by firms. These fixes could marginally reduce administrative burdens for UK exporters.
Yet the crucial point is that agreeing in principle to a temporary tariff-free customs union is actually the simple part. Negotiating the terms of the temporary transition will be almost as difficult and politically fraught as settling on a permanent new long-term arrangement.
How, for instance, will the interim scheme be policed? The Government's position paper is entirely silent on such details. David Davis says there is "constructive ambiguity" in the Government's position. Sadly, it is more likely they are simply making it up as they go along.
EU set to block UK's temporary customs union plea to stop Brexit border chaos, warns former commissioner
Yet the clock is ticking. There are now just 14 months before EU national parliaments will need to see any interim plan to vote on by the March 2019 Brexit deadline.
Brexiteers are sensing the day of accountability for their project approaching. The hardline backbencher Bernard Jenkin gave a BBC interview earlier this week in which he castigated not ministerial incompetence, nor his own side's undeliverable pledges, for the looming customs fiasco, but EU vindictiveness and unreasonableness.
It is a line we can expect to hear much more of as the edifice of the Brexiteers' promises – on customs and everything else – crumbles in the coming months. The self-preservation blame game has begun.
Register for free to continue reading
Registration is a free and easy way to support our truly independent journalism
By registering, you will also enjoy limited access to Premium articles, exclusive newsletters, commenting, and virtual events with our leading journalists
Already have an account? sign in
Join our new commenting forum
Join thought-provoking conversations, follow other Independent readers and see their replies