Whether hardline Brexiteers like it or not, Theresa May will have to pay the EU divorce bill
The Prime Minister's position has become even more precarious. The number of Tory MPs ready to call for a vote of confidence in her as party leader may now be close to the required 48. 'She needs us – to survive,' one prominent Eurosceptic told me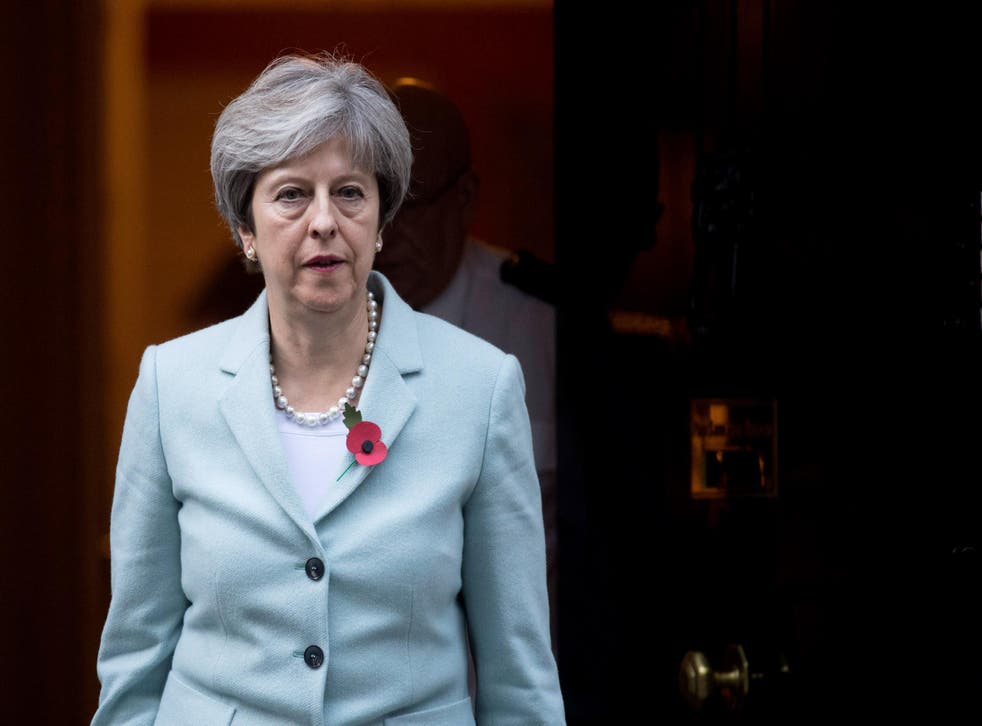 When the Cabinet discussed contingency plans for a no-deal Brexit last week, several ministers were frustrated there was no time left to debate the most critical issue of all – what the UK wants its long-term relationship with the EU to be.
True, Theresa May has many other balls to juggle – the sexual harassment scandal; mini reshuffles caused by her errant ministers; Boris Johnson's latest gaffe and this month's Budget.
However, even loyalist ministers argue that May cannot put off the evil day for much longer: she needs to broker an agreement in her divided Cabinet about future UK-EU relations. Business urgently needs clarity on the transitional arrangements when the UK leaves in March 2019 – as its leaders will warn May at a meeting on Monday. But the EU won't discuss the transition or a long-term trade deal until May shows the colour of her money, and raises the £18bn offer she made in her speech in Florence in September.
Time is running out to persuade EU leaders to open such talks at their summit on 14-15 December. Today Michel Barnier, the EU's negotiator, ramped up the pressure by saying the UK needs to make a new offer on money within two weeks to ensure enough time to prepare the ground for agreement in December. May cannot risk another stalemate then; many businesses would assume a worst case scenario of no deal, and implement contingency plans that would move jobs and investment from the UK to the Continent.
Tory pressure on May is growing too. Ruth Davidson, leader of the Scottish Conservatives, told business leaders in Glasgow that "some clearer direction" is needed, with transitional arrangements "as a matter of urgency". And Lord (George) Bridges of Headley, a former Brexit Minister, called for more honesty from May, saying: "We urgently need more clarity on the type of deal we want." Writing on the Reaction website, Bridges rightly pinpointed the crucial choice: "What's more important – taking control of our regulatory system, or having access to EU markets?" Eighteen months after the referendum, it is incredible that the Cabinet has not discussed this issue properly yet. It's make-your-mind-up time.
EU chief negotiator: UK has two weeks to agree Brexit 'divorce' bill or no trade talks this year
The glacial process was illustrated when the sixth round of negotiations in Brussels ended today. As usual, David Davis, the Brexit Secretary, gave a more upbeat assessment than his opposite number Barnier. Davis claimed "significant progress" across the board but there wasn't much sign of it. He conceded that technical discussions had now reached their limits and the time for political decisions had arrived. Decoded, that means the UK needs to move on money.
The two sides are a long way apart. Barnier said the UK merely needs to "settle the accounts", which means paying its share of EU projects agreed but not begun yet. But the Government wants to link the divorce bill to future market access – to show voters (and Tory MPs) it is getting something in return. The UK and EU are deeply divided over the Northern Ireland-Irish border question.
In Florence, May rejected both a Norway-type deal inside the single market as too close and EU-Canada-style trade agreement as too limited. But those are the two options on offer from the EU, which is adopting an "all or nothing" approach. Barnier said on Thursday: "You cannot be half in the single market and half out."
The EU is increasingly frustrated about not knowing the UK's long-term intentions. "We don't want the May Government to collapse but it has got to tell us where it wants to end up," said one Brussels insider.
There are signs that May will move further on money to prevent the talks collapsing. Her announcement that the leaving time of 11pm on 29 March 2019 will be formally written into the EU (Withdrawal) Bill is another bone for her ravenous Eurosceptics. A small one, since we already knew the date.
At some point the Prime Minister is going to have to stand up to the hardline Brexiteers and say a divorce settlement of about £50bn (or 2.5 per cent of GDP) would be a small price to pay for a deal securing access to our biggest market. She should also say we should "hug it close" for several years to cushion Brexit's economic impact while we assess the scope for other trade deals.
Although some hardliners might swallow a bigger divorce payment, they want a clean break with the EU after a two-year transition, claiming there is no point in leaving if we still mirror its regulations.
May's position has become even more precarious during the turmoil of the past two weeks. The number of Tory MPs ready to call for a vote of confidence in her as party leader may now be close to the required 48. "She needs us – to survive," one prominent Eurosceptic told me.
Despite such threats, May should do what is right for the country: make a generous financial offer to keep the EU talks on track even if, as some allies now believe, it proves her final act as Prime Minister.
Register for free to continue reading
Registration is a free and easy way to support our truly independent journalism
By registering, you will also enjoy limited access to Premium articles, exclusive newsletters, commenting, and virtual events with our leading journalists
Already have an account? sign in
Join our new commenting forum
Join thought-provoking conversations, follow other Independent readers and see their replies