Fast cars and money: the mystery of the second most powerful person in Theresa May's Government
Car salesman, medical equipment entrepreneur, property developer, Foreign Secretary and now Chancellor: Philip Hammond's life story is hardly that of a 'safe suit'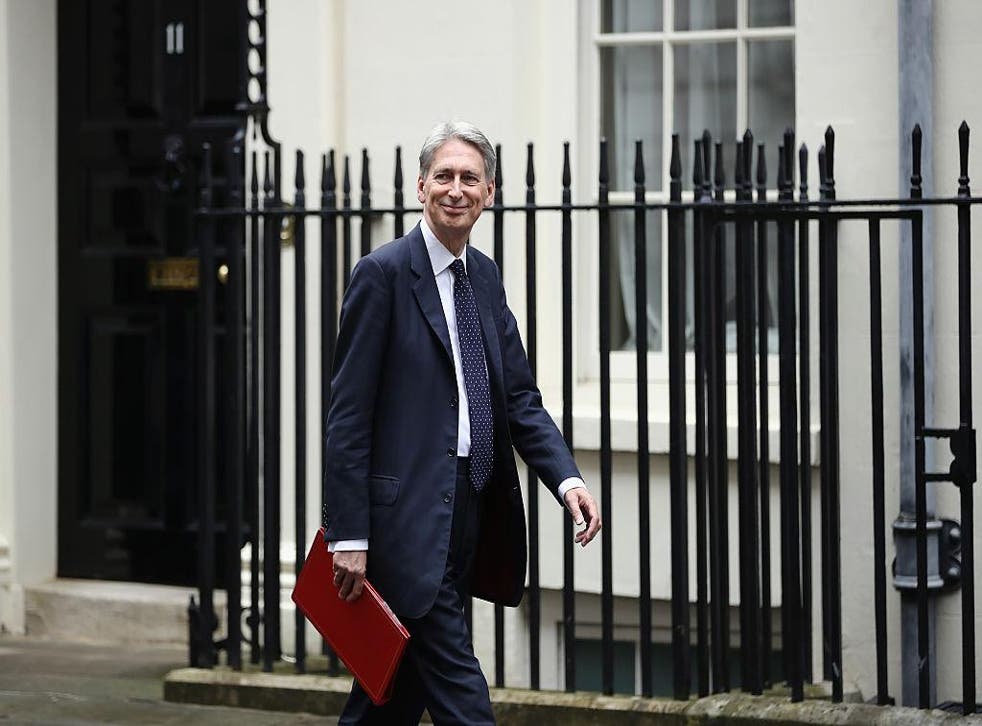 We haven't had a deputy prime minister since last year. The title has come and gone since it was invented for Clement Attlee in 1942. Gordon Brown didn't have one, and nor did John Major until 1995 when Michael Heseltine assumed it. But the rules of precedence mean that there is always a cabinet minister who ranks second behind the Prime Minister.
Philip Hammond is this Government's "Number Two", surprisingly little known for the holder of two of the great offices of state as Foreign Secretary and now Chancellor (only six have held both since the war: three have gone on to be Prime Minister). The relationship between Prime Minister and Chancellor is the most important in government. Tony Blair's strength and weakness was his axis with Brown. Brown's dysfunctionality was reflected in his with Alistair Darling. David Cameron and George Osborne were a harmonious partnership, for all the good it did them.
Now the second great mystery of Theresa May's Government, second in precedence only to the mystery of the personality of the Prime Minister herself, is the question: Who is Philip Hammond?
The most penetrating answer to date was supplied by Kate Allen and Leila Haddou of the Financial Times this week, in an article that reported Hammond's business career by, among other things, looking up his companies' accounts. They paint a portrait of a young man with a taste for fast cars who "was never not thinking about how to make money" according to Colin Moynihan, his business partner and a Conservative MP from 1983 to 1992.
At Oxford University where he went to study Philosophy, Politics and Economics in 1974, Hammond was envied because he drove a new Ford, and he was known for buying and selling Ford cars from the Dagenham plant near his home in Brentwood, Essex. Later on he drove a Mazda RX7 sports coupé. It is only a matter of time before the jokes and cartoons about the Chancellor as a car salesman begin.
Hammond's business career was eclectic. He started off working for a medical equipment company, which the FT portrays as a failure, although the truth may be more complicated (it usually is).
Theresa May's Cabinet: Who's in – and who's out?

Show all 27
I still have my notes from January 2010 when I interviewed Hammond, as shadow Chief Secretary to the Treasury (it was to him that outgoing Chief Secretary Liam Byrne addressed his "there is no money" note, only for coalition to cause it to fall into the hands of David Laws, who made it public). He said that the company, Speywood, was "started by a former Oxford PPE graduate whose strategy for the business was to hire lots of Oxford PPE graduates – it was a flawed strategy, and after he hired me I was the only one".
Jeffrey Archer, the author and former Tory peer, was a founder shareholder, and the company features in Not a Penny More, Not a Penny Less. "The business fell apart, hit by a fraud in a small North American operation, and effectively went under," Hammond told me. "The chairman stepped down, so in about 1981 I had the limited but bruising experience of having Jeffrey Archer as my boss."
After this Hammond's account and the FT's diverge slightly. He said: "I was put in charge of a loss-making subsidiary in Dublin, and had the chance to buy it from the administrators for a pound, so I bought it. Ultimately I repatriated it to the UK, turned it round and sold it on to a German company."
According to the FT, "six years after taking it over, investing thousands of pounds setting up a new factory but failing to boost the company's sales of electrocardiograph equipment, he sold out and liquidated the holding company". The company "struggled to persuade buyers to switch to its system" and, after a round of equity-raising, he sold it in 1986.
However, Hammond was successful enough to carry on working with the company under its new owners in Germany. In the meantime, he and Moynihan started a North Sea gas consultancy, he worked for the World Bank advising the Bolivian and Malawian governments, and he set up a housebuilding company called Castlemead. His partner in Castlemead, Terry Gregson, told the FT Hammond was "straight as an arrow, inventive and could make things work quite quickly".
The business did well, paying Hammond, his wife and a third director £1.8m in dividends in 2007, although it was hit hard by the banking crash. "You must be a rich man?" I asked him in 2010. "I wouldn't say that. I'm not poor. My recent interests have been in property development and construction, neither of which has been doing well. I am less rich than I was two years ago."
All of which is a long way of saying that our new Chancellor is more interesting than his "safe suit" persona on TV suggests. Gregson says, "underneath he's an absolute dynamo". Treasury civil servants have already been amused by his pedantic comments on official papers. But we know even less about his politics, except that he was more of a Remainer, than we do about his Prime Minister's.
There was one suggestive part of his interview with me six years ago. He described the "Thatcher thing" as "unfinished business". He said: "She's gone down in history as an uncaring, economics first, last and only thinker. But she wanted to move on to education and what we now call broken society problems."
He had wanted the Conservatives, if they were to be elected in 2010, to complete that unfinished business. But the financial crash meant that "to some extent we have got to tread the same ground, to fix the economy first". Now he, May and the Three Brexiteers (David Davis, Liam Fox and Boris Johnson) have to fix Brexit first.
One day, we might find out what that Thatcherite "unfinished business" of education and broken society problems means.
Join our new commenting forum
Join thought-provoking conversations, follow other Independent readers and see their replies