Theresa May says Brexit Britain will be 'cutting edge'. It's time she started telling the truth
The Prime Minister's line on Brexit as good news for Great Brexitannia flies in the face of all evidence. It represents the ostrich-like response by the British political elites of the damage and dangers the country faces from a hard Brexit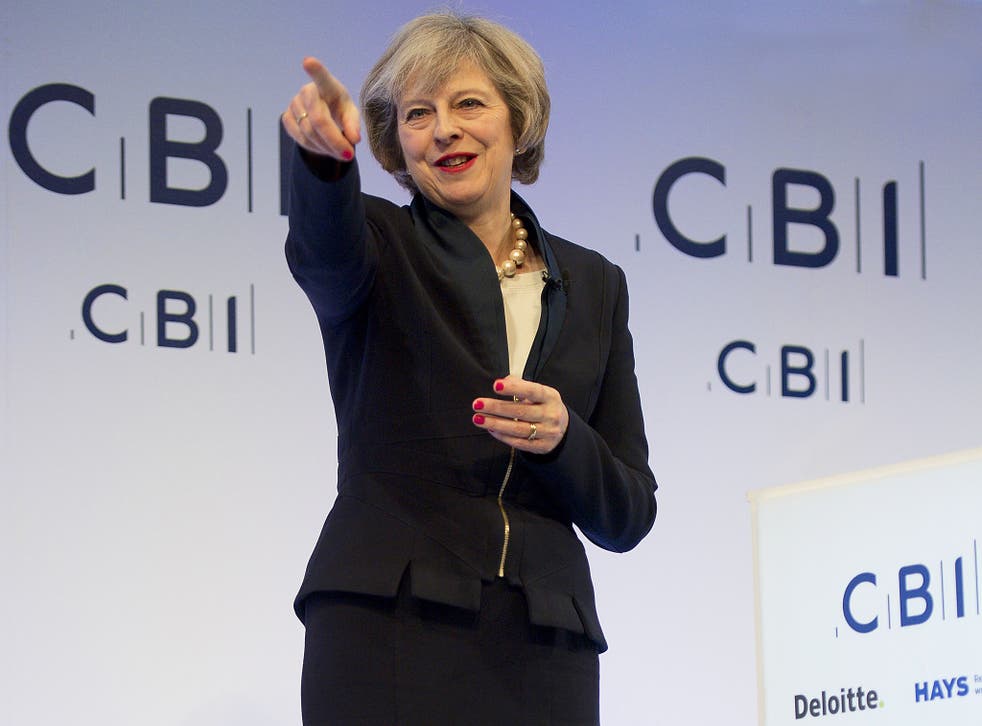 Theresa May is proving the validity of one of the oldest sayings in politics that promises made by political leaders only commit those who believe in them. In a remarkable U-turn at the Confederation of British Industry conference she has binned her pledge, made on the steps of Downing Street in July, that she would like to see workers on the boards of British firms.
All that is now gone and instead she reverts to traditional prime-ministerial bromides about "cutting-edge" Britain and her ambition for "Britain to become the global go-to place for scientists, innovators and tech investors."
To be fair to the Prime Minister, she has been bequeathed probably the most difficult task in British politics since Neville Chamberlain handed over to Winston Churchill after his disastrous misreading of European politics in the late 1930s. Churchill had to set Britain back on its feet, and May has to find a way out of the Brexit quagmire that David Cameron handed on to her.
But it would be better if, like Churchill, she could find the words to tell the truth about the perilous situation Britain is now in as every economic indicator turns negative after Brexit.
Theresa May backs away from 'workers on company boards' plan
The Office for Budget Responsibility is sharply cutting growth forecasts as foreign investors see years of uncertainty ahead. The pound, which bought US$1.49 on 24 June, buys US$1.24 today. An estimated 83,000 jobs will relocate to Europe once London-based banks are no longer legally able to trade and clear in euros. The boss of Jaguar Land Rover says reducing access or placing World Trade Organisation type tariffs on cars exported to Europe will damage the UK's flagship carmaker.
University chiefs are quaking at the loss of the £11bn strong exports earnings British universities generate by teaching 435,000 students from overseas, who the "immigrant watch" fanatics in Ukip and the Tory Party are targeting rather like Donald Trump targets Mexicans in America.
As May's chief Brexit ministers keep saying, Britain will leave the EU customs union – or, in other words, the clear connection every European head of government insists on between access to the single market and non-discrimination on grounds of nationality in hiring employees is "bollocks", to use the diplomatic language of the Foreign Secretary. May, instead of rebuking such statements from her ministers, instead goes into denial; like an updated Dr Pangloss, she still believes that Brexit Britain will live in the best of all possible worlds. In this she echoes the shadow Chancellor, John McDonnell, who says "Labour must embrace the enormous opportunities to reshape our country that Brexit has opened for us" and "it is time we all were more positive about Brexit."
The May-McDonnell line on Brexit as good news for Great Brexitannia flies in the face of all evidence. It represents the ostrich-like response by the British political elites of the damage and dangers the country faces from a hard Brexit.
Either François Fillon or Alain Juppé will face Marine Le Pen in the second round of the French presidential election which coincides with the start of Article 50 negotiations next spring. One of them will win because – despite the claims by the new expert on French politics, Nigel Farage – Marine Le Pen is no insurgent; she won't get above her political ceiling of around 30 per cent of votes in France. Both Fillon and Juppé have pledged to move the UK land frontier with France back to Dover and Folkestone if hard Brexit happens, so stand by for the M2 becoming a summer holiday parking lot.
What experts have said about Brexit

Show all 11
In Germany, meanwhile, Angela Merkel will be re-elected next year. She too has made clear that Britain cannot indulge in rosinenpickerei – cherry-picking the bits of Europe it likes but offering no solidarity on the more difficult aspects of Europe's open economy.
May's bizarre claim that her Britain will be the "global go-to place for scientists and innovators" cannot possibly be squared with her obsession with putting up barriers to foreign university researchers and other skilled professionals who are told they are no longer welcome in Britain after a referendum campaign won largely on anti-immigrant themes.
At some stage the Prime Minister will have to come clean with the British people. But today's CBI speech was bromides and platitudes – not a moment for truth telling, apparently, save on her confession that anyone who believed her July promise to put workers on the boards of companies was a sucker.
Denis MacShane is the former minister for Europe and the author of 'Brexit: How Britain left Europe'
Register for free to continue reading
Registration is a free and easy way to support our truly independent journalism
By registering, you will also enjoy limited access to Premium articles, exclusive newsletters, commenting, and virtual events with our leading journalists
Already have an account? sign in
Join our new commenting forum
Join thought-provoking conversations, follow other Independent readers and see their replies