Angela Merkel announces she will run for fourth term as German Chancellor
Politican remains popular but her party has suffered from the rise of the far-right
Caroline Mortimer
Sunday 20 November 2016 19:15 Comments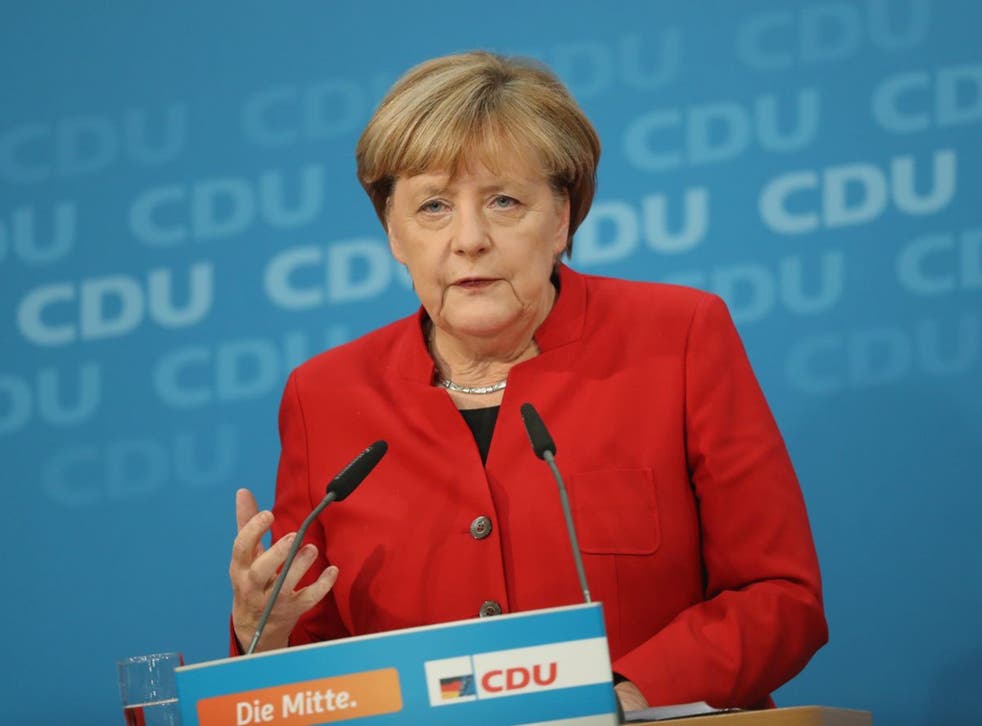 German Chancellor Angela Merkel has announced she will stand for a fourth term in next year's general election.
Speaking to reporters after meeting with members of her Christian Democrat party (CDU), Ms Merkel said: "I literally thought about this decision endlessly ... but I am ready to run for office again."
The 62-year-old has been the head of the German government since 2005. If her party win next year's federal election and she serves the entirety of her four-year term she will match her former mentor Helmut Kohl's post-war record of 16 years in office.
Ms Merkel had previously declined to say whether she was running again during a joint press conference with Barack Obama on his last international trip at president last week.
The politician has seen high popularity during her premiership, with many Germans affectionately referring to her as "Mutti" or mother, but she has struggled to fight the rising tide of anti-immigration feeling since she allowed over a million refugees fleeing conflict in the Middle East to settle in the country.
A poll for German newspaper Bild am Sonntag found 55 per cent of Germans supported Ms Merkel running for a fourth term but her party faces a threat from the rising appeal of the anti-immigration party Alternative for Germany (AfD).
During regional elections in the northern state of Mecklenburg-West Pomerania in September, the CDU were pushed into an embarrassing third place when the AfD surged ahead of them.
The region is one of Germany's poorest and was once part of the former communist east which has struggled to keep economically with the more prosperous west.
The anti-immigration party, along with the far-right protest group Pegida, have put pressure on Ms Merkel to follow a tougher line on immigration and the acceptance of refugees.
The iron Frau: Angela Merkel

Show all 11
Playing on fears stoked by the mass sex attacks on around 1,000 women in Cologne on New Year's Eve by men who were predominantly from ethnic minority backgrounds and a spate of lone wolf terror incidents over the summer, the AfD has ramped up its anti-immigration and anti-Islam rhetoric.
This has lead to a rise in hate attacks against refugees and those who support them such as Joachim Kebschull, the mayor of Oersdorf, who was beaten on the way to a town hall meeting in September for calling on the town to welcome Syrians.
In February, crowds reportedly "cheered" as a planned home for asylum seekers was burned down in Saxony.
Register for free to continue reading
Registration is a free and easy way to support our truly independent journalism
By registering, you will also enjoy limited access to Premium articles, exclusive newsletters, commenting, and virtual events with our leading journalists
Already have an account? sign in
Join our new commenting forum
Join thought-provoking conversations, follow other Independent readers and see their replies