Barack Obama delivers parting snub to David Cameron during final foreign tour
'In Germany I'll visit with Chancellor Merkel who has probably been my closest international partner these last eight years,' President Obama says
Caroline Mortimer
Tuesday 15 November 2016 12:52 Comments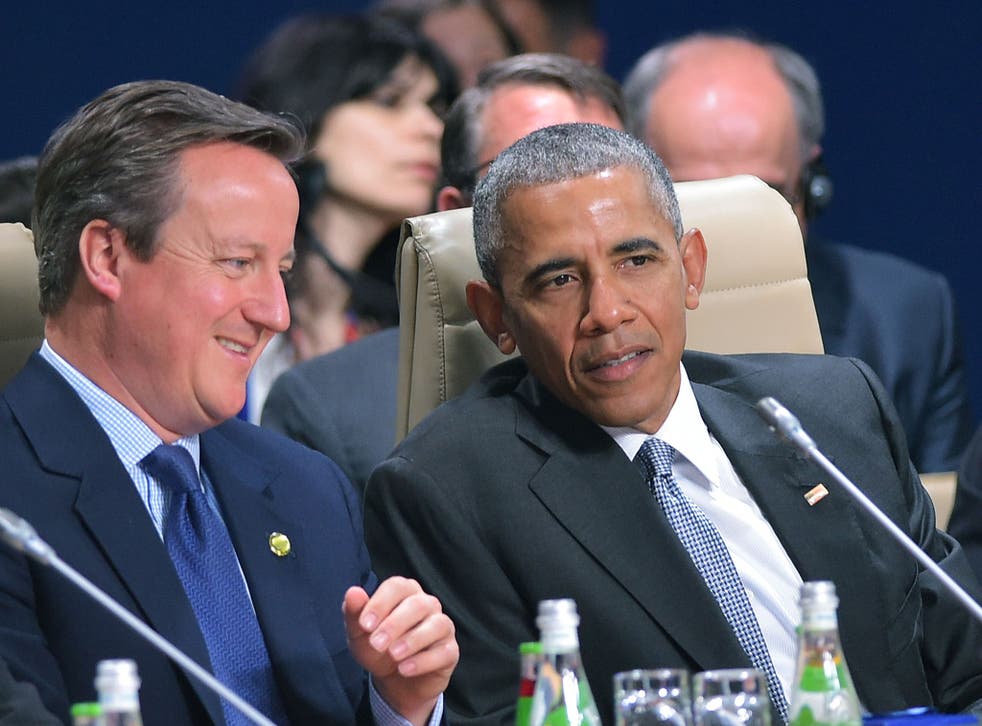 Barack Obama has issued a parting snub to former prime minister David Cameron by saying Angela Merkel was his close international partner during his presidency.
Mr Obama, who will leave the White House in January, said the German Chancellor was one of his closest allies on the world stage during the past eight years, as he was due to set out on his last overseas trip as President.
This has been seen as a snub to the UK's "special relationship" with the US and to Mr Cameron, who was said to have enjoyed a close working relationship with Mr Obama.
Speaking at the White House ahead of his trip, the Pesident said: "In Germany I'll visit with Chancellor Merkel who has probably been my closest international partner these last eight years."
But Mr Obama did not mention that he would also be meeting with Mr Cameron's successor, Theresa May, and French President François Hollande during his trip.
It is not the first time Mr Obama has provoked tensions with its closest ally. In March he accused Mr Cameron of turning the Libyan intervention into a "s*** show" because he failed to act to avert the civil war which broke out following the fall of Muammar Gaddafi.
This latest remark comes just a few months after he declared that Britain would "go to the back of the queue" when it came to negotiating a free trade deal if it voted to leave the European Union.
World reaction to President Trump: In pictures

Show all 29
He stood by those comments in September during the G20 summit, saying the UK was wrong to vote leave but added that the special relationship would endure.
It follows another perceived slight by the President-elect Donald Trump, after he invited outgoing Ukip leader Nigel Farage to meet him at Trump Tower in Manhattan ahead of any other British politician.
Mr Farage is not an MP and has no official role in negotiations between London and Washington, despite a claim by former Ukip financier Arron Banks that Mr Trump's chief strategist Stephen Bannon will consult Mr Farage before Ms May on UK policy proposals.
He said: "There is no doubt about it that Steve Bannon will talk to Nigel Farage before any other British politician and run stuff by [him]".
Describing the visit to Trump Tower, he added: "When he opened the door it was like 'come on in Nigel'. We just sat there chatting for an hour and we ended the meeting.
"They are as close as two people can be in politics."
Mr Farage later tweeted that it was a "great honour" to spend time with the former reality star and said he was "confident" he will be a "good President".
Register for free to continue reading
Registration is a free and easy way to support our truly independent journalism
By registering, you will also enjoy limited access to Premium articles, exclusive newsletters, commenting, and virtual events with our leading journalists
Already have an account? sign in
Join our new commenting forum
Join thought-provoking conversations, follow other Independent readers and see their replies