My local café has banned the under-fives and left our community of parents and 'non-breeders' more divided than ever
Parenting can be lonely. Coffee shops are our community. And midweek, when it's bitter and grey outside, I'd hazard it's those grappling with small children who are the life-blood of small independent businesses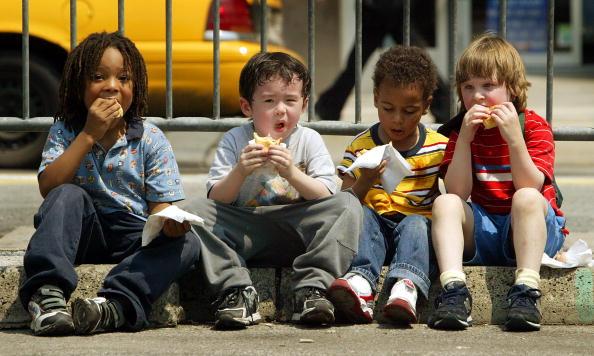 An East London café, evidently overwhelmed by festive spirit, made an interesting PR decision this week by placing a sign on its shop window banning all children under the age of five.
Predictably, local Facebook users were spitting feathers, with the original post alerting the community to the café's decision quickly mounting up dozens of comments, from the snide to the diplomatic. Those who dared wade in to the debate appeared split into two camps: those in support of the decision, many of whom (distastefully) described themselves as "flying the non-breeding flag" and accusing so-called "breeders" of "entitlement", versus those who opposed it and said that they saw the move as "discriminatory" and "exclusionary".
I'll 'fess up at this point: as a parent of two young children – one four years old, one just four months – I have sympathy with those mothers and fathers who fill coffee shops, libraries – even pubs – during the precious daylight hours, clutching huge, steaming doses of caffeine to counteract the interminable sleepless nights. It's easy to underestimate the effort involved in simply getting out of the house when you have a young baby, never mind the effort involved in finding the sanctuary of a "child-friendly space".
Parenting can be lonely. Coffee shops are our community. And midweek, when it's bitter and grey outside, I'd hazard it's those grappling with small children who are the life-blood of small independent businesses, giving them a consistent and considerate bulk of support in these tough times.
The world's top 10 countries to raise kids
Show all 10
Yet I've also been on the other side. As a freelance journalist, when I'm not with the kids I'm a patron of these noisy spaces, and it can be near impossible to pitch stories, secure commissions or even write a coherent sentence when you're battling to block out the strains of Peppa Pig, or the ear-splitting wails of a fractious toddler. I feel for waiters who walk, grim-faced, through an obstacle course of toys and tiny limbs with trays of hot drinks. And I empathise with those who occasionally just want to have a quiet chat or time to themselves to think.
But in the name of cohesion and community spirit, at a point in our shared history when it feels like we are more divided than ever, one thing seems certain to me: we shouldn't be talking about banning anyone. Not our youngest, who are the ones growing up in a world arguably less tolerant and less accepting than before; nor our oldest – for what would be the reaction if a cafe decided to oust groups of dawdling OAPs, cups of tea grown cold as they sit in the same space for hours, chatting over the crunch and rustle of newspapers? Would we be so quick to advocate an all-out ban then?
Look around and you'll see bans everywhere in today's world – Muirfield Golf Club was prevented from hosting The Open after voting against women members earlier this year, Angela Merkel made a recent call to ban burkas "wherever legally possible" in Germany, and the UK government voted in April against accepting 3,000 unaccompanied Syrian child refugees who had travelled to Europe, a move that was later downgraded while the sentiment behind it remained. This way trouble lies.
So let's try and teach our children to be sensitive to the needs of those around us, however young they are. And let's promote the same respect the other way around, from the (enviably) child-free. After all, it's Christmas. Can't we all just get along?
Join our commenting forum
Join thought-provoking conversations, follow other Independent readers and see their replies