Yaya Toure: we must do more to end wildlife crime
On World Elephant Day, the Ivory Coast football star and UN Environment Ambassador calls people to join the Wild for Life Campaign to help end wildlife crime pushing species to the brink of extinction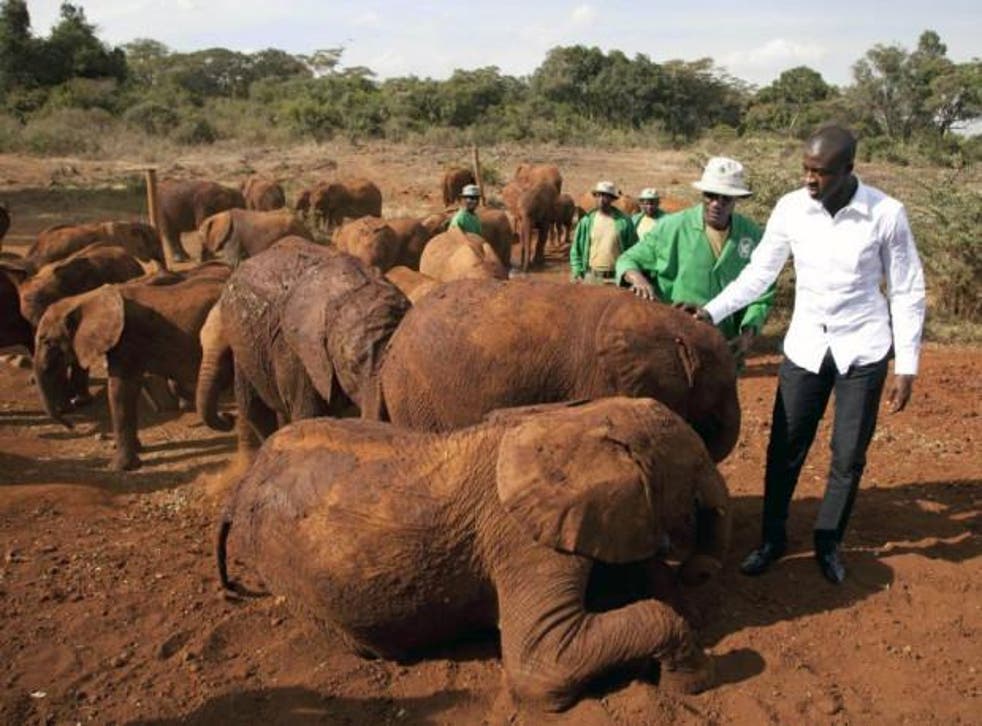 Some of my best moments for Manchester City have been goals scored at the end of lung-busting runs through central midfield. Once I'm into my stride, not many opponents can knock me off the ball.
The media gave me nicknames: "colossus" or "the human train." But when I read it or am asked about it, my mind sometimes wanders to a real colossus of this earth: the African elephant.
Elephants are honoured in my home country, Côte d'Ivoire. It's our national animal. Our cities have more than their fair share of tusker statues. And our national football team, which I am proud to have captained, is well known as "The Elephants."
But the country's name tells you straight away that this relationship has a dark side. It's an echo from the days of European merchants and adventurers, whose primary interest in this part of West Africa was the precious ivory which they traded for untold riches. Who knows how many elephants were slaughtered to supply this trade?
Five centuries later, there is still demand for ivory in some parts of the world, though international trade has been banned since 1989. We have only a few hundred elephants left in Côte d'Ivoire, and the picture for Africa as a whole is dismal. In 2010-2012, 100,000 of these wonderful animals were killed, one-fifth of the continent's population. Poaching has caused the number of forest elephants – the main sub-species in Côte d'Ivoire – to plummet by two-thirds in the last decade.
I prefer my elephants alive, roaming free in a natural environment where they are valued and protected. This is why, in 2013, I became a Goodwill Ambassador for the United Nations Environment Programme.
Wildlife crime does far more damage than just endangering much loved species such as the elephant, rhino or tiger. Firstly, thousands of other, less well-known species are also threatened. They include pangolins, apes and sea turtles, all also found on the African continent, helmeted hornbills (birds), and rare orchids as well as tree species such as rosewood. Wildlife crime also encompasses illegal fishing, which occurs on a massive scale.
The value of this illicit business to criminal networks is immense: $15-20 billion annually, putting it in the same league as the trafficking of drugs, arms and humans.
What is more, wildlife crime is robbing many countries of their natural heritage, stealing the assets of local communities that could form the basis of thriving tourism industries. It fuels corruption and corrodes government authority. Organized criminal syndicates are increasingly involved, spreading violence and insecurity.
It must stop, and this is why I support a new United Nations campaign to pull together all those working against this menace. It's not only about governments, international agencies, conservation groups and Interpol.
The "Wild for Life" campaign aims to build awareness of wildlife crime and embolden each and every one of us to take action. That can mean shopping carefully to avoid illegally sourced products; not keeping pets, particularly reptiles and birds, that have been illegally taken from the wild; and supporting conservation initiatives that press authorities to get serious against illicit trade. The campaign needs every one of us to do what we can, in our own way, to counter the illegal trade in all its forms. No one should poach, buy, sell, traffic or turn a blind eye to these illegal activities.
Today, 12 August, is World Elephant Day. Why not make it the start of a "zero tolerance" approach to wildlife crime, and encourage all those close to you to do the same.
Together we can help make sure that all those images of elephants around the world – and on the jerseys of Côte d'Ivoire's footballers – don't become a symbol of humanity's failure to take proper care of the planet.
Join Yaya and find your kindred species today at wildfor.life
Join our new commenting forum
Join thought-provoking conversations, follow other Independent readers and see their replies