The new breed of eco-warrior battling poachers to save Gabon's forest elephants
Alex Dymoke meets guards keeping watch on Minkébé National Park, where they face being shot on sight by aggressive poachers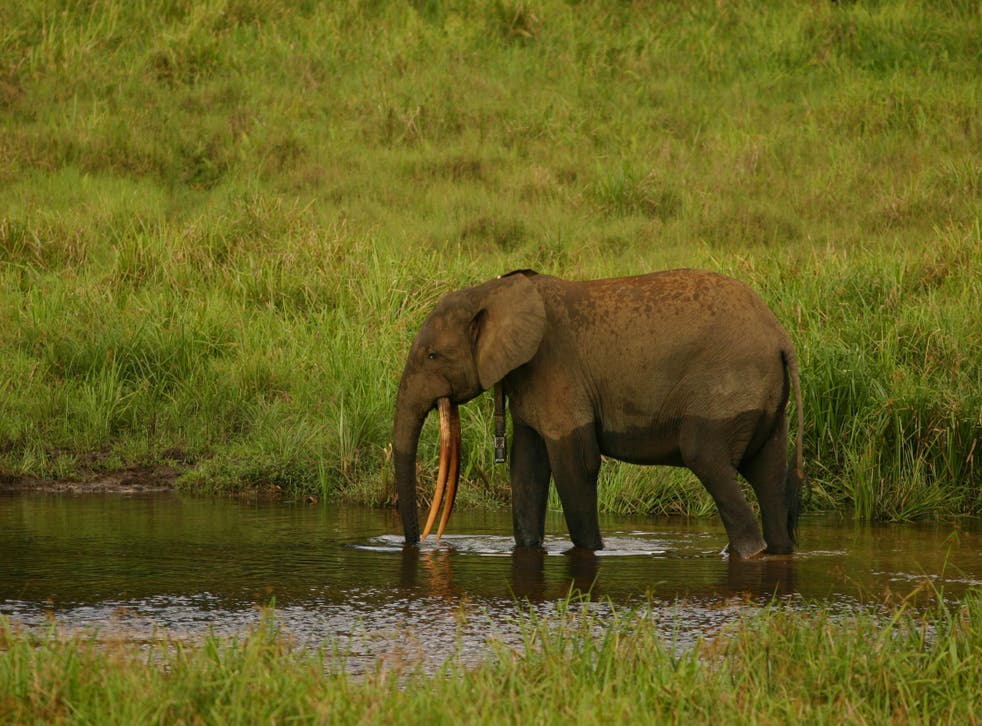 In an air conditioned office-block in Libreville, Gabon's capital, senior wildlife warden Joseph Okouyi flicks through images on a laptop. "This is the exit wound," he says, pointing to a bloody mess of muscle and bone exploding from a man's leg.
The stricken soldier was shot in the shin by a kalashnikov-wielding poacher in Minkébé National Park, north-east Gabon. He was lucky to survive, says Okouyi. A Belgium-sized expanse of virginal rainforest, Minkébé has no roads, and it took three days for a helicopter to reach him, by which time it was almost too late.
The incident took place in December amid escalating conflict between poachers and eco-gaurds. Clashes have increased in both frequency and intensity since Gabon's national parks agency (ANPN) upped its presence in area. A rotating battalion of 100 eco-guards and soldiers now keep guard in the park, which borders Cameroon to the north and Congo to the east.
When Manchester-born Lee White took over ANPN in 2009, the agency had no vehicles and 60 staffers controlling 13 national parks and 3 million hectares. It now has close to 700, and a budget of almost $20m which pays for military training, weapons and vehicles.
"As we became more numerous and more professional, we inevitably became more proficient at arresting people and seizing ivory," he says.
Poachers responded aggressively. "In the past they were naïve, and, upon contact with our men, would fling their weapons in the air and run into the forest. But they very quickly worked out that unlike, say, Botswana, we weren't going to shoot them without being shot at first. For the last six months they've started systematically shooting at my men on sight."
Interrogations of arrested poachers revealed many work, possibly under duress, for a gang operating out of a Cameroonian military base in Djoum, just over the border. White says they are "cannon fodder" and face severe punishment – beatings, possibly worse – if they return to Cameroon empty-handed.
The women hunting big-game poachers

Show all 8
"At some point in the last six months, the risk of being arrested, having guns and ivory confiscated and eventually being deported back to into the clutches of the poaching gangs in Cameroon became equal to, or worse, than the risks of shooting at my men."
Intensive logging right up to the Gabonese border means Cameroonian poachers have easy access to northern regions of Minkebe, while White's men must hike or travel by boat for four days. The helicopter is expensive, and must be used sparingly.
The battle against poachers brings new challenges to Gabon's army, which has never fought in a war. Okouyi's men were disturbed when two years ago they killed a poacher for the first time. "It was traumatic. We have no psychologist. The men have to adapt, because it is their job, but killing another human has an effect, and it's difficult to deal with."
From 2002-2011, poachers ran amok in Minkébé, killing over ten thousand of the of the park's forest elephants. Beyond the reach of the authorities a camp of 7,000 people trading ivory, gold, prostitutes and drugs sprung up in the middle of the forest. The camp coincided with soaring gold and ivory prices, the latter reaching a high of $240 per kilo in 2011. Gabonese paratroopers razed the camp in 2011, but poachers returned in smaller, harder to detect groups.
White and his team are reluctant to be drawn on the number of elephants remaining in the park in case it attracts more poachers.
Political stability and an environmentally-engaged government have made Gabon a relative haven for the forest elephant, whose hard, pinkish ivory is prized by carvers and consumers in the far east. Roughly half the world's forest elephants – around 40,000 – live in the country, despite it holding only 12 per cent of the elephant's preferred habitat.
The forest elephant dwells in remote, often lawless regions of central Africa, leaving it vulnerable to armed gangs. Scientists say poachers slaughtered two thirds of the entire population in just over a decade.
On 29-30 of this month African heads of state, business leaders and conservationists will meet in Kenya at the inaugural Giants Club Summit to drive front-line protection measures and work out a co-operative frame-work for saving Africa's elephants. The Kenyan government will follow the summit by burning 120 tonnes of ivory, the largest ever amount to be burned in one go.
Register for free to continue reading
Registration is a free and easy way to support our truly independent journalism
By registering, you will also enjoy limited access to Premium articles, exclusive newsletters, commenting, and virtual events with our leading journalists
Already have an account? sign in
Register for free to continue reading
Registration is a free and easy way to support our truly independent journalism
By registering, you will also enjoy limited access to Premium articles, exclusive newsletters, commenting, and virtual events with our leading journalists
Already have an account? sign in
Join our new commenting forum
Join thought-provoking conversations, follow other Independent readers and see their replies