Homeless Veterans appeal: An ex-soldier's mission to reveal the true face of war
Ben Griffin uses his experience as an SAS trooper to show children that civilians are casualties too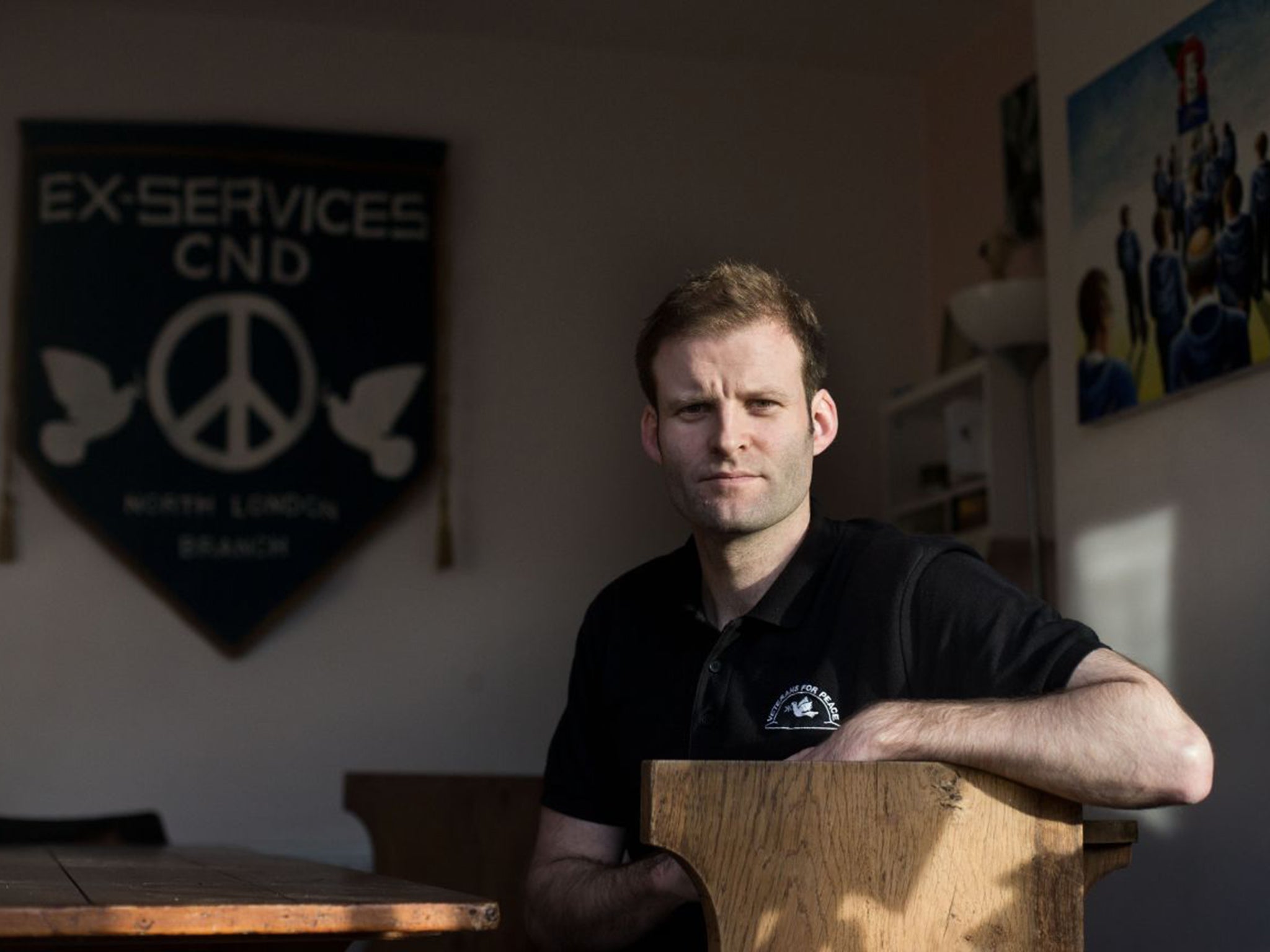 Serving the crown is a concept familiar both to convicts and soldiers. The former, for their sins, serve time at Her Majesty's Pleasure; the latter put their lives on the line in the defence of others. For some former armed forces members, the future on civvy street can be as bleak, if not more so, than for those leaving prison. For former servicemen, especially those who have seen combat, the gunfire may have long since ceased but, out on the streets, their battle is only just beginning. According to a recent ForcesWatch study, post-traumatic stress disorder and alcohol misuse are three times as common among Iraq and Afghanistan veterans than in the general population, while other mental disorders – such as depression – are 90 per cent higher.
The question of how to respond to the horrors wrought by modern conflict is one that a former SAS trooper, Ben Griffin, has been grappling with ever since he left the military in 2005.
After a childhood defined by Commando comics and the Army Cadets, Griffin joined the Parachute Regiment, aged 19. "I went into the military as an ideological recruit," he recalls. "A true believer… I saw going to war and being a British soldier as the highest ideal one could achieve."
Throughout most of his career – he served in Northern Ireland, Macedonia and Afghanistan – he saw little to contradict this. It was only when he was deployed to Iraq, having survived the elite SAS's gruelling selection process, that his faith in the military began to be seriously challenged.
As part of a Special Forces snatch squad tasked with picking up suspected insurgents and handing them over to the Americans, he began to worry about the legality of the war and the missions he was sent on.
After eight years of exemplary service, Griffin hung up his boots. He risked court martial doing so but, as he revealed shortly before he was silenced on the subject by a High Court injunction, he could no longer bring himself to carry out missions which were making Britain complicit in acts of "brutal interrogation" and "torture".
In pictures: Homeless Veterans appeal
Show all 31
Like many other veterans, Griffin – who is now more happily employed in the ambulance service – has suffered the afterburn of the battlefield. Although he doesn't find the term "post-traumatic stress disorder" useful, referring to its symptoms instead as a "natural human reaction" to the horrors of war, he has his demons. But rather than allow himself to be consumed by them, he has harnessed them.
With the help of Veterans for Peace UK, Griffin has been turning his SAS-honed tactical skills to the task of educating the public about the true nature of war. With 142 veterans, whose experiences of conflict range from D-Day to Iraq and Afghanistan, standing alongside him, his organisation's perspective crosses continents and spans decades. This unique insight has left Griffin with few doubts about some of the costs of military service.
"Just being in a system where you've got hierarchy, peer pressure and a set of values completely at odds with the rest of society – it's psychologically difficult both to enter and to leave. Just as it's psychologically difficult to enter and leave prison.
"Add the chaos, the irrationality and the immorality of warfare on top, and people are going to be affected by what's happened.
"You can do or witness terrible things in the military and they can almost be laughed off – they often are – but when a soldier leaves the military the hierarchy is instantly removed. And, over time, the peer pressure and the indoctrination start to drop away too. Then you start to look back on the things that you were involved in with different eyes.
"I've often thought since I got back from Iraq about the effect we had on the people we came into contact with. And not just the men that we dragged off to prison, but the younger boys who would have been there watching us, who would have been watching their family members being brutalised and dragged out – and maybe never saw them again, or didn't see them for months or years."
In 2008, he said: "I have no doubt that non-combatants I personally detained were handed over to the Americans and subsequently tortured. The information I have released is the tip of the iceberg."
At the time, within 24 hours the Ministry of Defence served him with a permanent injunction, banning him from revealing any more. "I've often wondered how many of the people we traumatised went on to join Isis," he muses.
This cycle of political and psychological violence, with its repercussions for both the British soldier and the communities he is deployed against, is one Griffin is determined to break. The nation's classrooms are a key battleground in this fight for peace.
"Ask a child what it's like to be in a war," says Griffin, "and they'll tell you what it's like to be a soldier in a war. 'You might see your friend be killed.' 'You might be killed.' 'You might have to kill someone.' But none of the kids in the workshops I run ever – or at least very rarely – answer the question as if they were a civilian in a war, or think about what it might be like to have their country invaded. Our children are definitely thinking about warfare in terms of what it would be like to be in the military.
"One of the purposes of our workshops is to get children to think about what it might be like to be on the end of British or American military power, to take them out of that zone where they're thinking purely in terms of our own military and think about what it must be like to be on the end of that. And that's what we are trying to achieve – to get people to think outside of nationalistic terms.
"Think of it like climate change. If we stopped burning petrol tomorrow the world would still heat up for 20 or 30 years. But just because it might take a few decades is no reason not to do it. We need to look at militarism and war in the same way.
"If we stop interfering in the Middle East, there is still going to be a time period where we are going to experience the repercussions of the actions that we've already taken.
"It will take time, but eventually the effects of the pollution we've released will disappear."
Join our commenting forum
Join thought-provoking conversations, follow other Independent readers and see their replies