Homeless Veterans appeal: how you've changed our veterans' lives
We asked for your help in enabling our armed forces veterans to live safer and more dignified lives. It was a record year, and you, our generous readers, have helped many to a better future. Here are the stories of just a few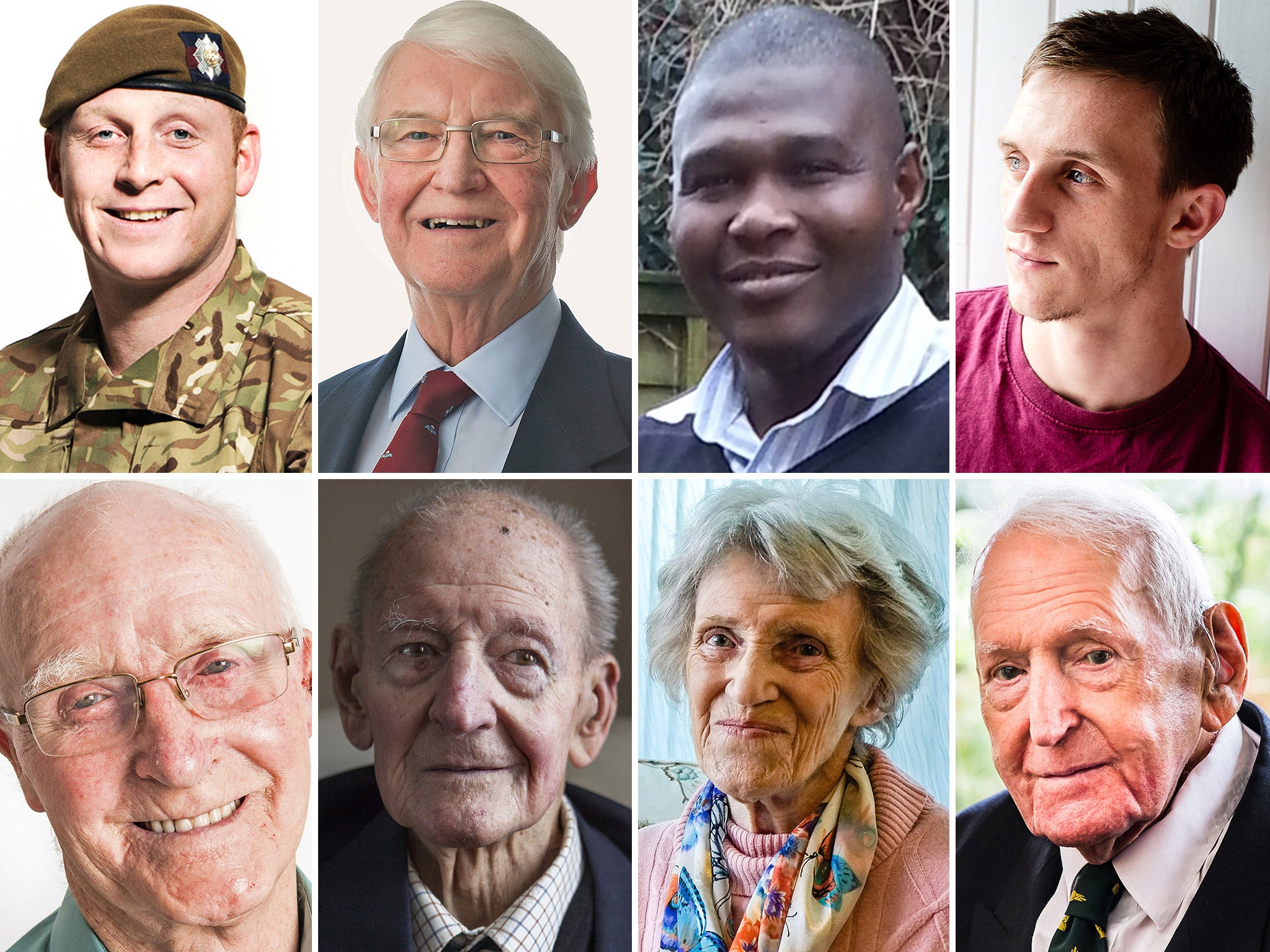 The Independent has supported a number of causes in the last few years, from helping child soldiers in the Central African Republic to change their lives, to ending elephant poaching on the ground in Kenya.
This year, however, we decided to bring our appeal closer to home, by raising money and awareness for this country's homeless veterans. Of the 4.6 million former servicemen and women in Britain today, most manage to adjust to civilian life. But for some, life at home can be more of a battle than the one on the frontline. Working with our partner charities, ABF The Soldiers' Charity and Veterans Aid, we have tried to help serve these veterans in need, who once served for us and our country.
Our campaign closes this week, but before that happens we want to take a look at the lives of some of the people our appeal has helped. ABF and Veterans Aid have supported veterans in so many different ways: fixing boilers, helping to fight addictions, and housing veterans all over Britain. These stories show some of the remarkable feats these charities have achieved:
Andrew Lord, chief executive, Alabaré
"Alabaré is the largest provider of dedicated accommodation for working-age, homeless veterans outside London. The charity's newest home, in the Gloucester suburb of Longlevens, opened last month with the help of tens of thousands in grants from ABF The Soldiers' Charity."
Kenneth Kwogyenga, Alabaré
"We want to eliminate the process of people feeling lonely; we want them to feel part of a family. The good thing is that because they've all served in the forces, that communality comes in," says Mr Kwogyenga, a support worker and also a veteran following six years of service in the Royal Electrical and Mechanical Engineers.
Justin Heath, Alabaré
"I was living in my car and a tent for two months," he says. "The car wasn't that comfortable, so I ended up mainly in the tent. I'd find a quiet little woodland, set up for a night and then move on." This former serviceman is now resident at Alabaré Hostel, one of hundreds of organisations that receive funding from The Soldiers' Charity.
Susie Hamilton, marketing manager at Scottish Veterans Residence (SVR)
"Whitefoord House, the Edinburgh site of SVR, has been greatly supported by The Soldiers' Charity. Facilities here include a games room with two pool tables, a gym, and a large, airy lounge with brightly coloured tartan sofas."
Jocky Stewart, SVR resident
An Army man who did 22 years of service, Mr Stewart became homeless after leaving the forces. He later attempted suicide but says he was saved by the care he received at SVR. He recently moved out of the main site and now lives in his own flat in Edinburgh.
Anthony Eldridge, Haig Homes
Last year, The Soldiers' Charity gave more than £132,000 to Haig Housing to support its work with veterans. Second World War submariner and charioteer Tony Eldridge and his wife, both in their nineties, benefited. The elderly couple may have struggled to find suitable accommodation on their own.
Les Fryatt
Without the installation of an expensive, walk-in shower room, war veteran Les and his wife, Jeanette Fryatt, feared they would have to leave the home they have lived in for 30 years. The Soldiers' Charity awarded a grant of £500 for the renovation.
Siobhan Weller
After a period of serious illness, Ms Weller, a former soldier, was offered an opportunity in London as a parliamentary assistant to Conservative MP Mary Macleod. But she could not afford to relocate. The Soldiers' Charity stepped in with funding to cover the deposit and first month's rent on a shared flat in Surrey Quays. 9 Paul Harkin
After separating from his partner, Mr Harkin and his children lost their home and spent seven months living in bed and breakfasts. They were finally allocated a three-bedroom housing association maisonette. The Soldiers' Charity gave the family £1,500 to furnish the house.
Paul Harkin
After separating from his partner, Mr Harkin and his children lost their home and spent seven months living in bed and breakfasts. They were finally allocated a three-bedroom housing association maisonette. The Soldiers' Charity gave the family £1,500 to furnish the house.
Sgt Gary Jamieson
On his second tour of Afghanistan, Sgt Jamieson lost both legs above the knee and his left arm above the elbow. Major renovations to his home in Lanarkshire were necessary. The Soldiers' Charity paid for him to stay in a hotel to keep disruption to a minimum.
Louis Boyle, resident of 13 Care & Support
Mr Boyle served for five years in the Army. With no family and a chronic addiction to alcohol, he then spent 10 years sleeping rough. Aid came from 13 Care & Support, which paid for his rehabilitation and currently provides him with accommodation at Brim House in Newcastle.
Andy Garthwaite
Mr Garthwaite lost his right arm in a rocket-propelled grenade attack in Afghanistan. He is one of only five people in the world to be fitted with a bionic arm powered by the brain. A grant from The Soldiers' Charity paid for adaptations to his bathroom.
Melanie Water, chief executive, The Poppy Factory
"The Poppy Factory in Richmond employs disabled veterans and advises those who lack a little bit of confidence to get back into the workforce. A sizeable portion of the £1m that the factory must raise annually comes from The Soldiers' Charity."
Andy Reid
Mr Reid is a triple amputee after being severely injured in Afghanistan. He and his family recently moved into a level access bungalow that allows him greater mobility while raising a young child. The Soldiers' Charity awarded him a grant for £10,000.
Jason Hill
Mr Hill lives in Perthshire. He served in the Royal Army Medical Corps until an injury led to medical discharge. He now works two jobs: as a hotel night porter and as a store supervisor. He had nowhere to live and was staying with friends for a time. Thanks to a rent deposit grant from The Soldiers' Charity, Mr Hill has finally managed to secure his own flat.
Bob Aitchison
During his service with the Royal Artillery in the 1970s, Mr Aitchison was deployed on several tours of Northern Ireland. Today he lives in the east of Scotland with his wife, Helen. This year, The Soldiers' Charity provided a grant of £420 that helped them find somewhere to live after they fell on hard times.
Douglas Cameron
Funding from The Soldiers' Charity supports Erskine Hospital in Scotland, which provides care for some of the oldest veterans. Mr Cameron, 92, spent three-and-a-half years serving in Burma and India with the Royal Artillery during the Second World War. Last year the charity's grant amounted to £140,000.
Ben Rishton
Mr Rishton was medically discharged from the Army owing to post-traumatic stress disorder. A job offer meant that he and his young family needed to relocate to Southampton but he was unable to fund a move. Local authorities declined assistance so The Soldiers' Charity stepped in and awarded a grant of £1,000 to provide the family with the security of affordable property in their new town.
Paula Symons
Ms Symons, 47, served in the Royal Logistics Corps for six years but left due to mental health issues. A single mother to an 18-year-old daughter, they were evicted from their flat and forced to move out and leave all of their possessions behind. The Soldiers' Charity awarded two grants; £1,340 for rent advance and deposit and £600 for essential household items.
Greta Casperson
Ms Casperson was 19 when she was sent to work at Bletchley Park during the Second World War. Now 90 and living alone since the death of her husband Denis, she was facing winter with a broken boiler. Buying a replacement would have cost her almost all her life savings, depleting the small pot of funds she relies upon for transport and mobility. A grant of £750 from The Soldiers' Charity helped pay for a new boiler and allowed Ms Casperson to stay in her home.
Arthur 'Skippy' Teasdale
Mr Teasdale joined the Army in 1952 and served with the Durham Light Infantry in Korea, Cyprus and at the Suez Canal. He spent 44 years living in Australia but after his wife died he moved back to the UK and into the Royal Hospital Chelsea. The Hospital is one of many organisations that The Soldiers' Charity supports; it provides a home and specialist care to ageing and infirm veterans. A grant from the charity paid for part of the refurbishment of the pensioners' living quarters.
Ronald Watkins, ABF The Soldiers' Charity
Mr Watkins joined the Army two weeks after his 18th birthday. During the Second World War he guarded high-ranking prisoners of war. Last winter the central heating broke in his home in Wales where he has lived alone since the death of his wife, Gwyneth. Local authorities turned down his request for assistance. With the temperatures plummeting, Mr Watkins wrapped himself in blankets and used the flame of a small oil heater to stay warm. As soon as The Soldiers' Charity learnt about the urgency of his situation it gave him a grant to pay for new radiators and central heating. Mr Watkins says: "I was bowled over at how quickly the work was done. I don't know what I would have done. The charity has been a Godsend; I will have no more cold winters in my house."
Barney Gillespie
Mr Gillespie is a single leg amputee following injury during his 3rd tour of Afghanistan with the Royal Irish. The Soldiers' Charity provided funding so his home could be adapted. A grant of more than £8,000 allowed external work to be carried out on his uneven pebble driveway, turning it into smooth tarmac so it was wheelchair accessible, and could be safely walked on in a prosthetic.
Keith Cooper, resident of Launchpad
A former soldier in the reserve forces, a job loss and financial problems meant Mr Cooper, 52, found himself at risk of homelessness. Launchpad provided him with accommodation at Avondale House in Newcastle. Launchpad is one of many housing organisations The Soldiers' Charity supports that provides shelter and support to former service personnel.
David Thackeray
Mr Thackeray served in the Army for 13 years; in 1963 he was piloting a plane that was shot down in the Malayan jungle. Now in his late 70s, he suffers from a number of chronic health issues and struggled to get up and down the stairs in the home he shares with his wife, Margaret. The need for a stair lift was urgent but they did not have the funds. The Soldiers' Charity provided a home adaptation grant.
David Hall, resident of Launchpad
Mr Hall, 26, served in Afghanistan with the Royal Signals but left the Army for civilian employment as an electrical engineer. When he was suddenly laid off he had no income and no shelter but was saved from the streets thanks to Launchpad. Annual grants from The Soldiers' Charity give former soldiers like Mr Hall safe and secure accommodation at Avondale.
Maj-Gen (retired) David Shaw, chairman of Trustees, Launchpad
"Our residents are veterans, not victims. We don't foster dependence, we encourage independence."
Peter Foggin, resident of Launchpad
Mr Foggin left the Army after 16 years with the Royal Engineers in Northern Ireland, Bosnia and Iraq. A marriage breakdown led to the loss of his house but local authorities regarded him as low priority for rehousing. Avondale House, thanks to funding from The Soldiers' Charity, was able to provide him with a small single occupancy flat.
Pictures courtesy of ABF The Soldiers Charity
Join our commenting forum
Join thought-provoking conversations, follow other Independent readers and see their replies