Homeless Veterans appeal: 'It gives you somewhere to put your head down and gather yourself'
Aid from a charity supported by 'The Independent' helped Keith Cooper get off the streets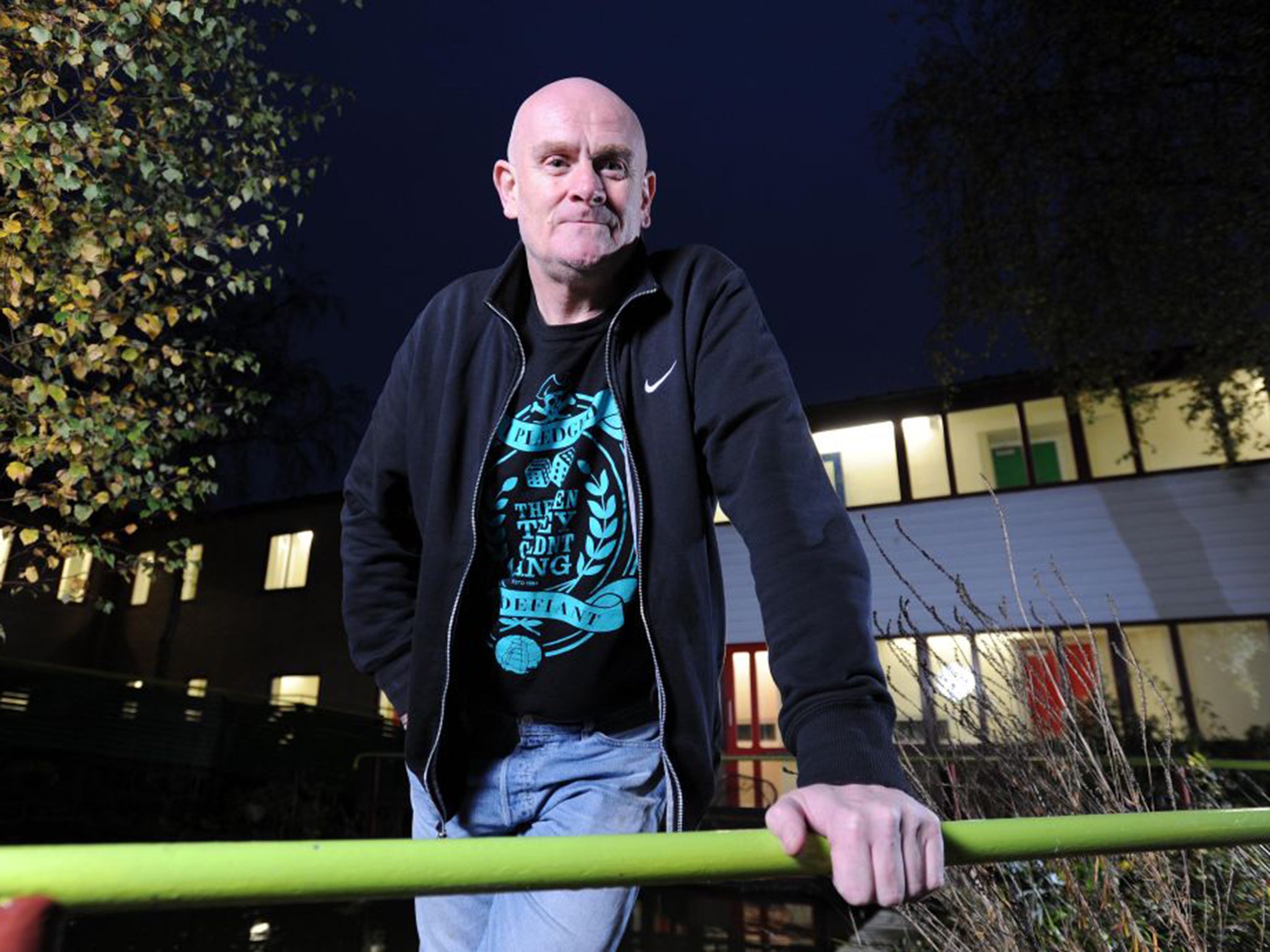 When Keith Cooper lost his job at a call centre last Christmas, he didn't expect to be facing homelessness in a matter of months. But his search for another job proved fruitless and, before long, eviction became inevitable – leaving him with no other option except the streets.
"It got to a stage where I was going to be homeless within a couple of days," says the 51-year-old, who served with the Territorial Army for 10 years. "It was a pretty desperate time. It was literally a case of seeing if I could budget for a tent – that was a real option."
When one of his local council housing providers in Newcastle told him about Avondale House, a collection of 34 one-bedroom, self-contained flats for veterans facing homelessness, he presumed that they would not take him in. "I thought that because I was in the reserves, a place like this wouldn't entertain me," he says. "But, thank God, I was wrong."
Avondale, which opened in August last year, is managed by the charity AF&V Launchpad. It aims to give veterans a safe environment in which to live and seek work, as well as providing access to the help, support and advice they need to begin living independently again. Last year the charity benefited from a grant of £25,000 from ABF The Soldiers' Charity, one of two organisations being supported by The Independent's Homeless Veterans appeal this Christmas.
Located in the heart of Newcastle's Byker Estate, the Avondale House flats are arranged around landscaped gardens, with a communal living area where residents can socialise, an IT suite and laundry. Entering an apartment is like stepping into an Ikea showroom; the purchase of brand new furniture from the Swedish store was also funded by The Soldiers' Charity.
There is a good reason for such attention to detail, says Ken McMillan, one of Launchpad's trustees. "It gives them an uplift in morale – they invest in it," he points out. "A lot of them come with just a bag. They've literally got nothing except the clothes they're wearing. One of them said to me the other day is was like walking into Narnia, coming off the streets into a place like this."
Once the veterans have settled in, other agencies with different specialisms are brought in to help them move on. McMillan likens this to a "battlegroup" strategy in the military, with the right units clustering around the place where the need is greatest. "Each of them plays its own part and can do it to maximum effect here," he says.
For Cooper, arriving at Avondale was a "relief" after coming so close to being on the streets. "It's just one of those scenarios where you bed in straight away. There is still a military attitude – if somebody new comes in, you try to make them feel at home. It gives you somewhere you can put your head down and gather yourself."
Although he served in the reserves, he says he has met a lot of veterans who have found the transition to civilian life difficult. "It's a culture shock. Everything you do within the military system is laid out for you – you know where to be and when. Come out onto civvy street and you don't have those constraints. A lot of people can't handle it, because they're not prepared for it."
It is important that Avondale does not reinforce the "culture of dependency" that exists in the Armed Forces, says McMillan. For this reason, staff recently cancelled the free food handouts residents were receiving from local cafés, replacing them with communal cooking days such as "Soup on Sunday" to encourage independence.
"In order to be successful, you've got to be able to change their habits and the way they approach things," McMillan adds. "If you don't support independence and you foster dependence, you're reinforcing failure not success. Success is somebody who can feed himself – they're veterans, not bloody victims."
The point of the group activities, adds David Shaw, chairman of the Launchpad trustees, "is to get them out of their homes and into the communal areas, so they talk about what they're doing, socialise and spark off one another. We don't want them to suffer social exclusion, because some of them are very lacking in confidence."
Lofty Rames, who is now the assistant manager of Avondale, first came through its doors as a struggling veteran himself. After 15 years in the RAF, his life began falling apart in 2008 and he spent four years "sofa-surfing" and effectively homeless before coming to Byker. Staff helped him turn his life around and he is now a role model and mentor for new residents.
To build on the success of the Newcastle project, the charity is currently in the process of refurbishing another property for veterans in Liverpool. Speke House, which is due to open next month [JAN], will have 52 one-bedroom flats and a similar philosophy to Avondale.
Another Avondale resident is David Hall, 26, from Newcastle, who joined the Army in 2006 and served for six years, including in Afghanistan. Brought up in a military family, he had wanted to join up since he was "a little lad". When he left he walked straight into a job as an electrical engineer, but was laid off after a little over a year.
"I had no income and was finding it difficult to get another job," he says. "I left the flat I had and went to stay with my parents, but they haven't got much room and I had to move out. This place has kept us off the streets to be honest."
A lot of the ex-servicemen at the hostel have had similar problems and struggled to get back into the "routine" of civilian life, he says. "Being here is like being back in the Army – being back on the block. You can get on with them. If you've got problems you can always speak to the staff and they understand."
Join our commenting forum
Join thought-provoking conversations, follow other Independent readers and see their replies