Homeless Veterans appeal: London Mayor Boris Johnson sleeps rough to support our campaign
London Mayor and 'The Independent' owner Evgeny Lebedev spend a night on the streets to draw attention to campaign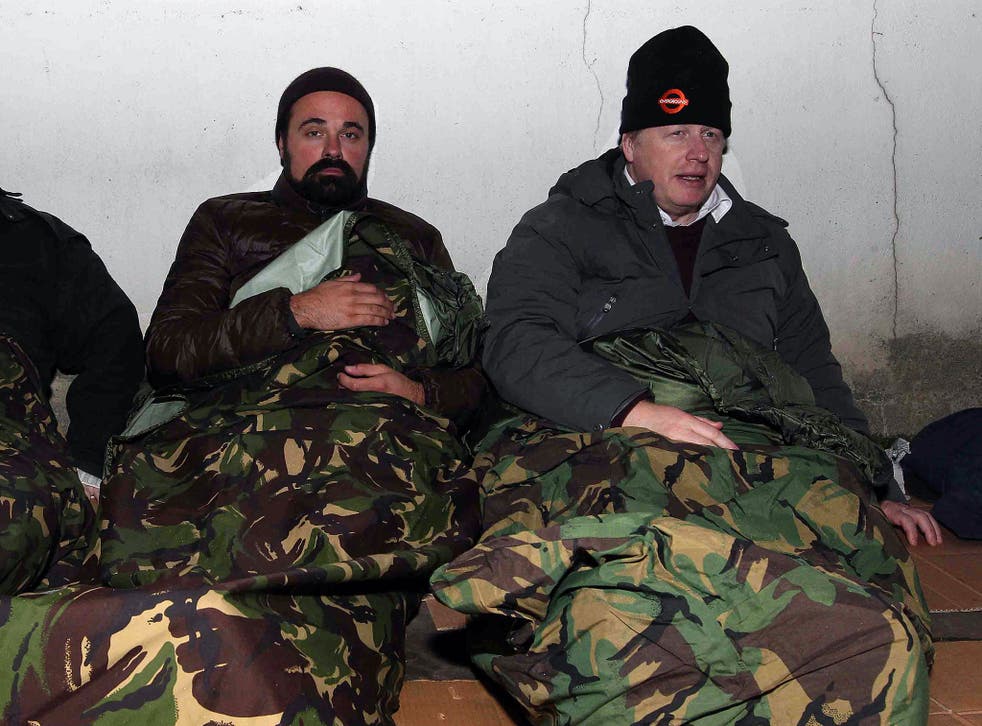 In a show of solidarity with The Independent's Homeless Veterans campaign, the Mayor of London, Boris Johnson, and the owner of the Independent titles, Evgeny Lebedev, spent a night this weekend sleeping rough on a London street.
Armed with a sleeping bag and a sheet of cardboard each, the pair saw in Friday night to Saturday morning from a pavement on Gresham Street, five minutes' walk from St Paul's Cathedral, in the City of London.
Both Mr Johnson and Mr Lebedev said the move was designed to raise awareness of how to help those genuinely forced into sleeping rough.
The Independent and London Evening Standard's combined Homeless Veterans campaign is fundraising for ex-servicemen and -women seeking housing in London as well as nationally.
Mr Johnson gave his support to the appeal on Saturday morning, saying: "People who have served our country in the most difficult and unimaginable situations deserve all the help we can give them. We have made a demonstrable difference in decreasing the number of veterans out on the streets in the last two decades, but it's tragic to learn how many there still are out there," he added.
"It's wonderful to see the work being done by institutions helping those out in the cold, and we can't give them our thanks enough," Mr Johnson said.
Earlier in the evening, Mr Johnson and Mr Lebedev visited some of the outreach programmes run by the London charity St Mungo's Broadway.
At The Lodge in Holborn, those referred for residency have spent a minimum of two years on the street, though in some cases have slept rough for as long as 20 to 40 years. Residents are offered long-term accommodation as part of an initiative to help the most entrenched rough sleepers on London's streets.
The first guest Mr Johnson and Mr Lebedev met at The Lodge – Roland, 84 – was the accommodation's oldest current resident, as well as a veteran who had fought for Britain in North Korea during the early 1950s.
Before bedding down, Mr Johnson and Mr Lebedev also visited the south London hub for No Second Night Out, in Lewisham – a service funded by the Mayor and designed to provide direct care and assistance to those sleeping rough in London for the first time.
In pictures: Homeless Veterans appeal

Show all 31
No Second Night Out operates alongside the national call service StreetLink, which allows members of the public to report rough-sleepers to local council outreach teams across the country. Rough-sleepers reported through StreetLink are approached by local services and offered an assessment and reconnection service, as well as short-term temporary accommodation.
Mr Lebedev said: "We've seen compassionate London at its best tonight: brave care workers who care about the people no one else does, and show genuine courage on a daily basis.
"The Independent and Evening Standard's Homeless Veterans campaign has attempted to draw attention to one group of vulnerable people out on the streets, but they're not the only ones."
He added: "It's humbling to see the work done by all of these outreach services.
"That goes for government programmes and more targeted charity groups who help those that have served their country, yet afterwards find themselves destitute."
* If you're concerned about someone sleeping rough, get in touch with StreetLink so it can connect them to the local support and services they need. Contact 0300 500 0914, download the StreetLink app or make a referral via streetlink.org.uk
Join our new commenting forum
Join thought-provoking conversations, follow other Independent readers and see their replies