Homeless Veterans appeal: Win-win covenant connects veterans with employers keen to use their skills
Jaguar Land Rover is helping former armed forces personnel make the transition to civvy street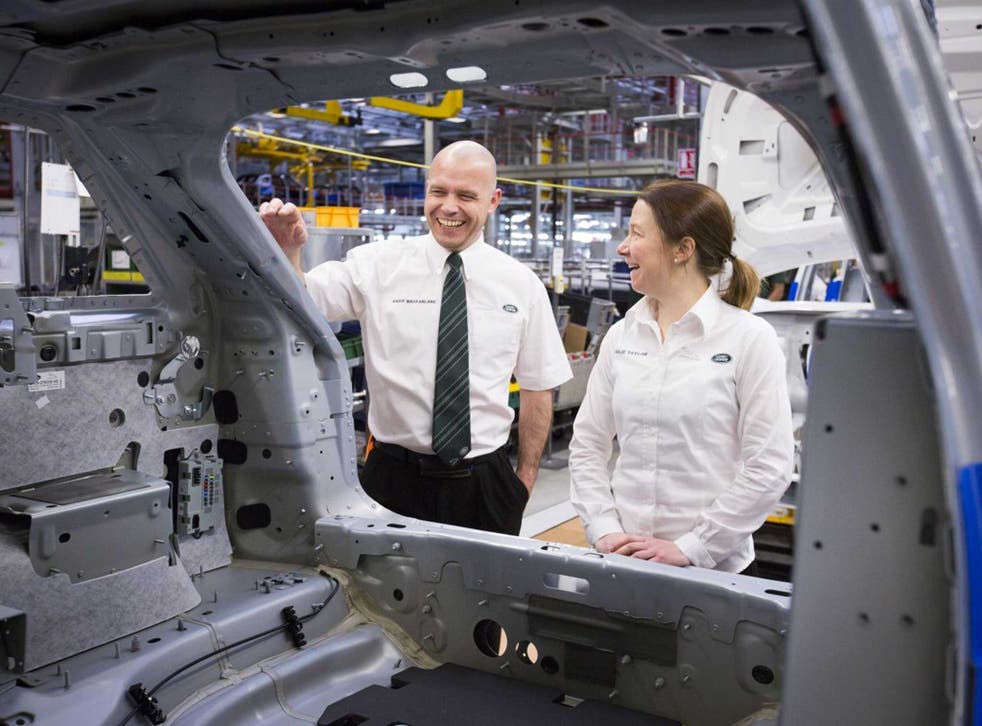 In the eight years Julie Taylor served in the Royal Logistic Corps, she drove plenty of Land Rovers and even helped parachute one or two off the back of a C-130 Hercules transport aircraft.
The 36-year-old now works at the Land Rover plant in Solihull, where she organises the movement of vehicles from the production line to dealerships across the country. She left the Army a year ago and is one of more than 100 veterans recruited by the luxury car-maker this year.
Some veterans find the transition to civilian life difficult and struggle to hold down jobs when they leave, but Ms Taylor has thrived. Her new employer is one of more than 370 businesses that have signed up to the Government's Corporate Covenant, a scheme to encourage businesses to employ and support ex-servicemen and women.
For Ms Taylor, who rose to the rank of captain, the biggest challenge at Land Rover has been adjusting to the "softer ways of working on civvy street".
"In the Army I would never have gone over the head of my direct superior with an opinion or a question, so it's taken a while for me to adjust here to know that I can talk to management; in fact I'm encouraged to," she says.
Like most British veterans working at Jaguar Land Rover, Ms Taylor served in Afghanistan and is open about the challenges she faced there. But she says the confidence and experience she gained from transporting everything from bullets to army biscuits left her well-equipped for a civilian career.
Others are not so lucky, which is why the Government is pushing the Corporate Covenant and has pledged £100m in support. The first company to sign up to the scheme was Tesco, followed by Barclays, BT, Jaguar Land Rover and Liverpool Football Club. Each promises to support serving soldiers, sailors and airmen, veterans, reservists and their families.
"With more than 370 companies already adopting the Corporate Covenant, it's obvious employers recognise the value of skills acquired during a career in the armed forces," said veterans minister Anna Soubry. "In return, service personnel secure a hugely valuable foothold on the civilian career ladder and get the chance to develop their skills, gain new qualifications and play a full part in society."
Dr Hugh Milroy, the chief executive of Veterans Aid, one of the two charities being supported by The Independent's Homeless Veterans appeal this Christmas, said that while the Corporate Covenant was welcome, the Government could do more.
"I absolutely applaud companies like Jaguar Land Rover supporting the Corporate Covenant, but I wonder how many veterans have been employed by the Government and its various departments?
In pictures: Homeless Veterans appeal

Show all 31
"A government leading by example would be very useful in encouraging more employers to sign up to the covenant and demonstrate to the military community that highlighting its existence is not just electioneering talk."
Jaguar Land Rover says it plans to recruit 150 more veterans to work across its six manufacturing plants and research centres, on top of the more than 100 it recruited last year. It also offers support to Early Service Leavers, hoping to give 6,500 former military personnel the necessary training to allow them to re-enter the job market.
"All our cars are made in Britain and we have a long-term link with the British armed forces that goes right back to the first Land Rovers in the late 1940s until the Defender today," said Simon Lenton, the company's head of human resources. "So this is a natural tie-in for us."
The company has recruited former soldiers as engineers, line operators and managers. It has had to adapt some stations on its production line to accommodate veterans with reduced mobility, but Mr Lenton said it valued the "high levels of valuable engineering skills" they brought to the company.
One of the new engineers at the Solihull plant, which will soon build the new Jaguar XE model, is Andy MacFarlane, who spent 22 years in the Royal Electrical and Mechanical Engineers before moving to Jaguar Land Rover at the start of this year.
He is now process leader ensuring quality control and safety on the Range Rover Sport production line. "[It] has been just like starting a new Army posting," he said. "I had the skills I need and was ready to hit the ground running."
Brigadier (Ret'd) Robin Bacon, Chief of Staff at ABF The Soldiers' Charity, which is also benefiting from The Independent's appeal, said: "The skills our armed forces develop while they are serving their country are invaluable to a future employer; leadership and decision-making in high-pressure situations and team work are all key experiences these men and women can bring."
The Soldiers' Charity has worked with Barclays for the past four years, supporting training courses for homeless veterans as part of the bank's Armed Forces Transition, Employment & Resettlement programme, which has assisted 2,800 veterans since 2010.
"Many organisations could benefit from following the example of Barclays and Jaguar Land Rover and show their support for the forces community," he added.
Former soldiers Andy MacFarlane and Julie Taylor, who now work at the Jaguar Land Rover plant in Solihull Andrew Fox
Register for free to continue reading
Registration is a free and easy way to support our truly independent journalism
By registering, you will also enjoy limited access to Premium articles, exclusive newsletters, commenting, and virtual events with our leading journalists
Already have an account? sign in
Join our new commenting forum
Join thought-provoking conversations, follow other Independent readers and see their replies