Homeless Veterans appeal: 'You look for someone who's an inspiration and try to be like them'
In 2010, Sgt Gary Jamieson stepped on an improvised explosive device in Afghanistan; the blast took his legs and an arm. He tells Chris Green what, and who, helped him to make a remarkable recovery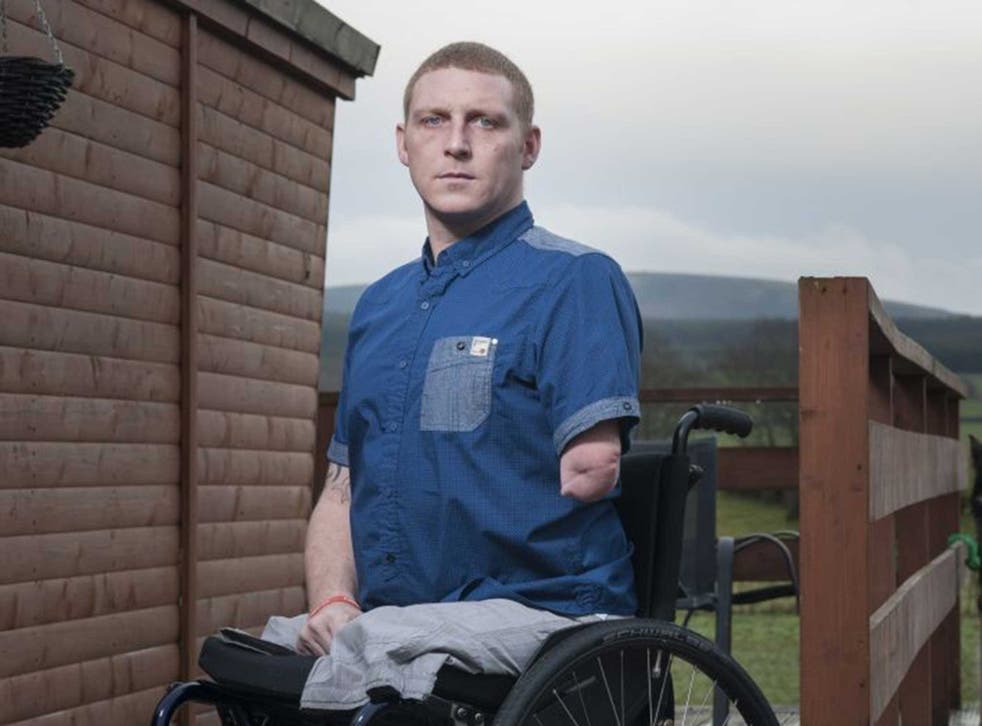 Residents of the quiet village of Strathaven, South Lanarkshire, can usually spot Gary Jamieson coming. It is not the injuries he sustained while serving in Afghanistan four years ago that catches their attention – it is his car.
A big, black 4x4 which proudly bears the licence plate N008 LEG, it is a physical testament to the remarkable recovery he has made since he stepped on an improvised explosive device (IED) while out on patrol, losing both legs above the knee and his left arm above the elbow.
The 34-year-old was able to drive again only six months after being blown up north of Lashkar Gah on his second tour with 1st Battalion, The Scots Guards. He says getting back on the road was a huge boost to his independence – and is amused when his unique licence plate is spotted by other drivers. "I think that folk see me coming and think they need to get out of the road," he jokes. "But without the car I'd have been doolally, cooped up in the house."
Sergeant Jamieson was on an afternoon foot patrol in April 2010 when his platoon unknowingly entered an IED field. The men spotted a series of markers warning of the location of possible devices ahead and decided to turn around, but it was too late – he was already standing on one.
"As I pivoted my foot, the explosion went off," he recalls. "I was conscious throughout, so I immediately knew my legs were away. I knew what was happening, I could feel all the blood pouring out of me."
In the seconds after the explosion, a photograph he had taken of his daughter Taylan, now five, popped into his head. But as soon as he began receiving medical attention from his colleagues, he snapped back to the present. "[Once] the tourniquets went on... I never thought of dying again," he says. "I thought: 'I'm going to be safe, and I need to get back to my family'."
It took just 18 minutes for a helicopter to arrive and take Sgt Jamieson back to Camp Bastion, alongside Colour Sergeant Alan Cameron, who had been leading the patrol and sustained serious head injuries in the blast. Tragically, "Cammy" died of his wounds a year later at the age of 42.
Although Sgt Jamieson was conscious after the explosion, the next thing he recalls is waking up in Selly Oak Hospital a week later. "The last time I saw my hand was when it was lying on my chest, because they picked it up and put it there while we got on the chopper," he says. "I remember the guy in the chopper saying 'Here comes the good stuff' and injecting me, and then I was in Birmingham."
He spent six weeks in hospital and was then transferred to Headley Court, the Ministry of Defence's rehab centre in Surrey, where he met other amputees in recovery, including Andy Reid, whose story has already featured in The Independent's Christmas appeal. "That's sort of the way the Army works – you look for somebody who's an inspiration for you and try to be like them," he says. "You see someone like Andy Reid walking past and you think: 'That's what I'll be like'."
Sgt Jamieson was keen to return home to be with his wife, Claire, 37, and their children Nicole, Kyle and Taylan. But there was a problem: the old miner's cottage in the South Lanarkshire village of Stonehouse where they lived needed extensive renovations to suit his new life.
ABF The Soldiers' Charity, one of two being supported by The Independent's appeal, provided the family with a £2,000 grant so they could live in the family suite of a nearby hotel for 12 weeks while work was completed. Without the intervention, Sgt Jamieson would have had no option but to live in an Army facility and be separated from his wife and children again.
In pictures: Homeless Veterans appeal

Show all 31
The family now live in a bungalow, which allows Sgt Jamieson – still awaiting discharge from the Army while issues with his prosthetic legs are fixed – to get around more easily. The Soldiers' Charity also paid for electronic gates so he can drive up to the entrance without getting out of his specially adapted car.
Also key to Sgt Jamieson's recovery was the MoD's Personnel Recovery Centre (PRC) in Edinburgh, which opened in 2009. It prepares injured soldiers physically and mentally for a return to the services or for medical discharge on to civvy street. The Edinburgh PRC was a pilot project, but there are now five across the UK. As well as providing injured soldiers with physical strength training, they offer classes in literacy and numeracy, and life skills such as job applications. Many courses are funded by The Soldiers' Charity.
As Sgt Jamieson had a family and a house, he already had plenty of support. But for others, he says, the experience is invaluable. "Things like CV writing and interviewing techniques are a must for the boys – some of them have been in the Army for years and have never paid a bill, so they get a shock when they come out."
Captain Del Hamilton, Welfare Officer at the Edinburgh PRC, says one of its main aims is to prevent soldiers leaving the Army unprepared – which could lead to a slide into homelessness. "Next to health and finance, accommodation is one of their biggest concerns," he says. "Some of the younger lads think it's just a case of 'back to my mates, back to the local'. But as you start going through the courses with them, they start to realise they need to think about it a bit more.
"A lot of them think that they don't have transferable skills. One might say 'I'm a sniper, what can I do?'. But they're also part of a team. It's about putting civilian-speak into their military qualifications."
Join our new commenting forum
Join thought-provoking conversations, follow other Independent readers and see their replies