Capita don't just provide a few services, they seem practically to run entire councils
Capita's financial woes raise serious questions about the vulnerability of local authorities - like Barnet and Northamptonshire - who have been suckered into signing decades long outsourcing contracts by inflated promises of 'private sector efficiencies'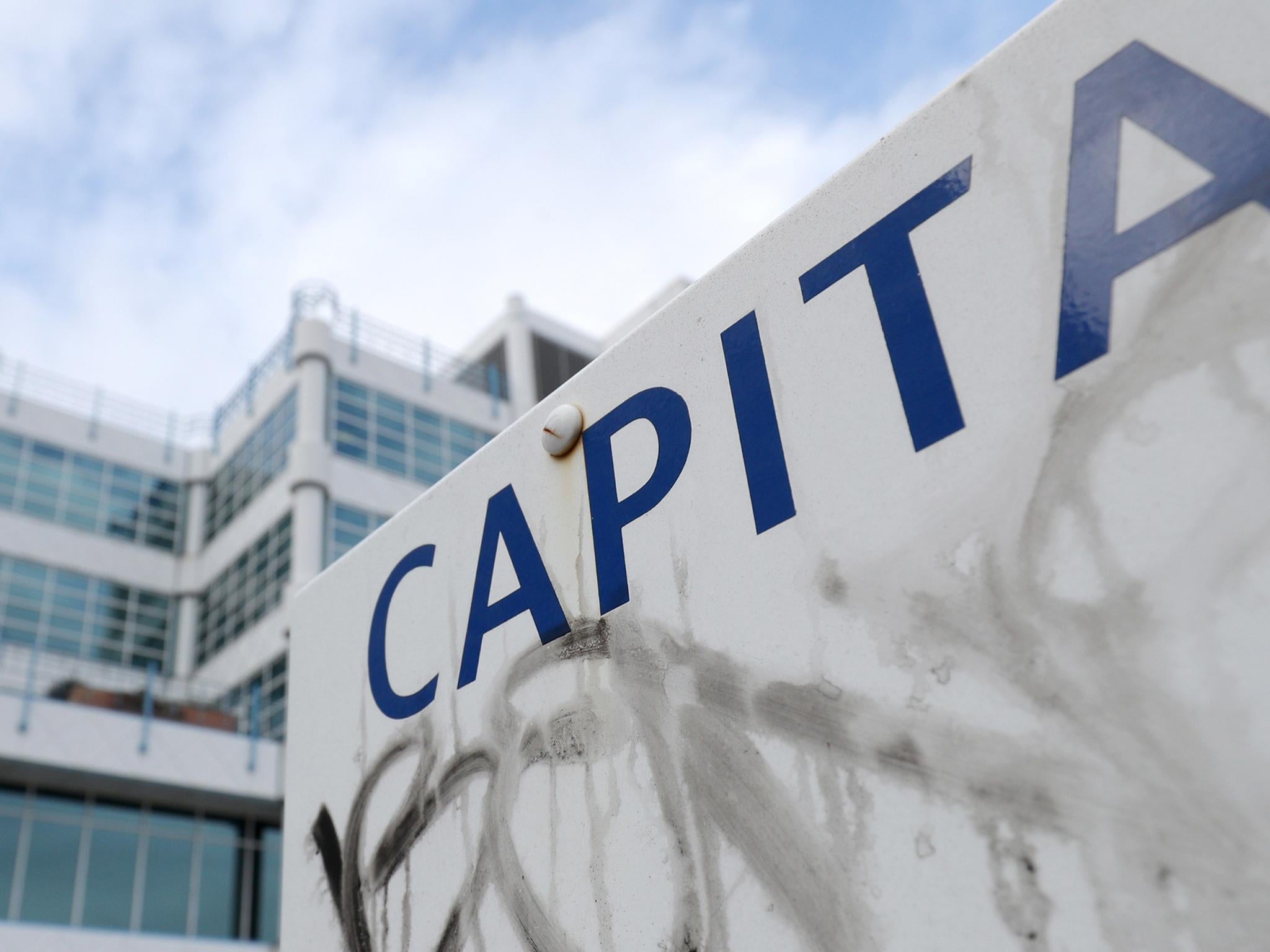 Outsourcer Capita hit the headlines today for all the wrong reasons, its share price collapsing 40 per cent following a profit warning and cancellation of dividend payments to shareholders.
For those already thinking this sounds a bit like Carillion - you are right. A gaping pension deficit, departing CEO, shrinking cash flow and over-reliance on intangible "goodwill" in it's accounts - signed off by KPMG.
Capita's profit warning caps a 24 month slide which saw the UK's largest outsourcing company tumble out of the FTSE 100 index, its share price losing 80 per cent of its value since January 2016, falling from £11.60 to £2.01 today.
Created from humble beginnings in 1984 as a for-profit consultancy arm of the Chartered Institute of Public Finance and Accountancy (CIPFA) – Capita became the Vampire Squid of business process outsourcing, its money grabbing tentacles extending through every layer of Government, from pensions, to council finance, from parking and congestion charges to NHS GP primary care support, funeral services, and even the privatised food safety agency.
Started by a group who understood local government cash flows and profitability, Capita's first forays by Executives Rod Aldridge, Richard Benton and Paul Pindar were into outsourced local government cleaning services, IT and computing.
One of Capita's first big contract wins was an outsourced cleaning contract at Tory run Westminster Council.
In Bradford Council, where former Communities Secretary Eric Pickles had just become leader, Capita was lined up to advise on the outsourcing of catering and school meals by what's known as a "leveraged management buyout".
Eric Pickles 1989 "Bradford revolution" in outsourcing would soon make him a darling of the Margaret Thatcher Government and a safe seat in Westminster soon followed.
In pursuing a privatisation agenda against overwhelming public opposition, Pickles outsourced council services, amidst swingeing cuts to council staff and services.
A model which two decades later, would be rolled out at councils UK wide by George Osborne and Eric Pickles and come to be known simply as "austerity" - as outsourcing doubled to £88bn.
Fast forward to 2018 and Capita now run vast swathes of council operations. Barnet's outsourced "easy-council" model means Capita run everything from legal services, call centres and HR to education, disabilities, births, deaths and marriages. Even the funeral services.
Northamptonshire copied and extended Barnet's model - creating a "commissioning council" where the scope of a councillor is only to award and administer outsourced contracts.
Capita not only became a form of outsourced and unaccountable shadow Government - in Barnet and Northamptonshire - Capita now practically is the Government.
Capita's financial woes raise serious questions about the vulnerability of local authorities, NHS Trusts and other public services, who have been suckered into signing decades long outsourcing contracts by inflated promises of "private sector efficiencies."
Councils have implemented outsourcing policies against the will of local communities. In many cases, an army of critical bloggers with names like Mrs Angry, Mr Mustard and Mr Reasonable are the last men standing in a vacuum of media coverage, created by retreat of the BBC and local press who, failed to hold increasingly corrupt local councils to account.
The spectre of Capita's collapse does not just raise questions about the practice and ideology of outsourcing, implemented by all major political parties. We must now ask fundamental questions about the purpose of Government, both local and national, Government's ability to define and serve the public interest, and its over-reliance on conflicted consultant advisers like KPMG (Capita and Carillion's auditors) - frequently in the news headlines for all the wrong reasons.
Neoliberalism and new public management has seen the rise of a generation of Council technocrats like Newham's Robin Wales and Haringey's Claire Kober (she has since resigned) who see their role as simply facilitating corporate profits and raising and protecting private property values, while managing local opposition to dispossession and gentrification.
Since the poll tax riots of the 1980's, grassroots council democracy has been off the agenda, with Thatcher passing legislation which made failure to implement central Government cuts and protest budgets a criminal offence - rendering effective opposition to the austerity cuts that followed the 2008 crash impossible.
If the 2008 collapse of RBS and Lehman Brothers represented a rupture in the deregulated financial sector, the cancer is now spreading to the construction and outsourcing PFI/PPP sectors, including the likes of Carillion, Interserve and Kier.
Zombie banks created a zombie economy, run by a zombie and increasingly absentee Government, who have no role in steering an economy where the "free market" is the only religion.
The only thing that has kept the house of cards that is UK PLC from collapsing the past decade are the zombie, absentee auditors - KPMG, EY, PwC and Deloitte.
With UK PLC now firmly under the microscope and serious questions being asked of the UK's lax audit regime everywhere from the Guardian to the FT, even CITY AM, the days of PFI, outsourcing and slumbering auditors appear to be numbered.
Join our commenting forum
Join thought-provoking conversations, follow other Independent readers and see their replies