How the European elections did for the pro-Europe MPs of Change UK
It is a pity that the talented Change UK MPs didn't join the Lib Dems straight away, and negotiate their way in from a position of (relative) strength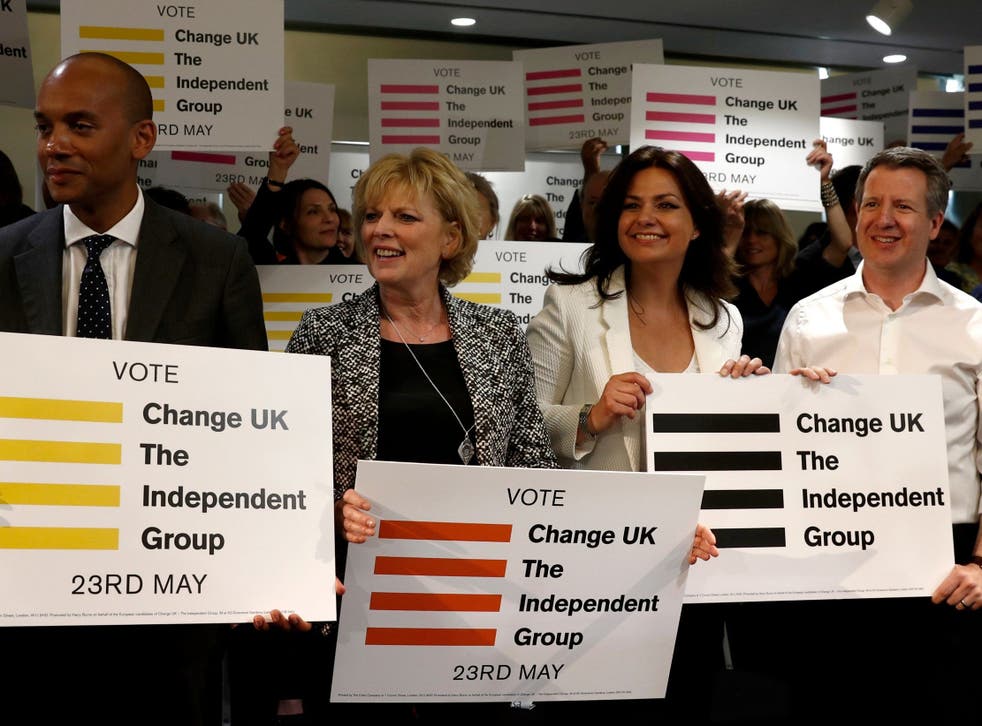 For such a pro-European group, it was doubly ironic that what did for Change UK/The Independent Group – already small and now probably fatally split – was a set of elections for the European parliament. And by proportional representation, another idea Change UK vigorously supported. They were a disaster.
They failed to elect a single MEP. Their lead candidate in Scotland urged followers to vote Lib Dem. Their only solace was that the 3.4 per cent of the vote they garnered was slightly ahead of the rump Ukip's 3.3 per cent. The Brexit Party, painfully, won 30.5 per cent.
Quite simply, the European elections arrived far too early for the fledgling party, which failed to get its act together sufficiently to even register a logo with the Electoral Commission. They sat out the earlier local elections entirely which, from what we know now, was also probably just as well for the "Tiggers".
Why too soon? Simply because, beyond the group of 11 progressively minded former Conservative and Labour MPs in the House of Commons, they did not really exist as a political party in the country at all.
The images of pitifully badly attended "mass" meetings held by Change UK during the European elections seemed to symbolise and confirm this lack of critical mass – some had more Change UK personalities on the platform than members of the audience.
UK news in pictures

Show all 50
A low point was when the well-meaning ex-Labour MP Joan Ryan addressed a Change UK "rally" thus:
"Can you just look at your hands please?"
"That's it, it's there, that's the answer to this. It's in your hands."
In the words of Shirley Williams, a splitter from a previous generation, Change UK/The Independent Group, as a new centre party had "no roots, no principles, no philosophy and no values". As it happens Shirley, now Baroness Williams, did break from Labour to help start the SDP, and in due course fell into a merger with the old Liberal Party to create the Liberal Democrats back in 1988.
Williams' new parties did have some values, principles and philosophy, but you could see her point. The SDP, back in 1981 and after, rapidly built up a mass membership (joining via the then-revolutionary method of the credit card, much sneered at by their old Labour comrades). The SDP did stand for something – the social market economy – and it did have funds, activists and some senior former cabinet ministers.
At one point they were on 50 per cent in the opinion polls, when the Tory government and the Labour opposition were both perceived as extreme, divided and were desperately unpopular. Plus ca change.
The SDP also, for most of its life, came to the sensible, pragmatic conclusion that there was little point in standing against the Liberals at elections and splitting the broad centre-left vote.
To add to Change UK's bad luck should be added some major strategic muddles, which have brought about this split within a split. One faction did believe in working with "other parties" on Brexit in particular, and this group, still apparently led by Heidi Allen, may well end up in some of junior role in a partnership with the Liberal Democrats.
The Lib Dems have already, reportedly, agreed not to challenge another member of the gang, Luciana Berger, in her Liverpool constituency. The others of this persuasion – Chuka Umunna, Sarah Wollaston, Angela Smith and Gavin Shuker – will no doubt come to some similar deals before throwing in their lot with the Lib Dems.
The continuing Change UK, however, seems to want to have no truck with the Lib Dems. When the obvious question was asked, about why they didn't just switch straight to the Lib Dems, the answer was that they felt, like Labour and the Conservatives, the Lib Dems were a fatally damaged brand. Vince Cable and his colleagues were thought to be toxic because of their lingering Chernobyl-style contamination from the Cameron-Clegg coalition and the student loans fiasco. That, in turn, would disgust potential Labour-supporting recruits.
Support free-thinking journalism and attend Independent events
Well, true or not, the European elections, as well as exposing Change UK's lack of grass roots and activists to fight the political "ground war", visibly detoxified the Liberal Democrats. "Bollocks to Brexit" was a brilliant campaign slogan that suddenly made this gang of Tory collaborators into a saintly group of pro-European progressives. The Lib Dems had no trouble attracting ex-Labour support – Alastair Campbell, Charles Clarke and Cherie Blair included. Quite the clean-up.
It is a pity, in fact, that the talented Change UK MPs didn't join the Lib Dems straight away, and negotiate their way in from a position of (relative) strength. A few of them – Soubry, Allen, Umunna – would have been more attractive leadership contenders than Ed Davey and Jo Swinson. Cable was certainly up for a quick merger/electoral pact. The likes of Change UK's Mike Gapes, though, were not, and remain unconvinced. Hence the split. Oblivion awaits.
Change UK/The Independent Group always said that they were going to "do politics differently". Maybe not quite like this, however.
Join our new commenting forum
Join thought-provoking conversations, follow other Independent readers and see their replies