Now Charlie Gard's parents have ended their court case, we should ask why his case became the media circus it did
As soon as the case garnered attention, the media glare intensified and opinions polarised. Those who opposed taking Charlie abroad became regarded in more extreme circles as something akin to child killers; those who wanted to 'save' him, on the other hand, were said to be inured to reality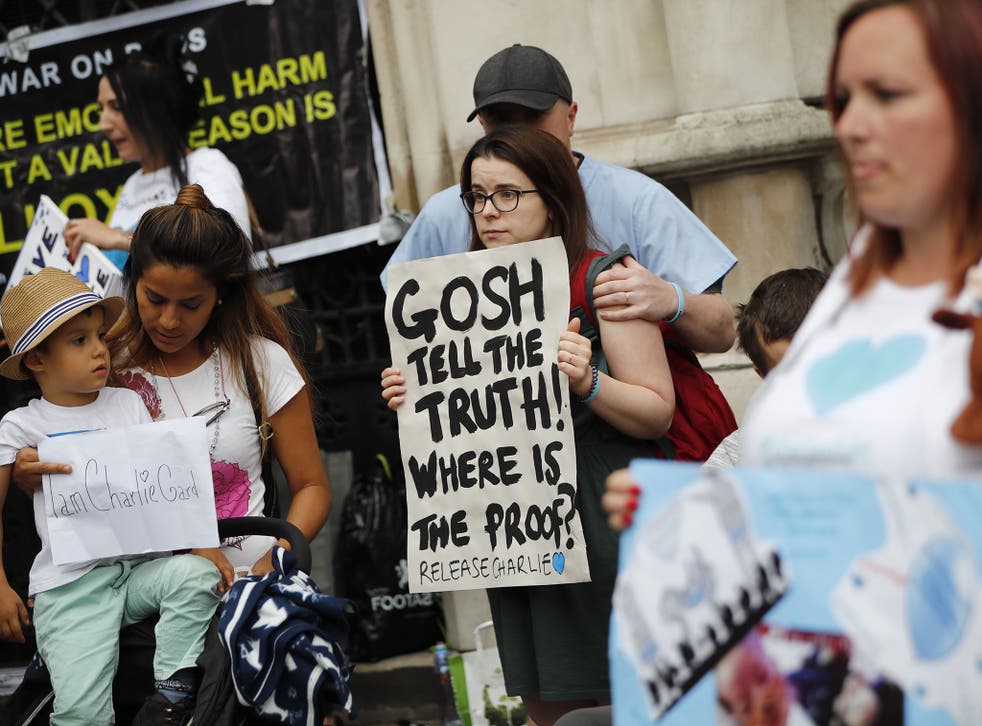 After months of courtroom battles, the parents of Charlie Gard have withdrawn their application to take their son to the United States for experimental treatment. Charlie will therefore be moved onto palliative care in the very near future.
As the decision emerged there was anger among supporters outside the High Court, who have invested so much of their own passion in the case of a child they do not know. And the truth is, when the life of a baby is on the line, why should we not feel stirred by the desire of his parents to do anything they can to make things better?
Yet such is the intensity of support for the parents' desire to take Charlie to America that staff at Great Ormond Street Hospital have received death threats. Protestors heckle doctors and nurses outside the hospital precinct and abuse them on social media.
Meanwhile, Chris Gard and Connie Yates – whose anger and distress is so acute – have been accused in turn of not acting in their own child's best interests by those who believe he should be allowed to die. They have listened over several months to doctors and lawyers telling them that their little boy is irreversibly brain-damaged; and they have no doubt read comments on social media by the infinite number of people who have something to say on the case, including those who take the doctors' part over the parents'.
Charlie Gard: Parents end legal battle over treatment for terminally-ill baby
The tragedy is that a terrible medical dilemma has become a media circus. Charlie's mother and father knew the media would enable them to explain their position. Indeed, their plight so moved people that more than £1.3m was crowd-funded towards potentially transferring Charlie to a hospital in the United States. Yet of course as soon as the case garnered attention, the media glare intensified and opinions polarised. Those who opposed taking Charlie abroad became regarded in more extreme circles as something akin to child killers; those who wanted to "save" him, on the other hand, were said to be inured to reality.
Over the last few weeks, headlines along the lines of "New chance for Charlie" have predominated, as lawyers for Great Ormond Street agreed that the court should consider new evidence. The American specialist who agreed to fly to London to meet Charlie's consultants seemed to be imbued with super-human powers by those convinced that treatment could be effective. Never mind that it had never been used on a human with such an advanced case of encephalomyopathy mitochondrial DNA depletion syndrome.
Few argued that Charlie could be completely cured – even among his ardent supporters. Nonetheless, British tabloids (and foreign media for that matter) have frequently talked of "live-saving treatment", even in the last few days, as if there was no debate to be had and as if Charlie could be restored to full health. Some of the coverage has been irresponsibly glib. A complicated, heart-rending scenario has been reduced to good against evil.
UK news in pictures

Show all 50
If the passions raised by the case revolved only around the person of Charlie Gard that would perhaps be understandable. But increasingly the debate has played into disputes about both the efficacy of the NHS (underfunded, under-skilled in the eyes of critics) and the workings of the British legal system (opaque, inflexible, unfair, say protestors). It is not only fertile ground for the politicisation of a personal tragedy, but for conspiracy theories too.
The interventions of Donald Trump and the Pope hardly helped, creating as they did the impression that there were international solutions that the murky British establishment was doing its best to cover up. Doctors have been accused of "lying" and of seeking to commit "murder" by members of "Charlie's Army", as those supporting the family have been dubbed. The fashionable dismissal of expertise has reached a new pinnacle.
Now that the US doctor in whom so much hope was invested has said it is "too late" for Charlie to be given experimental nucleoside therapy, one imagines it will only be a matter of time before accusations begin to circulate that delays were somehow deliberately constructed by mysterious UK officials. What is certainly clear is that Charlie's parents believe their son could have led a normal life had treatment been started in January.
Doctors and nurses at Great Ormond Street manifestly do not deserve the opprobrium that has been heaped upon them. Nor do the lawyers who have acted for the hospital; nor do the judges who have heard the case at its various stages; nor do expert witnesses. Likewise, there can be no justification for the abuse Chris Gard and Connie Yates have received for challenging the advice of the medical profession.
There are, in due time, lessons in this awful case for the media and for those who use social media to pontificate on matters they know little about and to spread bile against people they know not at all.
But before any of that, we should think of Charlie and his parents, who did not deserve any of this. And whatever our thoughts on the very public way their tragedy has played out, we should weep for them.
Register for free to continue reading
Registration is a free and easy way to support our truly independent journalism
By registering, you will also enjoy limited access to Premium articles, exclusive newsletters, commenting, and virtual events with our leading journalists
Already have an account? sign in
Join our new commenting forum
Join thought-provoking conversations, follow other Independent readers and see their replies