I'm a committed atheist, but my child has become religious – and I'm proud of her for challenging my indoctrination
I remember being taken aback when her choice of memento from the gift shop at Durham Cathedral was not a fluffy toy but a carved wooden cross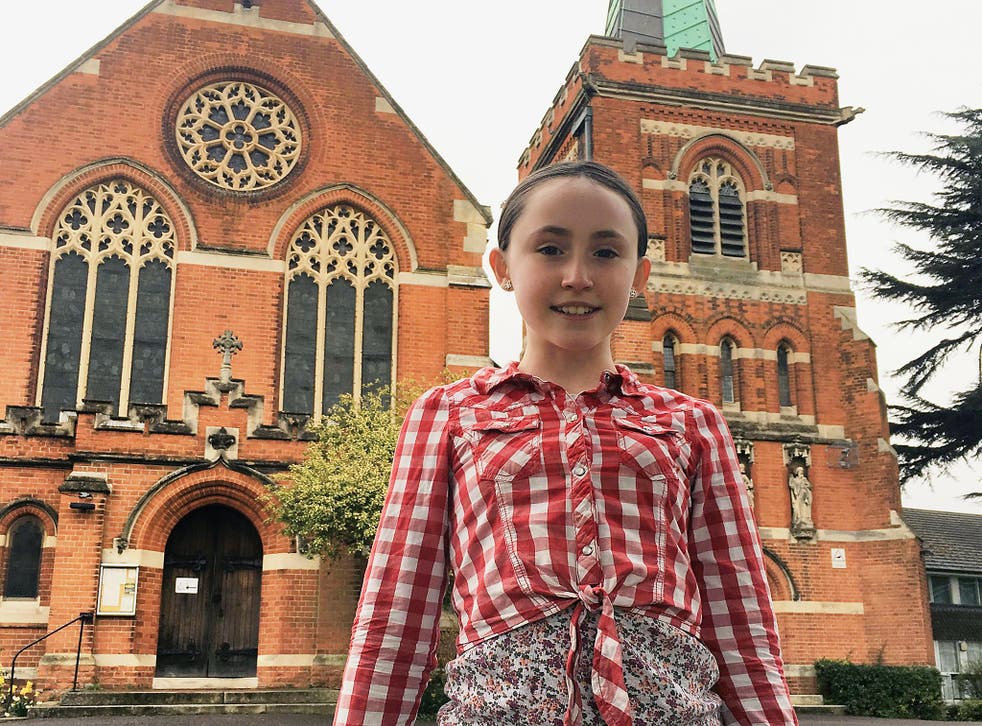 In a parallel universe, the version of me that didn't choose to send her daughters to a Church of England school is having slothful lie-ins on Sunday mornings following a slightly gluttonous night on the prosecco lusting after James McAvoy and feeling huge pride that she managed it without a hangover.
Instead, while I'm not losing any sleep over how many deadly sins I ticked off in a twelve hour period, I am leaping out of bed in time to get my oldest daughter – Una – to church, Googling "what is a confirmation" and making arrangements for Father Michael to pop round for tea.
My partner Ian and I are happy atheists (or perhaps agnostics, I'm never too sure) with some strong negative feelings regarding organised religions, coupled with a cheery tolerance of people with faith. A bit like they say about religion being like a penis. I'm happy for you that you've got one, just don't wave it in my face.
UK news in pictures

Show all 50
So as Una, now 12, has increasingly embraced religion, things have got progressively weird for us.
We chose our local C of E primary because we liked it better than the non-faith schools and I would never send her to a Catholic school. (I've been baptised a Catholic and seen enough Catholicism to know I didn't want that for her.) We liked it because it had an olde-worlde village school feel, and because they had music lessons which we thought was important. But I refused to con my way in with a supporting letter from some local clergy like a lot of the mums I knew, so we didn't expect to make the cut. Only we did.
Ian and I worried about religious indoctrination of our four-year-old but knew we would counter it with our own views, and both of us had been to C of E schools as children and survived the experience sans faith.
They do more praying in class and much more faith-led teaching in assemblies than we were exposed to, but they're not too preachy. And it's a very accepting and friendly school attended by children of several different faiths. If a child said they didn't believe in God I don't suppose they would be singled out in any way. But Una has really got into it.
I remember years ago being taken aback when her choice of memento from the gift shop at Durham Cathedral was not a fluffy toy but a carved wooden cross, but we would never tell her she couldn't have it or she wasn't allowed to believe in God. We were just very open about our own beliefs and encouraged her to ask questions. We and the school taught her about a range of different religions.
And we've been clear that the choice is hers to find her own way, and that we will support her in that. We've also brought the girls up not to eat meat but have told them when they get older they may choose to eat differently. Both of them have tried meat – with our blessing – outside the home. We've felt our role is to open them up to opportunities and experiences so they can learn for themselves what they like, what they're good at and where they fit.
Nevertheless, Una's leaning more towards the church has been a surprise and has thrown up some awkward and uncomfortable situations.
For secondary schools our first choice was an out-of-borough academy which we didn't get. Second choice – ours and Una's – was another C of E. They are oversubscribed and rigorous about needing support from your church. But I talked with the headmaster about how I felt since Una was religious, my own lack of faith shouldn't hold her back and he agreed. We spoke with a local vicar who agreed if we would support Una's faith, then she would support her application to the school.
So we did. Una loves it. She gets a lot out of her faith and the community she's joined. When she was younger I would attend as conscience allowed. The people are lovely. They're friendly and welcoming, and when it feels too close to hypocritical and makes me squirm then I politely excuse myself and leave Una to her worship. Her best friend's mum – who will soon be her godmother – watches her for me.
I never expected to be arranging a baptism for her so she can be confirmed with her friends, nor inviting Father Michael round to chat over a cuppa; I had to steer the conversation away from science before Ian, with a physics degree, got too animated. But we all approach it with common sense and Una's best interests at heart.
It seemed obvious that my role was to support her journey to discover herself and I didn't consider it until a Muslim friend said she thought it was admirable. "If a child wanted to explore a religion other than their own I don't know too many families who would support that," she said. Since childhood indoctrination is one of the things I like least about religion, I'm proud of Una for challenging my own atheist indoctrination of her.
Register for free to continue reading
Registration is a free and easy way to support our truly independent journalism
By registering, you will also enjoy limited access to Premium articles, exclusive newsletters, commenting, and virtual events with our leading journalists
Already have an account? sign in
Register for free to continue reading
Registration is a free and easy way to support our truly independent journalism
By registering, you will also enjoy limited access to Premium articles, exclusive newsletters, commenting, and virtual events with our leading journalists
Already have an account? sign in
Join our new commenting forum
Join thought-provoking conversations, follow other Independent readers and see their replies