Coachella is exactly what you'd expect – which somehow makes it worse
The bleak ending made me wonder how many concert-goers regretted the hundreds or thousands of dollars they'd spent
Wednesday 19 April 2023 17:45 BST
Comments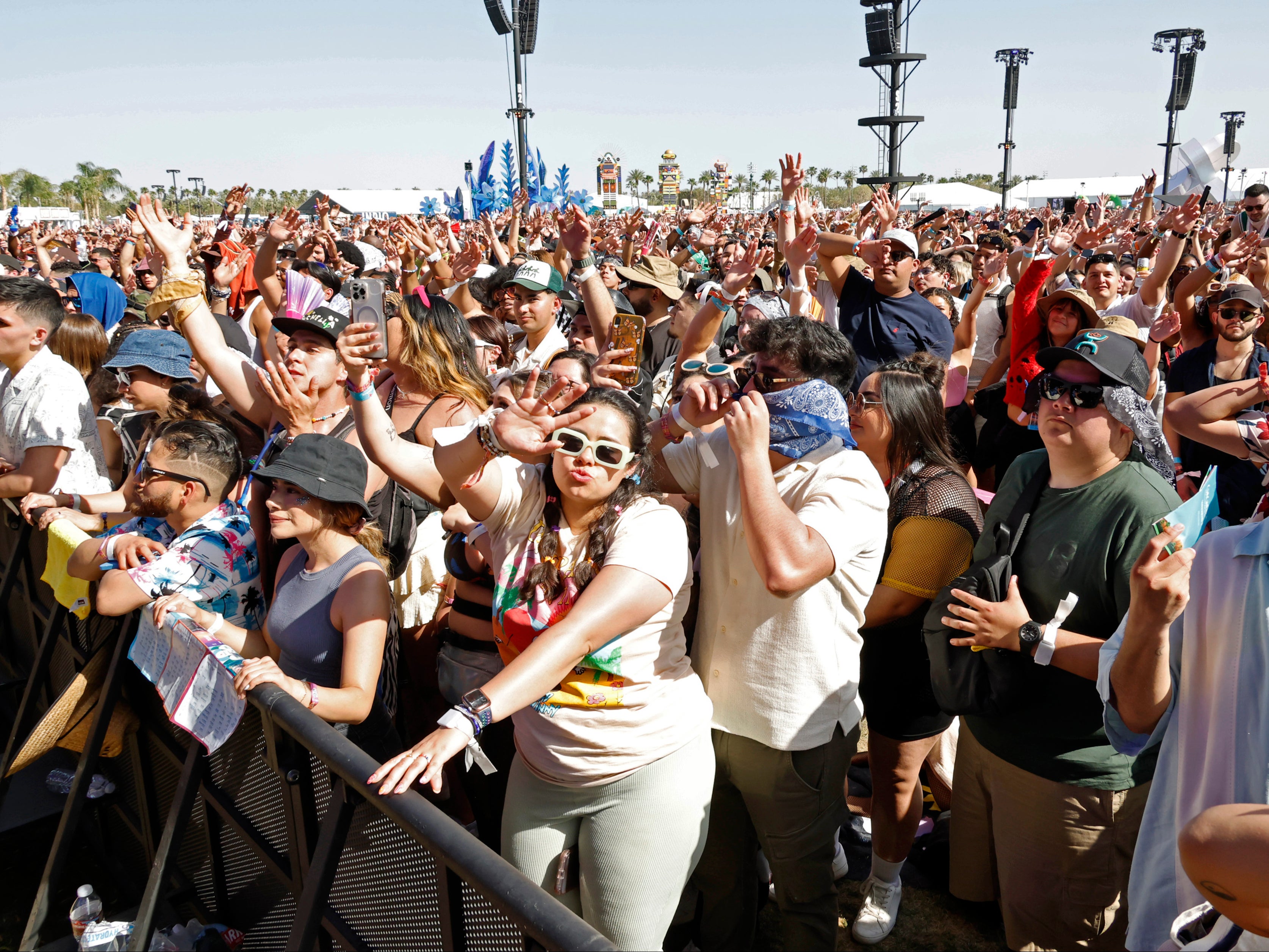 For me, Coachella always existed in the same realm as celebrity-studded awards shows - a vaguely entertaining spectacle, but not something I'd have any interest in attending, preferring the resulting viral TikToks more than the night itself.
After all, what business would I really have going to a festival that, if you're attending as a VIP, requires one to spend more than a thousand dollars before you even walk through the entry gates. Even the alternative - a $549 general admission ticket followed by hundreds more on an Airbnb or "cheap" hotel - is out of my budget, while camping in the cold desert, for an additional $149, is a hard no.
As it turns out, this happened to be my lucky year. I received a last-minute invite to attend weekend one of Coachella on an all-expenses-paid VIP trip, so I'd be fortunate enough not to worry about many of the eye-watering costs. After a glance at the 2023 lineup, of which I knew nine out of 167performers, and despite not knowing a single person attending the festival, I agreed to go, for no other reason than for the drama.
The flight from New York to Los Angeles, California's LAX airport was clearly full of people also going to Coachella, if the numerous cowboy boots were any indication. As I settled into my economy seat, I couldn't help but start tallying up the numbers. How much money were people spending on this weekend?
Once I arrived at LAX around 4pm Thursday, I was greeted by a driver, who efficiently shuffled me into his black SUV. "Palm Springs?" he confirmed, before whisking me off into what would turn out to be four and a half hours of traffic.
During the drive, after we'd bonded over a quick meal of In-N-Out, we began discussing his role in Coachella weekends. According to him, for a ride from LAX to Palm Springs during festival weekend, his company charges customers more than $1,000.
As someone who would burst into an unabashed ugly-cry if ever handed a $1,000 bill for a car trip, I truly couldn't understand who could afford this for such a small part of the three-day weekend event. I was lucky enough to be on a VIP trip, but what about everyone else? The alternative would be trying your luck getting an Uber or Lyft, or of course renting a car, all of which would be pricey considering the surge prices as thousands of people descend on Palm Springs. If you were to book a direct flight from New York to Palm Springs for Coachella weekend two, it would cost $1,305.
My mediocre Palm Springs hotel prompted the same thought, as a quick glance at their website said a room that would typically cost $150 a night would set a guest back more than $1,000 for weekend one of Coachella, thanks to the price surges. It seemed if something had even a whiff of Coachella about it, you'd be at the four-figure mark.
The fast-growing tally was at roughly $3,500 before I'd even heard a single song.
The experience became truly surreal the next day when we eventually made it to Coachella Day One. During the drive, we were handed our $1,069 VIP wristbands while our driver was handed his exclusive VIP parking pass, allowing him to drop us off at a special entrance, skipping most of the infamous dusty walk to the festival. As would turn out to be a theme for the weekend, this was not quite the case, as we ended up accidentally joining the hundreds-deep crowd as they snaked their way into the site.
As we heard the first DJ beats land, we were finally there. The next hours followed in a blur of performances, a VIP rose garden, and lots and lots of walking as I, along with my host and a fellow journalist, experienced the influencer holy grail that is Coachella, where you quite literally cannot take a step without walking into someone's photo.
Our early - or rather, early for Coachella - arrival on day one meant that we had hours to enjoy the various food and beverage offerings between stages. Six Aperol spritz set us back $120, while three cans of beer totalled $45 before tip. When hunger set in, two tacos cost $16 in the VIP section. By 10pm, I'd lost count of the money that had been spent.
By 11pm, I was sitting in the crowd of Metro Boomin exhausted, with an ear-splitting headache and aching feet. I'd already had enough Coachella to last me a lifetime.
I cannot blame this entirely on Coachella, of course. It was no one's fault but mine that I had consumed a sip of water for every 10,000 steps taken trying to orient myself in the vast field of stages. At the age of 29, I was only four years older than the average Coachella attendee, but the gap between us felt like 40.
But, tomorrow was a new day, and I would be ready to dig deep and embrace my inner festival-goer. After all, apart from a few exhausted stragglers, everyone around me had seemed to be having the time of their lives. I too could become a Coachella convert.
As we dragged ourselves to the exit, we encountered a lineup of bike trolleys eager to drive us to our designated parking lot. A five-minute ride, which actually left us with a further 10-minute dusty walk, cost $60 with tip. The silver lining of the night turned out to be our early exit, as it meant traffic was minimal for the journey back to Palm Springs.
Saturday morning - despite being slightly miserable at the idea of facing Coachella again - I learned from my experiences and chugged plenty of water, planning to tackle the festival like seasoned attendees do and arrive much later.
To my surprise, Saturday at Coachella made Friday look like amateur hour. Where there were once selfies every few feet, this was a new beast entirely, with groups at nearly every turn holding ring lights to capture their perfect festival-inspired fits.
On Saturday, in the over-flowing VIP section next to the main stage, it became clear that Coachella was no longer about the music, if it ever really was, but the pictures you take along the way. Obviously, I partook in the trend - posing in front of the iconic festival cirus wheel at golden hour - because if there is no one to see photos of you in front of the ride, did you ever even really see it?
Despite consuming my body weight in water on Day Two, we still managed to spend hundreds of dollars on drinks and one meal each. "How do people afford to come here?" I asked nearly every hour, sounding like a broken record.
Although the TikToks and Instagram posts from influencers may not represent every attendee's experience, the reality is you need to be wealthy to attend Coachella. But then again, maybe I was the problem, and needed to spend more time focusing on the vibes and less on the figures in everyone's bank accounts. 
Unlike the first two days at Coachella, during which the diverse lineups meant crowds congregated around all of the stages, Sunday began with an eagerness evident in nearly every attendee for headliner Frank Ocean's scheduled 10pm set.
By the time we arrived at 6.30pm, the main stage and surrounding areas were already packed with thousands of people. In an effort to maintain some youthful positivity, I ordered a cold-pressed alcoholic juice that somehow promised immunity and hydration. At this point I'm sure it will not surprise you that it was really, really expensive.
At 9.30pm, I'd joined the crowd in the main section to wait for Ocean. Nearly an hour later, I, and everyone around me, was getting antsy. However, we'd go on to wait for another hour before the singer finally took to the stage for what would end up being a lacklustre performance.
At one point, after having enough of the crowd, I wandered over to the merch store to purchase a Coachella hoodie. I settled for one of the foil blankets they give marathon runners after realising an extremely basic black sweatshirt would set me back $70.
Those in the crowd who hadn't left early during Ocean's set were convinced he was kidding when he cut the performance due to missed curfew. However, as the overhead lights turned on and the stage screen went dark, the disappointment was clear on everyone's face as they turned to leave the festival one final time.
The bleak ending made me wonder how many concert-goers regretted the hundreds or thousands of dollars they'd spent. Finally I felt like maybe we were all on the same page, at least for a brief moment in time.
In reality, whether you splurged on a VIP ticket and a nearby hotel, or camped with friends in a tent, Coachella is a rich kid playground accessible only to the extremely wealthy, who may complain to their TikTok followers about a $70 meal but who are ultimately able to afford it.
Join our commenting forum
Join thought-provoking conversations, follow other Independent readers and see their replies