Cologne New Year sex assaults are a wake-up call: all women have the right to feel safe
If we can teach refugees our languages, we should be able to teach them about the importance of equality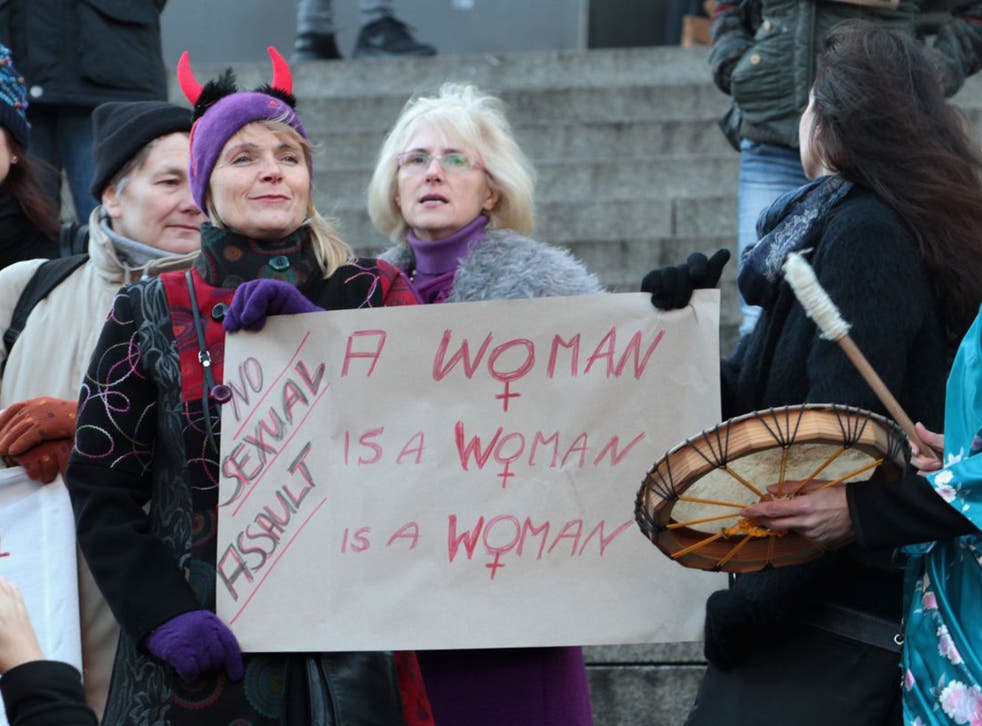 During a conference in Berlin last month, I asked a young German woman how she felt about Angela Merkel's decision to open the country's borders to more than a million refugees. She said she supported her Chancellor but the policy had caused painful arguments among her friends, most of them recent graduates like her. The issue they disagreed upon was the potential impact on Germany of mass migration from countries where women's rights are barely acknowledged.
It would be easy to dismiss the anxieties she expressed as a covert expression of xenophobia, but I don't think that was her motivation. Many migrants come from countries where women have low status and little legal protection; it is only two years since Morocco repealed a law that allowed rapists of under-age girls to escape prosecution by marrying their victims. I keep hoping that one of the benefits of mass migration into Europe will be an opportunity to empower women and girls, giving them the confidence to demand rights I take for granted.
A much more disturbing possibility – that some migrant men violently reject the idea of gender equality – is why the mass sexual assaults in Cologne on New Year's Eve have caused such heart-searching. Other German cities, including Hamburg, reported sex attacks on a smaller scale, while a police chief in Finland made the startling claim that migrant gangs "had similar plans" to commit sex assaults in Helsinki. He said three asylum seekers had been arrested.
Cologne's police chief stood down on Friday, after his force faced accusations of trying to conceal the fact that some of the men involved in the assaults were migrants. The slow police response is frustrating because, more than a week after the attacks, the job of identifying men who committed mass sexual assaults is increasingly difficult; I don't think there's much doubt that the police failed victims and made a bad situation worse by leaving the attackers' identities in question. But I also don't think we should query the accounts of women who say their assailants appeared to be migrants and the attacks were organised. A leaked police report described victims being forced to "run the gauntlet" between ranks of "extremely intoxicated men".
It is this aspect of the Cologne assaults which has caused the greatest outrage. Rape and sexual assaults are not unknown in European cities but organised sex attacks by gangs in public spaces are a new and terrifying phenomenon.
New to Europe, that is: there are striking parallels with what happened to women during mass demonstrations in Egypt during the Arab Spring. The CBS correspondent Lara Logan thought she was going to die after being seized and stripped by a mob, but most of the victims were Egyptian women who had rushed to join demonstrations against President Hosni Mubarak.
"I was completely sexually assaulted by groups of men, pulling on me, grabbing every inch of my body," said one young woman who was attacked in Tahrir Square, Cairo in 2011. It was not an isolated incident: on a single day in 2013, more than 80 women were brutally assaulted by gangs of men during further demonstrations. In countries where women have few legal protections, some men behave as if they own the streets.
Even in Tunisia, which is widely regarded as having one of the best records in North Africa on gender equality, women describe sexual harassment as "our everyday experience". In Egypt, where feminist organisations have existed since the 1920s, a recent UN report suggested that 99.3 per cent of Egyptian women have been sexually harassed. A study in 2008 by the Egyptian Centre for Women's Studies found that almost three-quarters of victims wore the veil, making a nonsense of Katie Hopkins's sarcastic proposal in the Daily Mail that she might now have to "buy a burka and get it over with".
Hopkins is just as wrong when she suggests that "some Islamic and Arabic men" have no respect for white women. Men who commit such attacks have no respect for women, period, and are just as likely to be violent towards their wives, sisters and daughters. It's sometimes forgotten that many migrants are women and children, and even more likely to suffer from the effects of deeply entrenched sexist ideas than European women. In that 2008 study almost 63 per cent of the Egyptian men interviewed openly admitted they had harassed women.
In pictures: Anti-Pegida protesters

Show all 10
It would be naïve to assume that men with unacceptable attitudes towards women will undergo an instant change of heart on arriving in countries with a commitment to gender equality. The problem hasn't been helped by a chaotic asylum system which has encouraged the survival of the fittest; some statistics suggest that a disproportionate number of asylum seekers are unaccompanied young men. But the problem can be managed through education and a direct challenge to views which are inherently sexist, or homophobic. If we can teach refugees English or German, we can also teach them about the importance of equality and human rights.
What happened in Cologne and other European cities is a wake-up call, but not the one claimed by far-right organisations such as Pegida, which held a rally in Cologne on Saturday. Even Merkel hasn't quite got it, talking last week about "the feeling women had… of being at people's mercy". The one thing we know beyond doubt about the people who committed sex attacks in German cities is that they were men, a fact which should move women's rights to the top of the agenda.
A strong, confident Europe should be perfectly capable of doing two things: protecting people fleeing vile regimes while upholding the principle that every woman has a fundamental right to feel safe in public space.
Register for free to continue reading
Registration is a free and easy way to support our truly independent journalism
By registering, you will also enjoy limited access to Premium articles, exclusive newsletters, commenting, and virtual events with our leading journalists
Already have an account? sign in
Join our new commenting forum
Join thought-provoking conversations, follow other Independent readers and see their replies