Alison Parker and Adam Ward murders: Killers should not be allowed to set the agenda
Alison Parker and Adam Ward: best remembered before tragedy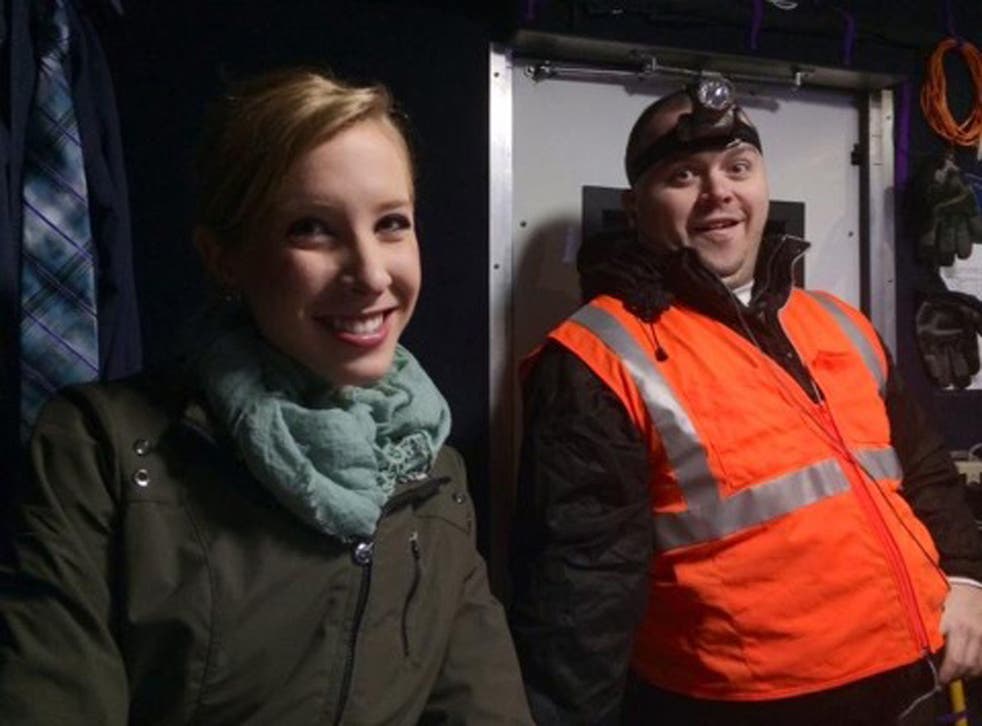 When an angry man planned the murders of two former colleagues at a TV station in Virginia last week, he knew exactly what he wanted to achieve. The killer filmed the murders, posted a 56-second clip to his Facebook page and tweeted the fact that it was available. Then he killed himself.
The murders were not enough in themselves, in other words, but needed to be understood as the opening act in a process designed to gain the perpetrator worldwide notoriety. The Roanoke killer got what he wanted: thousands of people viewed the video before it was taken down, while anyone who had missed it could have seen stills on the front pages of several British newspapers.
Some showed the killer's hand with flame emerging from the gun he's holding; the barrel is aimed squarely at Alison Parker, the TV reporter who died seconds later, just before the killer turned on his second victim, a camera operator called Adam Ward. On its inside pages, The Sun published a horrifying sequence of pictures which showed Ms Parker's mouth open in an "O" of terror as she realised the peril she was in and tried vainly to run. At least two British newspapers offered links to the killer's video.
Other British newspapers, including The Independent, made a decision not to publish pictures of the murders. I think they were right: the killer's modus operandi was an invitation to voyeurism, encouraging individuals with no connection to the victims to indulge a ghoulish curiosity. If one of my friends had just been murdered in this brutal way, I would be horrified to think that footage was being viewed by total strangers on Facebook alongside videos of cute kittens.
But there's another and arguably even more powerful argument against providing links or publishing stills, which is that it allows the killer to set the news agenda. Last autumn, this newspaper took a stand against publishing images from a video showing the beheading of a British hostage, Alan Henning, by the organisation calling itself Islamic State.
In a memorable front page, The Independent on Sunday pointed out that Mr Henning had been killed on camera for the sole purpose of propaganda. "Here is the news," it declared. "Not the propaganda."
The issues raised by last week's shooting are very similar. "It's like showing those beheadings," said Ms Parker's father, Andy. "I am not going to watch it. I can't watch it." Mr Parker isn't the first relative to highlight the additional anguish inflicted by the knowledge that a murder has been recorded by the perpetrator. The family of James Foley, the American photo-journalist who appeared in the first of a series of IS "beheading" videos last year, appealed to the media not to publish stills showing him in an orange jumpsuit. The impulse to remember loved ones as they were in life, laughing with colleagues and doing their job, is entirely understandable.
But the question raised by the IS videos and a series of mass shootings in the US goes beyond taste and the feelings of relatives. It's about whether, by indulging the wishes of perpetrators, media outlets are inadvertently making further outrages more likely. The worldwide publicity given to Mr Foley's murder, when some newspapers published links to the video of his beheading, created a horrible sense of anticipation. More murder videos were released over a period of weeks but IS's strategists seem to have been prepared for the eventuality that their shock value would gradually diminish. Later footage showed a Jordanian pilot being burned to death and the drowning of a group of prisoners.
Media interest is absolutely central to these murders. In the US, several mass killers have prepared material for the media in advance of their crimes even though they knew they were unlikely to live to see publication. The man who murdered 20 children and six staff members at Sandy Hook Elementary School in Connecticut in 2012 may have assumed that the massacre was sufficiently shocking to seize the attention he wanted, without having to issue a video "manifesto".
But the Roanoke killer was perhaps the most media-conscious perpetrator to date, providing the first murders to be committed during a live television transmission.
Whether these killings are by a disgruntled individual or an IS assassin, the motive is the same: publicity. One type of murder is an expression of extreme narcissism, the other a piece of propaganda which may also satisfy the vanity of the perpetrator. But the fact that a murder video may be available for a while on websites doesn't lessen the responsibility of editors and journalists. Precisely because there is an editing process, which determines what is and isn't important, news bulletins and front pages confer status. And while I have disabled the "autoplay" function on my Twitter account, I couldn't avoid front pages showing Ms Parker's murder in my local Sainsbury's.
This is not about suppressing legitimate stories or even self-censorship. Governments, politicians and multi-national corporations would rather that certain material isn't published, and it's the job of editors to resist their efforts to bury bad news. But what's going on here is an attempt to stage deliberately shocking spectacles and determine how they are reported.
To put it bluntly, some editors are being manipulated into publishing horrific material that furthers the aims of people intent on atrocity.
As The IoS wrote last year, the correct word for that is propaganda. We have to report these sickening events, but it isn't the job of journalists to dance to the tune of merciless killers.
Twitter: @polblonde
Register for free to continue reading
Registration is a free and easy way to support our truly independent journalism
By registering, you will also enjoy limited access to Premium articles, exclusive newsletters, commenting, and virtual events with our leading journalists
Already have an account? sign in
Register for free to continue reading
Registration is a free and easy way to support our truly independent journalism
By registering, you will also enjoy limited access to Premium articles, exclusive newsletters, commenting, and virtual events with our leading journalists
Already have an account? sign in
Join our new commenting forum
Join thought-provoking conversations, follow other Independent readers and see their replies