As Jessops closes, we continue to mourn the dying high street, but it's we who are killing it
Now the chains are falling, one by one, we uneasily mourn them, like an unappealing aunt we never visited nor cared about while she lived.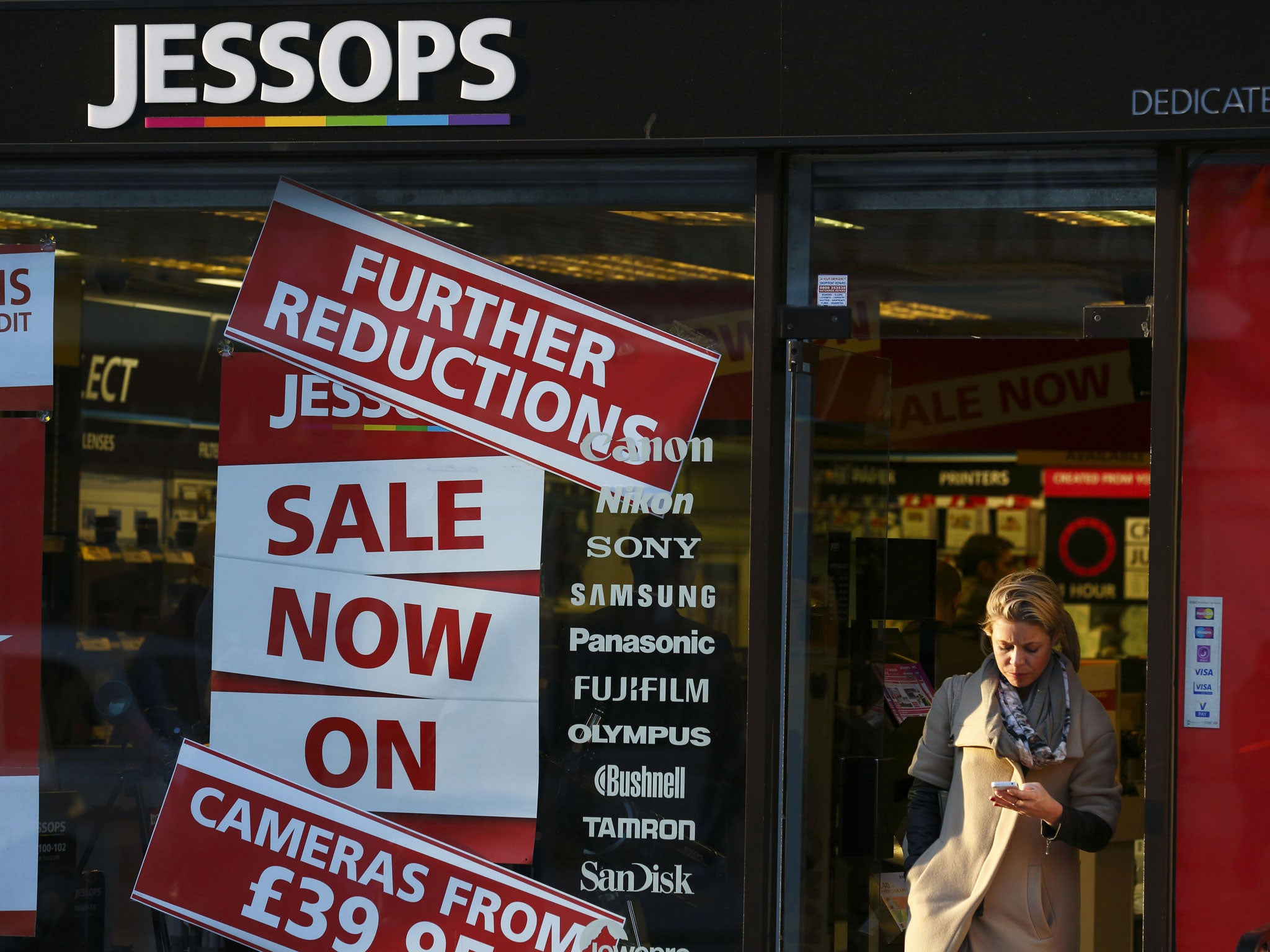 This week's news that the photographic chain Jessops was circling the drain came as a bit of a... Hang on. Amazon delivery.
Right. Where were we? Yes. Bit of a surprise. I had WH Smith down as the next to go, but it was Jessops. "Advice for life" was their new slogan, and how brave and sad and foolish the refurbishing of their shops when we could all see the writing on the wall. Seeing inevitable failure coming is always unhappy. The wind going out of their sails.
So when they, inevitably, go, we whine and mumble, just like we did when Woolworths went, and JJB Sports, and Game, and Peacocks, and Blacks Leisure went, and Clinton's Cards very nearly went. It was so close, for Clinton's. Half its shops closed; tricky for the towns that lost their branch, because how could visitors tell where the crap part of town, hitherto marked by the grim orange shopfront with its moronic-granny writing, now began?
And now we're whining about Jessops, with its poor choice of stock, its affable but poorly trained sales assistants, its ramshackle business model which seemed constantly panting to keep up, like a fat man jogging, with the technology it dealt in. And which dealt it a triple blow: first, the almost frighteningly sudden death of film cameras; second, the incorporation of perfectly good-enough cameras in mobile phones; and, third, the inexorable, ruthless, Amazon Anschluss of everything we bring into our homes and our lives.
'Saudade'
The Portuguese have a word, saudade, for a sort of yearning for something not only gone, never to return, but which might quite possibly never have existed in the first place. Our laments for the high street are a sort of anti-saudade: a lament for something which we did have, but neglected while we had it. We railed against the chain stores which were driving away the sort of "local shop for local people" satirised in The League of Gentlemen. Now the chains are falling, one by one, we uneasily mourn them, like an unappealing aunt we never visited nor cared about while she lived.
The news from the high street is unremittingly gloomy. Between 10 and 15 per cent of shops now stand empty (excluding the temporary charity and pop-up stores). Shopping streets in the poorer parts of the country are now more gap-toothed and desolate than in the deathbed of the European dream, Athens. In the past 15 years, the number of out-of-the-house trips fell by 12 per cent on average; in 2010, we left our houses on average 960 times a year – the lowest level since the mid-1970s.
Business rates, draconian parking policies by councils who see motorists as cash cows, and improbable greedy rents all conspire to further crush retailers already hit by the inexorable rise of the internet.
But it is we who are forcing shops into "showrooming": acting as display stands for goods we sniff, poke, squeeze, listen to, watch, try on and fiddle with, before going home and ordering from Amazon. In the United States, Amazon has accelerated the process by launching its Price Check app: scan goods in any brick-and-mortar store and compare the Amazon price. Unfair? Yes. Evil? Probably. Irresistible? You bet.
The problem is that, whatever the retail guru Mary Portas may have learned from her experience (largely promoting shopping-as-theatre with brands like Swarowski, Patek Philippe, Louis Vuitton, John Smedley and Holland & Holland), shopping is for most of us a commodity: we, not the retailers, set the bar. And if online shopping suits us better, that's how we'll shop. In December, internet shopping shot up by 18 per cent on the same month in 2011; tablets and smartphones and better websites were to thank, it seems. Along with the Danes, we now buy more online than anyone else on Earth.
But what are we losing? For many, shopping is, and always has been, a recreation. We go out, we look, we dream. We imagine ourselves carrying that bag, wearing this jacket, holding that camera. We can do it online, true, but only by eyesight. The internet is like an old-style sour-faced greengrocer: Do Not Touch the Produce.
Nor does it offer advice. User reviews aren't the same. Only the bigoted – one way or the other – can be bothered, and only on a particular product. You can't go on Amazon and say "I'm going on the holiday of a lifetime and I want a camera" and get a sensible recommendation. Instead, we have internet forums. We try to decide who to trust, under the tyranny of choice and multiple opinions. But it's easier to do that and stay at home, in front of our computers. We see the world through glass. Every now and then there's the clatter of the Ocado bloke on the stairs, heading for the flat above. How many people come to your door now, compared with 10 years ago? And if you were a shopkeeper, could you have seen it coming?
Vanishing
In the end, it's about public space: what it is, who owns it, how we negotiate it and what it's for. Old ideas of the self-contained neighbourhood are vanishing. I used to live in a central London street in which you could live and die. There was a butcher, a baker, an undertaker, dentist, GP, chemist, pubs, restaurant, three bookshops, greengrocer, more off-licences than you could shake a corkscrew at, and a lousy supermarket but better than nowt. Now? Clothes and novelties and leisure facilities and coffee shops. The high street has been split, its heart torn out: luxuries at one end, pound shops at the other. The middle has been squeezed online.
As a result, we've lost a social and communal space. When I was little, I used to go shopping with my mother. Frank the Grocer, coffee with her friends in Griffin & Spalding's department store. A haberdasher's. The greengrocer's. All texture; people knowing her by name; bumping into friends and ("Hello! It's been ages!") acquaintances. Old ladies on their sticks; men going from office to office; meetings, greetings, chats and "must be going, ta-ra then".
So much of that has moved online, on screen, behind closed doors. It seems a more convenient world but in some profound way lonelier. Our private lives have become public but our public lives have withered. The agora, the marketplace, was for at least 2,500 years not just where we shopped and haggled, but where we were, both seen and known.
We may not lament the passing of the chains. We may welcome the artisanal bakery and the craft-work shop. But go to an ancient souk, with its shouting and crowds and crammed, nattering stalls, and perhaps you too will feel that, as social creatures, we are losing something more important than we realised.
Join our commenting forum
Join thought-provoking conversations, follow other Independent readers and see their replies