At this rate, elephants will be wiped out within 10 years
The illegal ivory trade is funding terrorist groups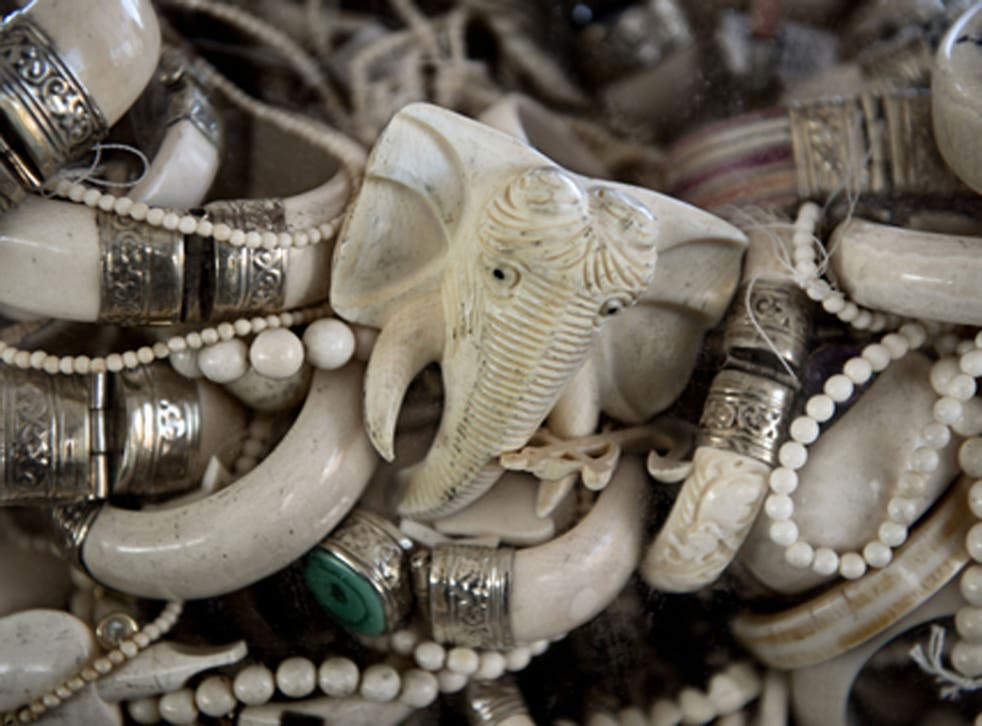 Up to 40,000 elephants, on average, are killed every year. That equates to one every 15 minutes. If that rate were to apply continuously, it would render the species extinct in the wild within 10 years. It is a tragedy, by any standard, that Africa has already lost some 90% of its elephants in the past half-century.
What makes it an even greater tragedy is that the world so nearly put an end to that madness a few decades ago. In 1989, a worldwide ban on the international trade in ivory was approved by CITES, the Convention on International Trade in Endangered Species. Levels of poaching fell dramatically‹not completely, but dramatically and the black market prices of ivory slumped.
However, only 10 years later, malignant interests were able to have their way, as ever, and so-called 'one-off' sales were allowed. For example, Botswana, Namibia and Zimbabwe were allowed an experimental one-off sale of more than 49,000 kg of ivory to Japan. In 2002, a further one off-sale was approved, which resulted in 105,000 kg of ivory being shipped to China and Japan. With so much legal ivory on the market, illegal ivory was easy to pass off, and demand simply rocketed.
More elephant tusks were seized in 2011 than in any year since 1989, when the trade was banned. Sierra Leone lost its last wild elephant in 2009, and Senegal has only around five or ten elephants left. Congo has lost 90% of their wild elephant population, and so on through all the elephant states.
This intelligent, thoughtful creature is being wiped from the earth, and not for any noble reasons. By and large, they are being butchered so that mindless people, many of them Chinese, can buy chopsticks, toothpicks, combs and other trinkets.
Beyond the sheer pettiness of the trinkets, there is a more sinister motivation too. Ivory tusks and rhino horns are being hoarded as investments that rise in value as the species are depleted. In other words, investors buy these commodities in the hope that their source ­ the great species ­ will dry up.
To any thinking person, this matters in and of itself, but anyone tempted to imagine that it is a remote concern to people in this country should think again, because this dark industry fuels terrorism and the worst forms of violence around the world. The Foreign Secretary, William Hague, recognised that in his comments at the UN in New York, when he said that: the illegal trade in these animals is not just an environmental tragedy; it strikes at the heart of local communities by feeding corruption and undermining stability in what are already fragile states. And the profits from the trade pose an increasing threat to security by funding criminal gangs and terrorism.
In September, the Foreign Office stated that it was aware of reports that al-Shabaab, the al-Qaeda-backed Somali terror group, is being funded by ivory. Just two weeks later, there were the appalling attacks at the Westgate mall in Nairobi. Some 40 per cent of al-Shabaab's funding is thought to come from ivory. Blood ivory has also helped to finance al-Qaeda.
It has funded Joseph Kony's abhorrent Lord's Resistance Army, and Sudan's murderous Janjaweed organisation, and many others.
The British Government has a strong role to play, and it is good news that the British army is providing training and support for anti-poaching rangers in Kenya, as well as hosting a high-level conference in London on the illegal wildlife trade next February.
One clear goal must be the elimination of one-of sales of impounded ivory, which fatally undermine the international CITES regime and fuel demand for ivory products. But it is also an opportunity for the British Government to renew and ramp up its support for the African elephant Action Plan, which has been agreed by all 38 African elephant range states, and which at this stage is probably the best hope elephants have. The good news is that the British Government will have the support it needs in Parliament.
More than 100 MPs from all Parties have signed an Early Day Motion calling on the Government to do just that.
Even better news is that the Chinese Government will be sending representatives to the February meeting. They are unlikely to want to attend a meeting only to be embarrassed, and so this could be their moment to declare support for the African Elephant Plan and announce measures to tackle domestic demand.
The Chinese delegation can take some comfort from the fact that the country¹s largest online marketplace, Taobao, has banned a range of wildlife
products: including tiger bone, rhino horn, elephant ivory, bear bile, turtle shell, pangolins and shark fin. That simply would not have happened were it not for a changing tide among Chinese consumers.
Register for free to continue reading
Registration is a free and easy way to support our truly independent journalism
By registering, you will also enjoy limited access to Premium articles, exclusive newsletters, commenting, and virtual events with our leading journalists
Already have an account? sign in
Register for free to continue reading
Registration is a free and easy way to support our truly independent journalism
By registering, you will also enjoy limited access to Premium articles, exclusive newsletters, commenting, and virtual events with our leading journalists
Already have an account? sign in
Join our new commenting forum
Join thought-provoking conversations, follow other Independent readers and see their replies